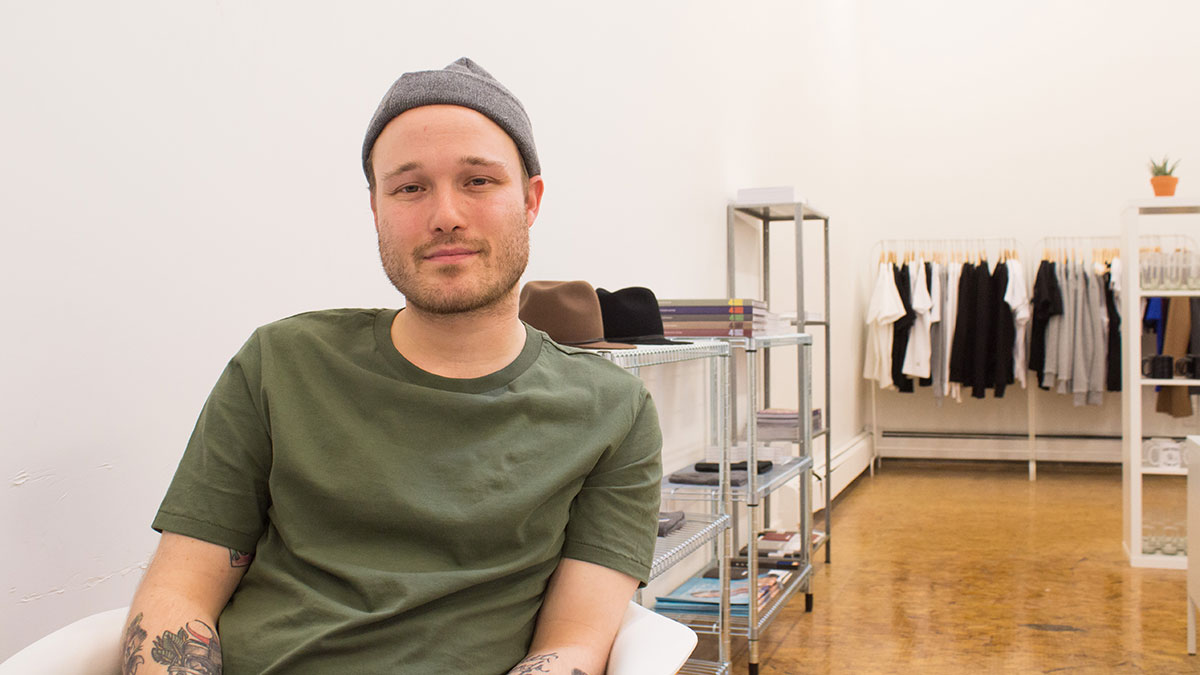 Nestled in small, white washed room is Wes O'Driscoll's clothing studio. He started the intimate brand Nowhere Fast in 2009, after branching out from his photography publication under the same name. It was just for fun in the beginning but after screen printing the label on tees in his kitchen to get the word out, people turned their attention to the merchandise. This inspired O'Driscoll to pursue his interest in fashion and put his own twist on Canadian-made fabrics. The brand expanded online and across the city, and when O'Driscoll took the label more seriously two years later, he released his first substantial selection of items. Nowhere Fast was quickly on the rise.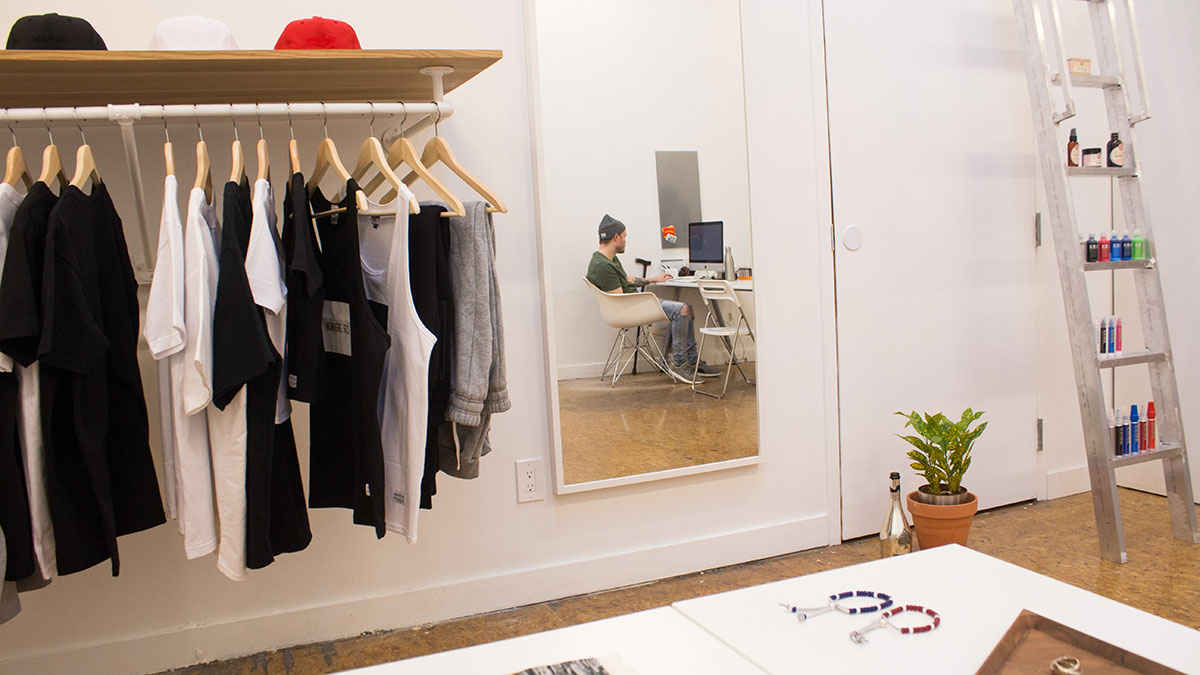 "They ended up selling in bigger quantities to different places around the world," says O'Driscoll.
His branding approach is dominated by monochromatic colours and basic styles and the thought of changing that terrifies him. "I was always into people's reactions to anything … seeing how people react to not only what I'm making but just anything." notes O'Driscoll.
That inspired the approach of putting legible words like "Sports", "Autumn" and "Only The Lonely"  on one tone T shirts. An aesthetic O'Driscoll coined in order to spread the word about Nowhere Fast across the city.
"I think the worst part would actually be feeling that I made something that people weren't into." And what people are into is what drives O'Driscoll's brand inspirations. However, with all the success that he has conjured, O'Driscoll never wants the Nowhere Fast label to become too marginalized. "I don't like the idea of wearing the same thing as thousands of people so I would never make thousands of one item", says the creator.  
Making anything to begin with was O'Driscoll's initial struggle, searching endlessly for Canadian manufacturers who were willing to make his clothing with ethically sourced fabrics and well paid workers.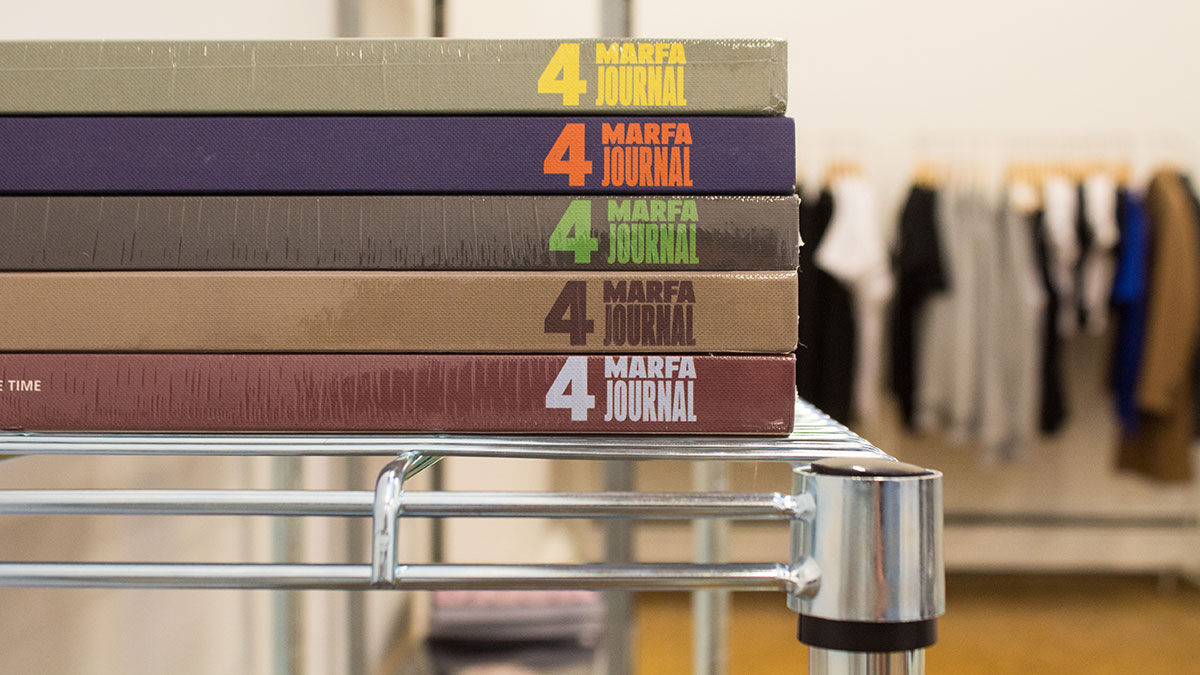 As for suppliers, Nowhere Fast currently sells out of Gravity Pope in Edmonton and Less 17 in Calgary. There are other places on O'Driscoll's wish list but like other aspects of the brand, he is taking things slow. He plans to reassess the brand and educate himself even more. Focusing on the retail side of the label, he hopes to turn his studio into a retail space, to blossom into a store owner with a house brand.
"I want to keep making things that people like." says O'Driscoll, and this is something that he intends to do, without falling into the category of cheaper knockoffs.
He intends to salvage the originality of his branding and continue to progress. With plans to come back stronger than ever, with a more developed line. For now, O'Driscoll plans to take some time off to focus on the recreation of the studio. There is in no rush in developing and expanding the brand.
"I like the pace that everything is going and I'm having a lot of fun doing what I'm doing and making all my connections. I think it makes for a really interesting story to do it all on my own." O'Driscoll says.