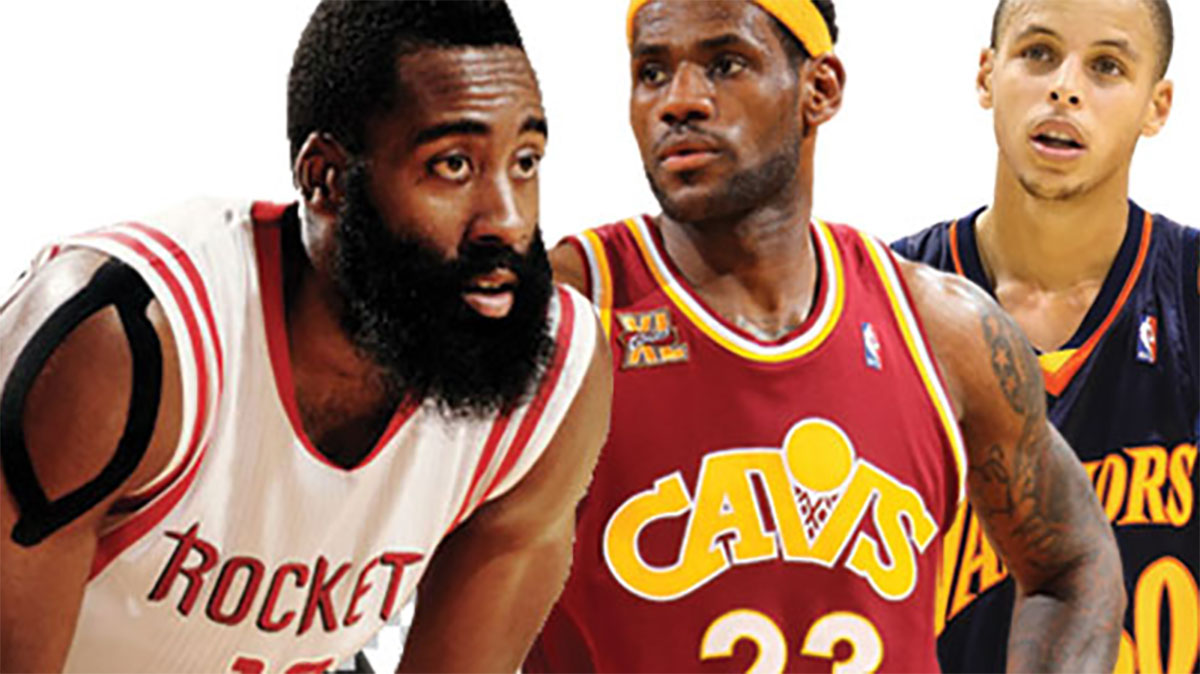 With story lines like LeBron James returning to Cleveland, the most jam-packed trade deadline in recent memory, and an unfathomably stacked Western Conference, this NBA season has sure been a wilder ride than most years. But above all else, this season has produced one of the most competitive and eclectic Most Valuable Player races in NBA history. It would already be rare enough to have five legitimate candidates, but to have each player showing off such different forms of excellence makes this argument all the more compelling. With the season coming to a close, there's no better time to delve into what each player's case is, sift through the noise, and definitively find the player most valuable to his team.
5. LeBron James
Even though he comes in fifth, LeBron is without a doubt the best player in the world, as his 26 points, six rebounds, and seven assists per game would suggest. That may sound counterintuitive, but there are many holes in the case for him being this year's MVP. For one, this season has been far from smooth sailing for James' Cavaliers, and as the undisputed leader of the team, he has to shoulder some of that blame. He can be the best defensive player in the NBA when he wants to, but his inconsistent play on that end this year sure hasn't set a good example for his teammates, particularly when most of his team consists of defensively deficient players. In addition, his propensity to incite drama (just ask Mario Chalmers, Erik Spoelstra, David Blatt, or really anyone who watched The Decision) along with his perpetual iciness towards teammate Kevin Love can't be ignored. If a perennial all-star like Love has his production suddenly drop by almost 10 points per game, some of that has to be attributed to LeBron, since as Cleveland's de facto point guard, it's his job to distribute the ball to his teammates. Those, along with his 11 games missed due to injury may come across as nitpicks, but in a year like this it's enough to make you a fifth wheel in the MVP conversation.
4. Anthony Davis
At the precocious age of 22, Anthony Davis has already vaulted himself into the MVP discussion with unparalleled athleticism, defence and instincts. Putting up numbers to the tune of 25 points and 10 rebounds per game while leading the league in blocks cannot be ignored, especially when Davis also leads the league in player efficiency rating. Player Efficiency Rating is a really complicated advanced statistic that aims to assess how good a player is relative to the rest of the league. While this stat is far from definitive, it's still of value, especially in a conversation like this. However, with his New Orleans Pelicans having the league's seventh worst defence and being very likely to miss the playoffs, Davis' stupefying stats come off as a little misleading.
3. Russell Westbrook
Russell Westbrook represents this year's wild card. While his 15 missed games and with the Oklahoma City Thunder likely to finish at eighth place in the West sure to bring down his candidacy, Westbrook still manages to keep himself right in the thick of the debate. He's averaging an obscene 27 points, six rebounds and nine assists per game, all while leading the league in steals and triple doubles. In fact, at one point this season, Westbrook had four consecutive triple doubles, something that hadn't happened since none other than Michael Jordan did it all the way back in 1989. Westbrook's play has jumped even higher lately, averaging 30 points, nine rebounds and 11 assists per game since the all-star break, and with one more triple double before the end of the season, he'll be only the second player to have double digit triple doubles in a season in the 2000s. With the current tear that he's on, don't be surprised to see Westbrook jump a spot or two by season's end.
2. James Harden
James Harden represents the typical archetype of an MVP. He's the best or second best at his position in the three major categories (points, rebounds and assists), has improved leaps and bounds as a defender and leader of his team, and his style of play has defined his team — which also happens to be a major contender for the NBA championship. As a basketball fan, it's almost painful to put someone having a season like his as second on this list. If there is one thing Harden has been this year, it's a workhorse. He's second in the league in minutes per game, is second in points at 27 per game, contributes six rebounds, seven assists, and two steals per game and gets to the free throw line at a more frequent rate than anyone in the NBA. Outside of the oft-injured Dwight Howard, no one on his team averages half of his points or assists, yet he somehow has Houston Rockets pegged as the fourth best team in the NBA right now.
1. Stephen Curry
While being the best player on the best team is often a lazy justification for an MVP, it turns out that something can be said about being the best player on the overwhelmingly best team. Historically, of the 16 teams to win at least 65 games in a season, 12 have had the MVP of that season, and Stephen Curry has his Warriors on pace to win 67 games. Curry's stats of 24 points and eight assists pale in comparison to the lines that the other four candidates boast, but his prominence can be explained in other ways. As the most popular player in the league (as evidenced by his league-leading all-star vote tally), Curry deserves credit for being able to fire up Golden State's home crowd so much that it's helped them gather a 34-2 record at home. As well, Curry has dominated to such a large degree that he has sat the entire fourth quarter 17 times this year from constantly being in blowouts, giving him misleadingly deflated stats. In terms of raising the level of his teammates' play, making his team automatic title contenders, being borderline impossible to guard on offence, and being capable of outplaying any player on any given night, Curry has clearly shown he is the league's true MVP.