Golden Bears
Sports
Bears forward T.J. Foster signs contract with Toronto Marlies of the AHL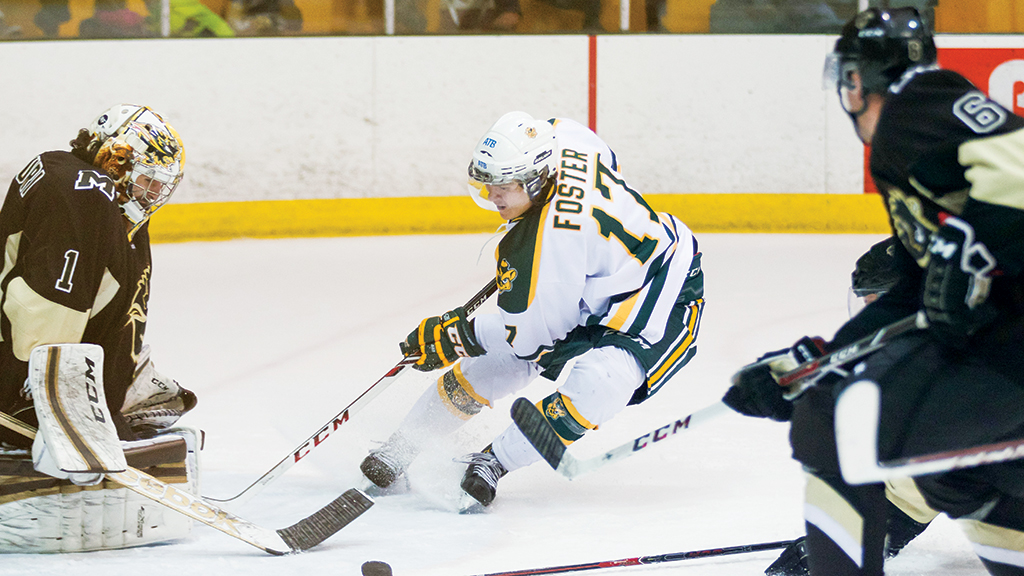 Many of the top CIS men's hockey players make the jump to play semi-professionally, but it's rare to see a CIS player move on to the second-biggest hockey league in North America.
But that's what the Golden Bears' top scorer from this past season, TJ Foster, did late last week, when he signed with the Toronto Marlies of the American Hockey League. The AHL is regarded as just a step below the NHL, where the NHL's farm teams and top prospects reside. The Marlies themselves boast a number of Toronto Maple Leaf prospects that may play alongside Foster, the 2014-15 Canada West Outstanding Player of the Year.
Before coming to the Golden Bears, Foster attended an NHL tryout camp with the Washington Capitals based on his body of work playing five seasons with the Edmonton Oil Kings in the WHL. The highlight was a 75-point season en route to a WHL championship. Coming to the U of A to play hockey gave Foster an opportunity to develop his game and attract AHL scouts, but will need to develop even further to adjust to play in the AHL.
"With the (CIS) schedule you play on weekends. You get a lot more time to train and work out. Me being a smaller player, that was the knock coming out of junior, that I wasn't the biggest guy, just being able to work out a couple times a week and maintain your weight," Foster said.
"Coming out of junior, you're still 20 years old, and you're still fairly naive to everything like school and time management. You come here and guys are 25 or 26-years-old, they're a lot bigger and stronger, again just like when I came into the (WHL) when I was 16 and 150 pounds, when there were guys who were 200 or 220. Then you come here and it's grown men again, and there's that transition. It's going to be a step up again, where guys take it very seriously and that's just going to be something I have to figure out."
Foster only spent two seasons playing at the University of Alberta, but his relatively short stint with the team was incredibly memorable. The sophomore totalled 65 points in 52 conference games, won two CanWest and CIS championships, and was named to the CanWest All-Rookie team in his first year and the national CIS first all-star team in his second season.
"Obviously, I have to be a tiny bit selfish and think to myself he's going to be a hard player to replace. He was our top scorer, and a great hockey player … It's a nice reflection on our coaching staff and how we've made a strong commitment to develop our players and get them to the next level," Golden Bears hockey general manager Stan Marple said.
Foster is the ninth Golden Bear in the past 11 years to sign a deal with an AHL squad, and the first to do so since team captain Eric Hunter. It's rare to see a CIS hockey player eventually progress to play regularly in the AHL, and the cause of that might simply be a lack of exposure in a relatively unknown league compared to Canadian junior hockey, according to Foster.
"I'm not sure as many scouts get out to games. Playing on every weekend, just weekends, that's when they go watch junior," Foster said. "And then maybe guys after their degree, they get job opportunities, so they can't pass that up to go pursue hockey when you never know what could come of it."
The toughest part of Foster's decision was having to leave both his teammates who will look for a third straight national championship next season, and his education. His decision to go pro loses him the WHL scholarship that's paid for his tuition thus far. But, according to Foster, this was an opportunity he needed to take, to have the chance to try and play AHL hockey this fall for the Marlies, and maybe even eventually move onto the next level. Playing regular season games in the NHL was one feat that none of those eight other Golden Bears who signed with an AHL team ever achieved.
"I talked with my parents, and they were huge advocates of going to school when I was 20-years-old, instead of pursuing pro then. But they felt that at this point in my life and with the opportunity that came up, that it was tough to pass up," Foster said.
"You play hockey your whole life and you dream of playing professionally. When it finally comes up and you're halfway through (your degree), it's hard to pass up. I figured the U of A will always be here, the opportunity will always be there to go to school, whereas you never know with hockey. It was just one of those things where at this point, I had to take it."