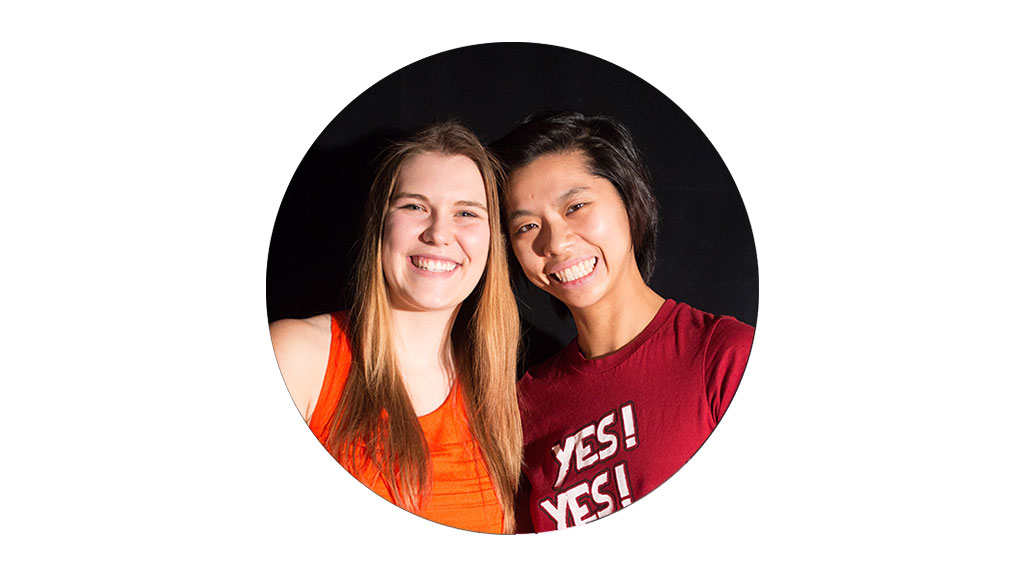 The Landing, a student space for gender and sexual diversity located in the Students' Union Building, is asking students if they support a $1.50 fee per student per semester on this year's Students' Union election ballot.
The fee will apply to full-time and part-time undergraduate students in the Fall and Winter semester. Augustana and Off-Campus students will be exempt and there will be an online option to opt out of the fee.
If the referendum passes, the $1.50 will fund operating costs, programming, events, outreach and awareness, grants and a volunteer program.
The "yes" campaign for The Landing's referendum question is run by Daniella Marchand and side-manager Linh Lu. The Landing's Program Manager, Parker Leflar, joins them.
1. What does The Landing currently do?
Daniella Marchand: Right now, The Landing runs drop-in hours, we have different kinds of engagement opportunities like a trans meet up night, and Rainbow Peers, which is a peer support community.
Linh Lu: We do a lot of awareness campaigns like promoting equity and inclusivity now on campus … just to let people know that this is an inclusive space and we promote these issues as well.
2. What do you hope to do with the money?
Marchand: The programming we're running this year is more of a taste of what we're doing in the future. We want to have more funds to do more awareness campaigns and really promote ourselves and the fact that we're a safe space on campus.
Lu: We really want to promote what we have on North Campus to Campus Saint-Jean and hopefully spread out from there.
3. Why should all students' care, and not just the LGBTQ community?
Marchand: At any point in anyone's life, you might of faced the boundary of your gender expression or gender binary rules you portray.
You need a space that's free of homophobia, sexism, racism or any of these discriminatory things that come from society.
Lu: There is a question of, "but it doesn't help me." The Landing provides support for specific individuals, but campus is not just about one person and their experience, it's about the community. Creating that sense of community is really important by creating that atmosphere is important on campus.
Parker Leflar: I think a lot of people wonder who to ask and how to ask, and this is the space for that.
4. What is your response to students who do not believe in any tuition fee increases whatsoever?
Leflar: You can opt out. We're not going to force anyone to pay a fee they don't want to. If it's not for you, that's totally fine, but we want allow other people to say "yes" to something they really want and they really need.
5. As you may or may not know, The Gateway does weekly news haikus. Give us a haiku as to why students should vote "yes."
Marchand:
Safe spaces for all
Warm, welcoming and friendly
Vote "yes" for our cause
Lu:
Please vote! Yes! Yes! Yes!
Yes! Yes! Yes! Yes! Yes! Yes! Yes!
Yes! Yes! Yes! Yes! Yes!
Leflar:
We want your money
But not very much of it
Support safe spaces!