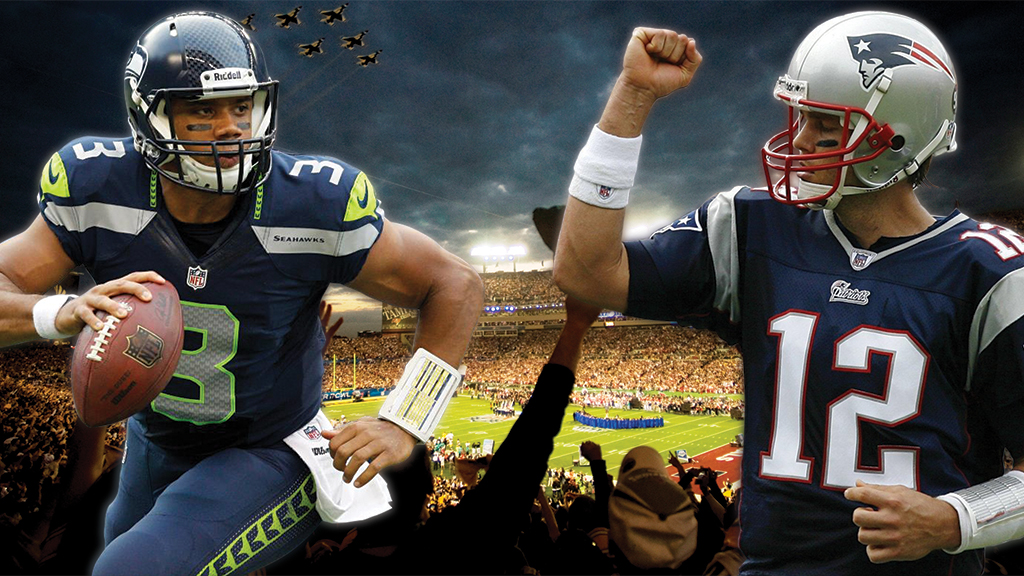 With the biggest sporting event of the year comes the biggest story lines. Here's some stuff to look out for when the New England Patriots and Seattle Seahawks clash in the Super Bowl on Sunday.
1. No one has won back-to-back since…
There hasn't been a champion to repeat in 10 years. Seattle is hoping to break that streak and become the first team to win twice in a row since, coincidentally, the New England Patriots did back in 2003 and 2004. In fact, this Seattle team has a striking resemblance to those mid-2000s Patriots who won three of four Super Bowls between 2001 and 2004. They have elite coaching, a suffocating defence and a young quarterback leading the show. Speaking of which…
2. Is Russell Wilson the next Tom Brady?
This may be jumping the gun a little bit, but their careers started weirdly similar to one another. Here are Tom Brady's stats in his first three years as New England's starter: 3409 passing yards per season, 23 passing touchdowns per season, and two Super Bowls. Here are Wilson's: 3317 passing yards per season, 24 passing touchdowns per season, one Super Bowl (would be two if he wins on Sunday). When you mention that they were both late draft picks who were expected to be backups — Brady was a sixth round pick, Wilson was a third round pick — you can't help but compare the two. Of course, it remains to be seen whether Wilson can step up and become a Hall of Fame quarterback like Brady, but if he can beat Drew Brees, Peyton Manning, Aaron Rodgers AND Brady — all surefire hall of famers — in playoff games in the span of two years, it shows that he's at least capable of getting there.
3. Cornerback matchup for the ages
For most of his career, New England's Darrelle Revis has been thought of as the best cornerback in football. As an All-Pro in 2009, 2010 and 2011, Revis earned the nickname Revis Island, because whomever he was covering was left stranded for the entire game. It seemed he had no equal — until two things happened in 2012. First, he tore his ACL, putting him on the sidelines for the rest of the season, and some guy named Richard Sherman burst onto the scene. With Sherman racking up two All-Pros of his own in Revis' absence, it seemed Revis' time had passed. Back at full health again, the two shared this year's All-Pro honours, and it seems both will use this game to top the other and become the undisputed champion at their position.
4. Deflate-gate
I know, I know, it's already gotten way too annoying and the coverage it's received has been insanely overdone. For the readers that haven't heard, New England, who already has a cheating history in recent years (Google 'Spygate scandal'), had used 12 game balls in the AFC championship game, and 11 were found to be abnormally deflated. Apparently this gave the Patriots an advantage because deflated balls are easier to catch, especially in cold weather. But as much fun as it is to degrade the evil empire that New England coach Bill Belichek tries to embody, with how badly New England dominated the Indianapolis Colts in the AFC Championship game a couple weeks ago, they could've beat them even if they were using a golf ball. The only reason it bears mentioning is that the commentators are bound to hit us over the head with this topic for four straight hours. All this is here for is a warning to prepare you for it.
5. Trying to see who is more unstoppable between Seattle's star running back Marshawn Lynch and New England's star tight end Rob Gronkowski
Seriously, with these two guys playing, I would be shocked if this Super Bowl doesn't break the record for most broken tackles. Frankly, it's tough to argue if there's anyone who can hold a candle to these athletic freaks at being impossible to tackle in the open field. They're both always a threat at all times to turn a five-yard play into a 50-yard touchdown, and I'm pretty sure if they ran into each other at full speed they'd make a bigger earthquake than Seattle's fans after a Lynch touchdown.
Jason Shergill
If reporters don't want bad interviews, just leave Lynch alone
I dare you to watch Seattle Seahawks quarterback Russell Wilson's post-game interview after this year's NFC championship without a smile on your face (well, unless you're a Packers fan).
Raw athlete emotion, win or lose, is what makes watching professional sports inspiring and enjoyable. As fans, we look forward to these heartwarming — or heartbreaking — post-game interviews and watch those tearjerkers over and over again on Youtube.
But when an athlete doesn't want to give that "Kodak moment," don't force it.
Wilson's teammate and backfield partner Marshawn Lynch was handed a $50,000 fine for not speaking to media after this season's NFC Championship. NFL officials told ESPN's Adam Schefter that the NFL would be increasing fines for each Super Bowl Media Day session Lynch misses this week.
At last year's Super Bowl Media Day, Lynch stood in front of a throng of reporters and cameras with a hoodie and sunglasses, but didn't say a word. Players are required to participate in Media Day as per their NFL contract — and Lynch participated.
It was awkward. The Pro Football Writers of America stated they were "extremely disappointed" with Lynch's behaviour. But you know what? Even if he did open his mouth, you weren't going to get anything quotable anyways.
This season is no different.
Forcing uninterested and despondent athletes to "participate" in media scrums because their contract says so is foolish. Let them take the hefty fine and talk to someone else.
The league shouldn't bother bullying Lynch into becoming a media-friendly sound bite. Lynch, 28, is acting immature, unprofessional and unnecessary, but he's been in the NFL since 2007 with that attitude. He's not going to change.
I understand that his antics make an NFL reporter's job excruciating, so when it comes to his turn in the locker room — skip him. Lynch is one of the league's top running backs, but you can still write a story about the running game talking to the offensive line, the offensive coordinator, the head coach or the quarterback.
It's frustrating when your interviewee doesn't want to talk, and as a reporter, I know that first hand. The difference here is that there are a handful of other athletes on the field or in the locker room you can talk to regarding the outcome of the game.
Thousands of fans love reading ESPN articles. You know what they don't love reading? A Marshawn Lynch transcript. Not every professional athlete is as media savvy as Russell Wilson or outspoken defensive back Richard Sherman, and there's really no point in forcing them to be.
Richard Catangay-Liew