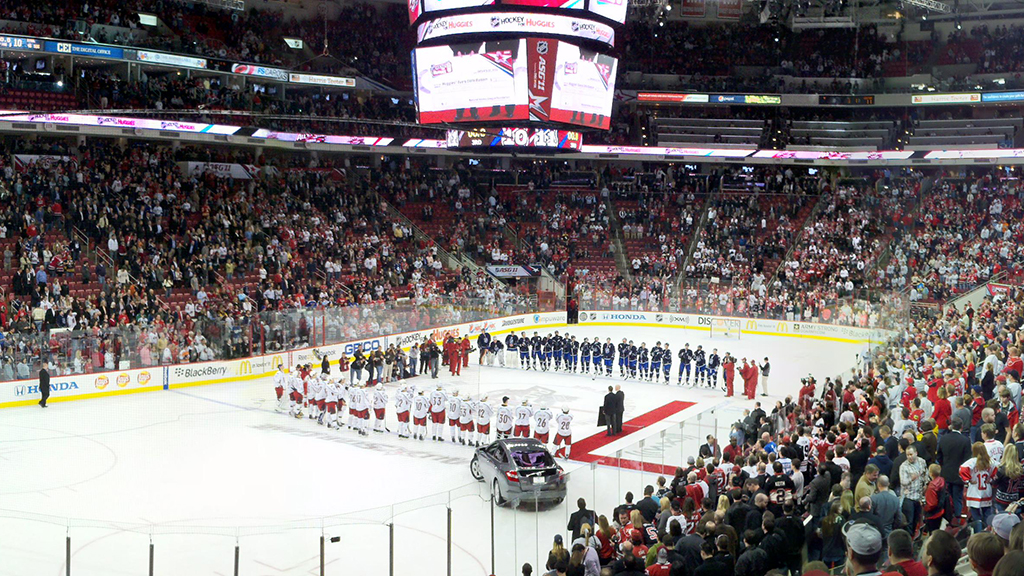 Tens of thousands of Columbus hockey fans are getting ripped off this week.
I'm not talking about the price fans usually pay to see the Blue Jackets struggle near the bottom of the standings in the Eastern Conference. It's the price tag attached to NHL All-Star Game tickets that's swindling these Ohioans. A sellout crowd will be on hand to watch the most dismally defenceless game of hockey they've ever seen and it'll have cost them anywhere from $177 to $270 to attend.
The problem here is the NHL – just like every other North American sports league does – is selling a meaningless game to its fans at an exorbitantly over-valued price, when they'd be better off cancelling the whole thing or at least making it more ludicrous for the sake of entertainment value.
Obviously, the concept of any all-star game makes sense. Sports fans often buy tickets more to see specific players rather than entire teams. When Edmonton fans buy tickets to an Oilers-Stars game, they're not paying to see a combination of mediocre players on the cellar dweller Dallas Stars, but rather to see a player as exciting as Tyler Seguin or Jamie Benn in person. Ice a whole team of star players for one night a year and theoretically you have the makings of the most exciting game of the year.
In reality, the All-Star Game is a mess. It's far and away the dullest game you'll watch all year. Neither team plays any strong defence because no one really wants to risk an injury in a contest this meaningless. The fans voting for who should play in this game clearly don't take it seriously when the top six players they vote to the game are five Blackhawk players picked by Chicago fans stuffing the ballot box, alongside Zemgus Girgensons, a 22-year-old centre for the last place Buffalo Sabres who most fans will have never heard of before his all-star debut.
When neither the players or the fans take a game seriously, it becomes meaningless. The skills competition is a fun exhibition, but the game itself is hockey played at its worst as top players and fan favourites coast for 60 minutes in a game less exciting than the Peewee-aged players exhibition game between periods of an NHL contest. The stakes are so incredibly low for a game that falls in the middle of the season that any ounce of drama and suspense is ripped away because players sensibly want to take it easy before they go back to focusing on playing games that actually matter.
Playing in an all-star game itself isn't even an accomplishment worth sporting on your resume when every team in the league has to be represented, regardless of whether their roster actually has any stars at all. Former one-dimensional enforcer Chris Nilan played in an all-star game, as did unknown defenceman Marcus Ragnarsson and forgotten forward Sergei Krivokrasov.
The other leagues aren't much better. The NBA all-star game is equally uninteresting, the NFL's Pro Bowl is just an excuse for players to take a vacation to Hawaii after their season is over, and MLB's attempt to make their all-star game meaningful was to have the outcome decide which league's team would get home-field advantage in the World Series that season. The attempt to make their all-star game less worthless is respectable, but the idea that a powerhouse American League team that dominated all season wouldn't receive home-field advantage in the World Series because a team nearly made up entirely of players from other squads couldn't win an exhibition game is mind-numbingly stupid.
If the NHL simply scrapped the all-star game, no one would really bat an eye. The NHL's outdoor games generate more of a buzz nowadays and act better as a reward to give cities to host. The NHL could also consider simply lowering prices to reflect the value of the game, or have ticket prices go towards a charity of some sort. And if they insist on continuing to ice this debacle year after year, make it more of a gimmick to entertain fans. They could force teams to play three-on-three or test out potential new rules that could be implemented the following year.
Simply make the game actually interesting for the sake of fans who will have to sit through Girgensons taking the ice this weekend and pretend his 22 points in 46 games this season makes him one of the league's best.