Campus Life
News
U of A students rally for a ceasefire in Gaza
Approximately 200 people marched to demand a ceasefire, as well as for public support from the U of A.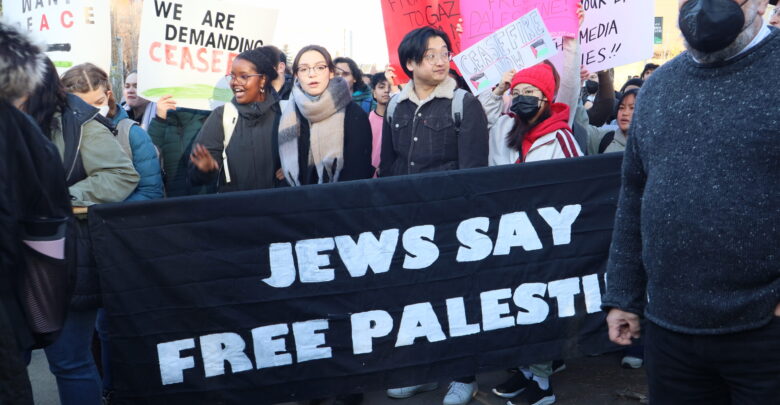 At 2:10 p.m. on November 9 at the University of Alberta, approximately 200 students marched for a ceasefire in the Gaza Strip. It was the second protest held in favour of Palestine at the U of A.
The protest started in front of the Education Centre. Chants of "Treaty 6 for Palestine, occupation is a crime," and "ceasefire now" could be heard by passersby as people marched. Students walked down 87 avenue and Saskatchewan Drive, then ended the protest on Main Quad.
According to an Instagram post announcing the event, the rally was "student led with no official organizer."
As of November 13, the death toll totals over 11,180 in Gaza and 1,200 in Israel.
The first speaker of the protest, who declined giving her name to The Gateway, led a land acknowledgement. She then delivered a speech before the march began. In it, she condemned the actions of the Israeli government in the Gaza Strip.
"People are without clean water, food, and medical supplies," she said. "Palestinians are facing violence from multiple fronts."
"We are here today, after walking out of classes, libraries, [and] study sessions, because we're demanding an immediate ceasefire in Gaza. We are disrupting our normal everyday life," she said. "Killing is not normal. This can never be normal. Over 10,000 people have been killed in just a few weeks, almost half of which are children. And this number continues to rise every minute."
She called on the university to publicly support Palestinians and to share the demands of protesters to the Government of Canada. These demands included calling for a ceasefire, ending weapon sales to Israel, and facilitating humanitarian aid to Gaza. According to the CBC, the Canadian government has rejected that "Israel's actions constitute apartheid," and also does not recognize the Israeli government's actions as genocide. Protestors also demanded these stances be changed.
"On campus grounds, we're calling on the U of A to support our message and to break their silence amidst this genocide. Your silence is violence, and it's costing lives."
"We demand an immediate ceasefire," Palestinian U of A student says
Tarik, a U of A student from Palestine who did not disclose his surname to The Gateway, had considered covering his face before participating in the walkout, out of fear of retaliation and hate.
"But, I realized that in itself is a form of being silenced. The people in Palestine, the people of Gaza, they cannot hide their identities — they are killed because of their identities," he said. "So, I want them to know that this face stands against genocide."
In 2001, Tarik's family left Palestine after bombing started in their neighborhood. His house was bombed once in 2014, then again this October, he said.
"[Israel] didn't just completely destroy my home. They destroyed my entire city."
"Each new day is announced as the highest death toll, and our Canadian government refuses to call for a ceasefire," Tarik said. "We demand an immediate ceasefire [and] sanctions. And [that] Canada recognize Israel as an apartheid regime and stand against it. We demand a free, liberated Palestine."
Indigenous speaker calls for U of A to waive tuition fees for Palestinian students
Prometheus Voaklander, an Indigenous student, was the next speaker.
"The university might portray itself as a neutral and powerless entity, but we know this is a lie," Voaklander said. "Universities are institutions with power, and the U of A chooses when to utilize that power."
He said that the university's silence on Palestine reminded him of institutional silence on Indigenous issues, such as the Wet'suwet'en land dispute.
Voaklander demanded both a ceasefire, and that the U of A waive application and tuition fees for affected Palestinian students, as well as provide them grants to cover their living expenses. During the Russia-Ukraine war, the U of A released a statement of support for Ukraine. Additionally, they established support measures for Ukrainian students and refugees. Voaklander asked that this same treatment be given to Palestinian refugees.
He said that these demands can be pushed by the U of A Students' Union (UASU).
Voaklander mentioned that he had met with a UASU representative on October 6 about advocating for free tuition for all students, but was told it was outside of the "Overton window." This is a term which refers to policies in the realm of public acceptability.
"The cowering fear where students are crying for humanitarian demands is a failure of your job as elected representatives of students," Voaklander said.
Palestinians in "open prison," protestor says
The third speaker recited a poem inspired by the events in Palestine.
"No matter your colour, or faith, or creed, red is the shade every single one of us bleeds. My responsibility lies within the power of my words, so I'll repeat every rhyme until every line is heard. It is my hope within our lifetime that every inch from land to sea, will make for a Palestine that is by all means free."
"We have been taught in school about genocide and the Holocaust and [have] wondered, 'how did the world just sit by it and watch it happen?' Well, we're witnessing that right now," she said.
As well, the speaker called out world leaders who "preach about innocent lives, yet sit back and watch more crimes being committed against Gaza." She condemned Israel's alleged use of white phosphorus munitions, as well as their cutting off food, water, and electricity in Gaza.
She said Palestinians are being denied human rights and aid in an "open prison," referring to the blockade Israel has imposed on Gaza.
Lastly, the speaker thanked the student protestors in attendance.
"The people in Gaza need this. They need the world to speak up, because we are their voice. They're cutting the media out — their Wi-Fi, their internet access. We are their voice, so keep it loud."
"Across the Western imperialist powers, we're seeing [a] clamp down on free speech," Fightback member says
Next, a member of Fightback, an international Marxist group, condemned Western media for censoring pro-Palestine protests.
"Across the Western imperialist powers, we're seeing [a] clamp down on free speech," he said. "They accuse protests like this of being hate marches of anti-semitism."
He said that after the first protest, U of A administration met with Fightback because some of their slogans included the word Intifada, which refers to the Palestinian uprising against Israel.
"We've been talking about uprising, revolution, class struggle, [and] class war, openly up and down the campus for six years. Never heard a peep from the administration — not until we used an Arabic word to describe uprising. And then suddenly, they have concerns about us inciting violence."
"Let yourself lose sleep. Let yourself be angry. Let your humanity drive you to action," speaker says
The first speaker ended the protest with a final speech. In her closing remarks, she encouraged students to educate themselves about and speak up for Gaza.
"Look at their suffering. Stop ignoring them. Stop scrolling past. Let yourself feel something. Let yourself lose sleep. Let yourself be angry. Let your humanity drive you to action."
She admitted that out of concern for people's safety, she had considered "censoring" chants, after a man in Calgary was arrested and later charged for causing a disturbance during a rally on November 5. He was seen chanting "from the river to the sea, Palestine you will be free" prior to being arrested. The phrase has come under fire for being anti-Israel. However, she said people "need to stand up for [their] rights," including the right to freedom of expression.
"Don't be scared to come out. Don't be scared to show your face [and] use your voice. Because those who call that chant hate speech will call any of our chants hate speech. And if we let that happen, our right to protest is taken away. That's not a democracy."
"Universities are supposed to be a place for critical thinking, knowledge sharing, and debate," she continued. "So don't let that silence us."
She encouraged students to reach out to their elected representatives to demand a ceasefire.
In addition, she encouraged students to participate in the Boycott, Divestment, and Sanctions movement by targeting Starbucks, McDonald's, and Disney.
In closing, she mentioned the organizers are developing a letter calling for the university to support a ceasefire in Gaza.
"We will be looking for student groups, faculties, and administration to sign this letter."
The protest ended with a prayer.
UPDATE: On November 15 at 10:48 a.m., The Gateway updated the article to clarify that Prometheus Voaklander spoke to a UASU representative for free tuition for all students, not just Palestinian refugees. The Gateway regrets this error.