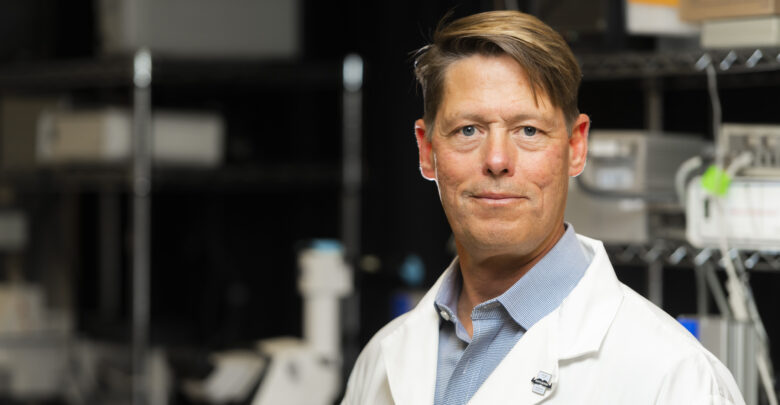 A University of Alberta professor and his team have developed a test that can predict the probability of aggressive prostate cancer in as little as two hours.
John Lewis, a U of A professor in the oncology department, is the chief executive officer (CEO) and co-founder of Nanostics. The company focuses on developing minimally invasive diagnostic technology. After 12 years of development and testing, Nanostics has launched a new minimally invasive prostate cancer test in Alberta called ClarityDX Prostate.
"About one in six men are diagnosed with prostate cancer in their lifetime," Lewis says
Although prostate cancer is very common, a diagnosis does not always require treatment. This happens in non-aggressive cases where the cancer stays confined to the prostate. According to Lewis, if the cancer is detected before it has spread, patients have a "99.9 per cent chance of being alive in the next 10 years."
"[It's estimated] that up to 80 per cent of men, by the time they get to 70-years-old, have some prostate cancer. About one in six men are diagnosed with prostate cancer in their lifetime," Lewis said. "And about three out of every 100 men will die of prostate cancer."
It's recommended that men begin screening for prostate cancer around age 50. Traditionally, screening starts with a blood test called the Prostate Specific Antigen (PSA) Test. If a patient displays a high amount of PSA, their prostate gets biopsied. The biopsy involves removing samples of tissue from the prostate. A pathologist then looks at the samples to see if there's cancer.
"Most biopsies are negative and most of the positive biopsies are cancers that probably would never kill them. So only a small subset are cancers that probably would benefit from treatment. This is where we wanted to make a difference."
Lewis and his team wanted to find a less invasive way to determine if a patient requires a biopsy. They started by identifying what makes prostate cancer spread to other parts of the body, also known as metastasis.
Identifying certain biomarkers can help avoid invasive surgeries, Lewis says
Lewis and his team discovered biomarkers which are unique to solid tumour cancers that are likely to become aggressive and spread. In 2017, they tested for these biomarkers in patients' blood. They found they could predict who would have aggressive prostate cancer by the presence of these biomarkers. At this time, Lewis launched Nanostics to start developing ClarityDX Prostate.
The researchers combined their knowledge of the unique biomarkers with an artificial intelligence (AI) machine learning algorithm to create ClarityDX Prostate. The test assesses the risk of aggressive prostate cancer in a patient by using data from biomarkers.
Initial testing was done on 3,488 men from North America, including 1,400 men from Alberta. The results showed ClarityDX Prostate could predict aggressive prostate cancer before a biopsy.
"We were super excited about that data," Lewis said. "It meant that [if] we implemented ClarityDX Prostate test after PSA testing, we could avoid up to 35 per cent of unnecessary biopsies."
Nanostics plans to make tests available across North America
Lewis and his team are establishing further partnerships across Canada and the United States. They plan to have the test available across Canada before the end of 2023. In early 2024, it should be available across the US. Afterwards, they will look into the commercialization of the test across the world.
Over the next few months, Lewis and his team plan to run an educational campaign. They will inform primary-care physicians about incorporating the test into their options for prostate cancer screening.
Lewis added that the release and development of the test could not have happened without the dedicated members of his team over the past 12 years of development.
"It really took an extraordinary effort by everyone to get this test on the market."