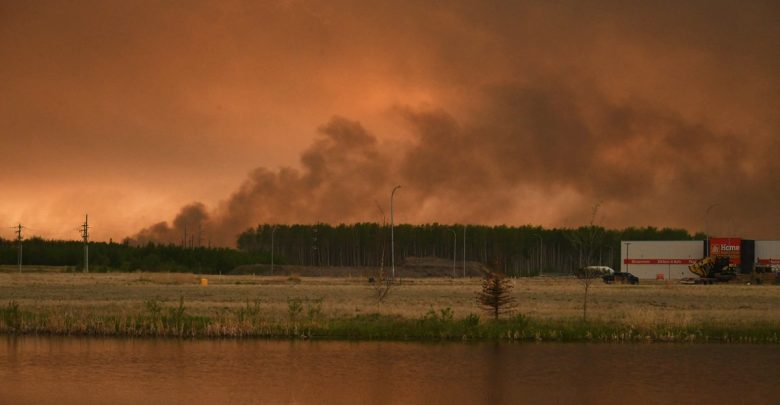 Researchers at the University of Alberta have used a data analytics model to determine a strategy for preventing medium-difficulty wildfires from burning out of control.
Ilbin Lee, an assistant professor in the department of accounting and business analytics, led the study which analyzed the data of Albertan wildfires. The study focused on improving the operational strategies that firefighters use in the first few hours of fighting a wildfire. 
"We looked at wildfire fighting data of more than 13,000 fires in Alberta during a span of 15 years. We estimated the amount of resources used on the first day of the fire," Lee said.
The study showed that it is important to contain the fire in the first hours. Lee called this the "initial attack."
"Once a fire escapes the initial attack and achieves a large size, it becomes increasingly more difficult to suppress. That's why the initial attack is so important," Lee said.
More firefighters on frontlines will improve initial attack, study shows
The study showed that the initial attack can be improved by putting more firefighters on the front lines. According to Lee, the more firefighters there are on the front lines, the more work hours are being spent fighting the fire.
"If managers can increase the size of the attack by 64 work hours … the initial attack success rate for these fires will increase from 92.2 per cent to 96.2 per cent," Lee said. 
"This may not seem like a lot but when you look at the failure rate, it decreased from 7.8 to 3.8 — that is a more than 50 per cent reduction."
Lee explained that "the operational strategy refers to how firefighters deploy resources" to suppress fires. He added that firefighters have to consider multiple factors in order to make decisions on how to use their resources. 
"Firefighters take numerous factors into account like weather conditions, other fires burning, and the current amount of resources they have."
Lee said that firefighters "are facing harder and harder challenges with temperatures rising." A hot and dry climate along with unpredictable weather conditions across Alberta is leading to wildfires being more common across the province, especially in the summer months.
"The variability of weather is also increasing, which is important because in Alberta, about half of fires are caused by lightning. When you get more thunderstorms, you can get more fires," Lee said.
Medium-difficulty fires better fought with more resources
The data analysis focuses on medium-difficulty fires, as the initial attack success rate for low-difficulty fires is already high. The machine learning model can identify which fires are medium-difficulty and would benefit from increased resources.
"When there is a new fire reported, we can run our machine learning model. Then we decide if the fire belongs to a target group or not. If it belongs to a target group, we will suggest increasing the resource level," Lee said. "For these wildfires, increasing the resource level can improve the initial attack success rate."
Historically, the operational strategies used by firefighters in Alberta have been effective, Lee added. 
According to Lee, Alberta has also been successful at keeping data from the wildfires that have happened across the province. However, there is not a lot of data available from other provinces.
Lee thinks that researchers in other provinces should also analyze their data when it comes to wildfires. This way, they can learn to better allocate resources.
"I strongly believe that other regions and provinces should do a similar analysis as our study, because ours cannot be applied directly to other regions," Lee said.
"I just want to stress the importance of data availability after this fire season because this season was so deadly."