Arts & Culture
Nation & World
"From Trash to Treasure" exhibits a remarkable phenomenon sparked by recycling cardboard
The exhibit features a unique collection of books with stunning cardboard covers, telling the story of carteneros in Latin America.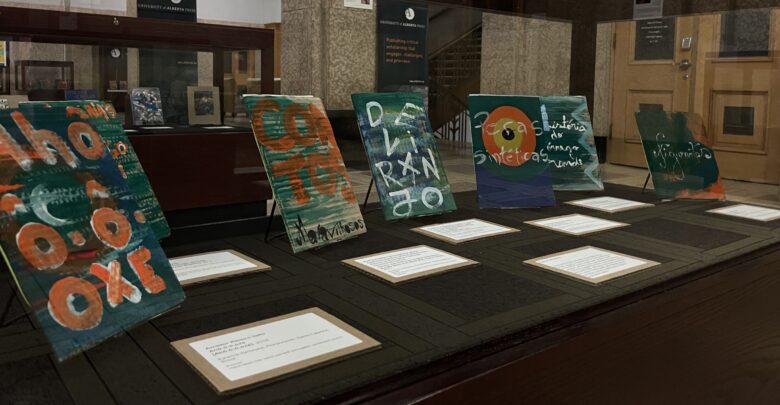 Avid readers tend to have their own preferences when it comes to book covers. Some like a firm hard-cover because of its look, while most prefer a more affordable paperback.
A current exhibit from the University of Alberta's Bruce Peels Special Collections showcases how empathy and creativity combined allowed for an even more affordable solution in Latin America. "From Trash to Treasure" exhibits over 50 Brazilian cartonera books, with covers made from recycled cardboard.
Recycled cardboard creates affordable books in a movement of solidarity
"In Argentina, around the beginning of the 2000s, there was a very severe economic crisis. A lot of people lost their jobs," Odile Cisneros, a professor in the department of modern languages and cultural studies, explained.
In an effort to make money, people began to sell recycled cardboard for a living. These people became known as carteneros, derived from cartón, the Spanish word for cardboard.
During this time, books were very expensive. According to Cisneros, a writer and an artist saw an opportunity to create affordable books, while showing solidarity for the carteneros. They would buy cardboard and make hand-bound books with cardboard covers.
"They started to produce these books and sell them on the streets. The public reacted very positively. [In 2003] they founded a publisher, Eloísa Cartonera. After, [more] publishers started to spring up throughout all of Latin America," Cisneros explained.
During Cisnero's sabbatical in 2019-20, she was invited as a visiting professor to the Federal University of Santa Catarina in Brazil. It was there she met Evandro Rodrigues, a publisher at Katerina Kartonera, at a workshop about these unique books.
"I [told him] I know about this phenomenon, but I don't think it's very well-known throughout North America," Cisneros recalled. She brought back the idea of acquiring Katerina Kartonera's entire catalogue of books to the U of A Library. The university ended up purchasing all 35 books, along with others from a different publisher.
"I can pretty [confidently] say that it's one of the first libraries in Canada to acquire this collection," Cisneros said. "We were ahead of the game bringing this phenomenon into our library here."
"You will never find two copies of a book that are the same," Cisneros says
Importantly, the exhibit sheds light on a fascinating phenomenon that is cultural, artistic, and political. It shows how something that is often thrown-out can be reused into something unique, purposeful, and beautiful, especially during times of crisis.
For Cisneros, there are several important aspects at play, such as the sustainability that comes with reusing cardboard, and the support carteneros receive from artists and publishers. She added that these books also play an important role in spreading information.
"The books were also meant to respond to a crisis and disseminate a lot of voices. Publishers are going to give priority to first-time authors or Indigenous writers who don't normally have access to the publishing industry."
A very special aspect is that each book is rare. Each one is individually hand-crafted and one-of-a-kind, even if multiple have the same title.
"You will never find two copies of a book that are the same," Cisneros said. "They are beautiful books, handmade in a number of different techniques."
"The idea that each book is a unique item, [and] there's only one in the world of that particular item, is very fascinating."
The books in the exhibit are organized by different themes and techniques, so that viewers can get a sense of the material, political, and artistic aspects at play. Viewers can also scan a QR code that takes them to Alberta Katonera, which provides additional information on individual books.
The exhibit is at Rutherford South Foyer until October 31. Afterwards, the books will be available at Bruce Peels Special Collection.