Arts & Culture
Campus & City
Exhibit Review: 'Implicit Grid' at FAB Gallery
An escape from the chaotic world around us, 'Implicit Grid' reminds us that there is beauty in simplicity.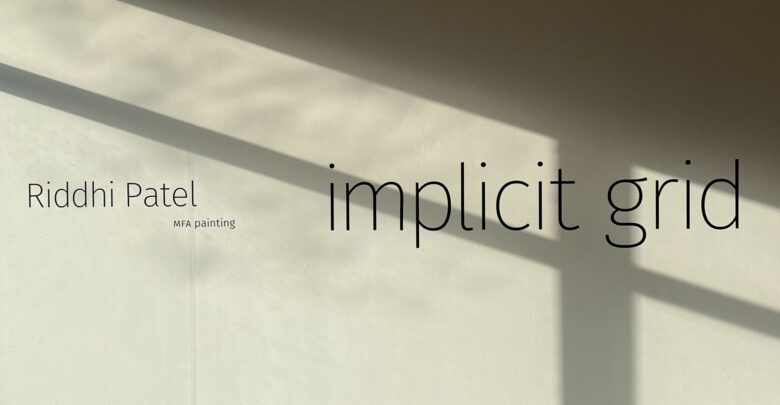 Until November 3, the FAB Gallery at the University of Alberta is displaying Implicit Grid, a collection by Riddhi Patel.
Patel, a visitor and newcomer to Canada and Edmonton, is strongly influenced by her experience as a Kathak dancer. Kathak, a classical form of Indian dance, involves intricate moves. Patel's art aligns with the movements and beats found in this traditional dance. Patel earned her bachelor's in visual arts with a specialization in painting from The Maharaja Sayajirao University of Baroda, India.
Using repeated lines on paper, Patel creates visual static that lulls the viewer into a state of relaxation. Her collection wrestles with questions such as "how does the eye visually experience a touch?" and "how does one visually interpret a sound?"
The title of the exhibit within the gallery is uncapitalized. This aligns with the flow of the displayed art, as no particular element rises above another. Even the sharp angles become part of an overarching ambience. This continuity within and between Patel's pieces is successful in fostering a "conducive mental ambiance" by allowing the viewer's eyes to wander freely across the walls.
The piece Sounds like Grids visually interprets sound. It features twelve square grids, twelve by twelve inches each, all meticulously drawn with graphite on paper. All twelve are distinct elements, yet together they form a larger whole. It translates into a clean, comfortable, and ambient sound. When I first saw the artwork, I wasn't immediately drawn in. There are no bold colours or flashy images. Instead, the viewer is gently carried by the fine lines that make the grids.
The piece untitled features four touching grids rotated 45 degrees, implying a potential for sounds to interpenetrate one another. If you're a millennial like me, you might remember those colourful patterns exhibited on computer screens when playing music on certain programs. Patel works with a similar principle.
In the exhibit there is a set of headphones that plays a static clicking sound. This seemed to be an auditory translation of the visual pieces. An auditory translation is made when an artist creates a sound based on art, or vice versa. I found the sound's static hum to be completely in alignment with the visual grids. It was a cool moment to hear the sound of Patel's art, as it developed the relationship between the grids and dance even further. This piece perfectly shows how sound can connect to art, like dance connects to music.
Plane is done with acrylic and graphite on linen. It implies a slight roundness to the pattern, although the pen strokes are all straight. This roundness seems to imply a sense of motion. Movement occurs throughout endless points across planes of space and time. But, it is only motion in its fullness that appears to have a fluidity and curvature to it. I understood this piece as a reflection of the artist's dancing background.
Tale and Time shows ink on paper. It is the kind of painting I would love to see in a student-filled coffee shop because of its simplicity that allows space for thought when one's mind is already buzzing from schoolwork. I felt kindness emanating from the fading rounded rectangles. It is gentle and it looks the way musical meditation sounds.
Gloam reminded me of cobblestone. It made my eyes hop onto different elements, like a child might hop onto different coloured tiles to escape the imagined lava. In this case, the imagined lava was the stress of the outside word. There are many layers of serenity to Gloam. It's one of those pieces where the longer you look, the more you see.
Altogether there is something comforting about the order and repetition found both in the auditory and visual aspects of the exhibit. The biggest takeaway I had was that there is beauty in simplicity. Images and sounds don't need to be bold or loud in order to elicit a response in the viewer.
Implicit Grid invites the viewer to meet the artist halfway in the experience, because it isn't initially visually grabbing. In today's world where media is always pulling us in a million different directions, it was refreshing to encounter Implicit Grid. Patel has mastered the art of subtlety.