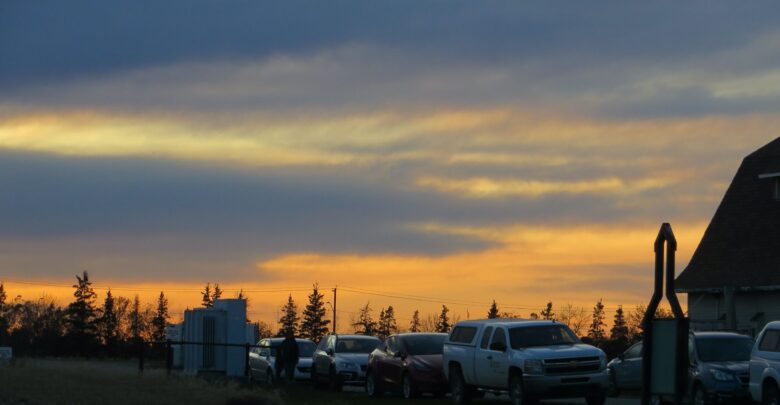 The Burlap Sack is a recurring Gateway opinion column for students to express grievances on anything from campus life, to provincial politics, to everyday hot takes.
---
Like most people, I enjoy the fall season. There is truly nothing better than getting to dig out the scarves from your closet and indulging in the classic pumpkin spice latte from Starbucks. Walking through crunchy leaf piles while listening to Taylor Swift's "All Too Well" is the ultimate fall experience.
However, there is something that looms over the autumn season like the ghosts of Halloween — short fall days. There is nothing worse than having a long day of school and then having to commute home in pitch black. One minute you're enjoying the brief warm sunlight through your classroom window. The next, you're standing under a streetlight as your only source of light at 6:00 p.m..
Of course, here in Alberta fall is short-lived. As winter approaches us like a ticking clock, we know that we should make the most out of this beautiful season. But how can we, when the impending doom of winter creates a dark cloud of misery over us?
Even the prospect of hunkering down at a cafe for a few hours after school to get work done is cut short by the dim lighting that floods the cafe windows the second the sun slips away. And let's be honest, once the sun sets all motivation disappears with it. It is the ultimate contributor to procrastination.
While early sunsets bring despair with their darkness, it also impacts your feelings of safety. Edmonton's LRT, for example, is one place I would rather not be during the brightest hours of the day, let alone during a dark evening. And although Halloween is fun and exciting, no one actually wants to live through the plot of a horror movie.
While the influx of fall welcomes cozy drinks, knitted sweaters, and frosty mornings, it also brings shorter days. And these shorter days mean darker evenings. So it seems that the fall and all it brings is better in concept than the actual reality of it. Do these seasonal perks outweigh the impending gloom of shorter days? I say, not really.