Institutional
News
U of A ranks seventh out of 1,591 universities for impact on sustainability
Rankings assessed universities against the 17 United Nations' Sustainable Development Goals, which "are aspirational efforts to improve society," according to the academic director of U of A's Sustainability Council.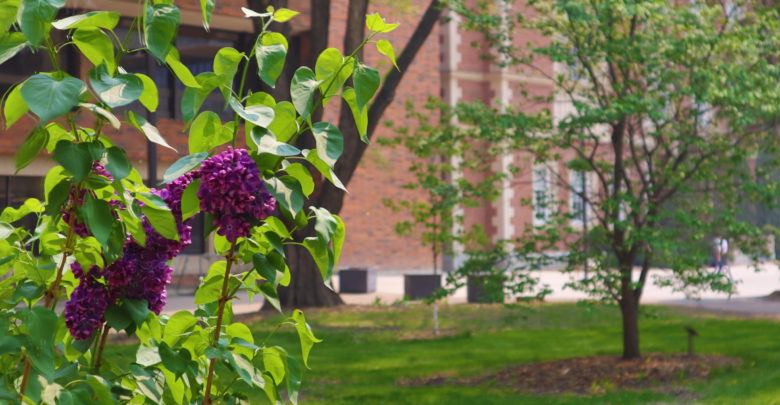 Out of 1,591 universities, the University of Alberta ranked seventh for its impact on sustainability by the 2023 Times Higher Education (THE) Impact Rankings.
THE Impact Rankings assessed universities against the 17 United Nations' Sustainable Development Goals (SDG) across four areas: research, stewardship, outreach, and teaching. The U of A's top-scoring SDGs are "Industry, Innovation, and Infrastructure;" "Zero Hunger;" and "Life on Land."
Bob Summers is a faculty service officer in the faculty of science, and the academic director of the U of A's Sustainability Council. He said it's important that rankings are incorporating SDGs. These goals "offer the first credible way of looking at things."
"I think SDGs are aspirational efforts to improve society and to address what I see as the grand challenges. It's a nice way to help focus in and identify what we should be aiming for as a society."
U of A's 2023 ranking is an increase of 0.4 — its "really wide scope of work" contributed to upward movement
A university's total score is calculated by combining its score in SDG 17, "Partnerships for the goals," and it's top three SDG scores. The average from a university's total scores over the past two years result in the overall score. The U of A achieved an overall score of 96.4.
Universities must submit evidence of their contributions which are assessed under four areas. The first area, research, examines how the institution develops research related to SDGs. It also looks at how many times related research articles published by U of A researchers have been cited. Stewardship, the second area, assesses the supervision of employees, faculty, and students.
Thirdly, in their assessment of outreach, the rankings look at how the institution works with local, regional, national, and international communities. The fourth area, teaching, assesses if there are enough qualified practitioners teaching SDGs in courses. This area aims to have students graduate with knowledge on sustainability.
In the 2022 THE Impact Rankings, the U of A ranked 11th with an overall score of 96.0. The U of A's ranking increased by 0.4 this year. According to Summers, there will always be movement among rankings because of the many factors that are considered.
"Sometimes it's about the data we submit, sometimes it's about whether we did more. The nuances of the small gain in position are kind of hard to determine. Overall, our success has been because we have a really wide scope of work that we do on this campus," Summers said.
"We have a lot of active groups and researchers who engage a lot with communities in various ways. I think the idea that we do a lot of knowledge translation at this campus, from academic work to practice-based work, is a really big factor."
Problem-based research can "help actually create change," Summers says
The U of A's Sustainability Council builds and offers new academic programming related to sustainability, such as SUST courses. It also directs engagement and outreach with the U of A community on SDGs and sustainability, Summers said. Additionally, the council supports student groups and works with Sustain SU, the University of Alberta's Students' Union (UASU) sustainability service.
As academic director of the Sustainability Council, Summers is an advocate for problem-based research. He says it is "foundational to the success of an institution."
"We look out there and see an issue. Whether it's poverty in our city, addiction issues, or efficiency of our vehicles. Then we focus in and say, what research can I do to help address this problem or issue that society is facing?" Summers said.
According to Summers, problem-based research often leads to researchers contributing findings to non-governmental organizations, policy-makers, and volunteers "to help actually create change."
"That can contribute to achieving a goal that society would like to achieve. The SDGs outline those at a broad scale. It's what motivates me to expand that type of work on this campus and programming."
Summers added that U of A researchers have been doing more problem-based research. This includes "engaging with folks to actually impact policy and other on-the-ground outcomes." He said that the higher ranking could have partially resulted from this shift in research.
Currently, Summers is part of a group that is working to create a Master of Sustainability interdisciplinary program.
"It will be problem and transition focused work that will focus on the SDGs broadly with an emphasis on the environmental side of things. Also, it will engage what we call systems thinking, [which is] thinking in complexities about how society and our interactions with nature work," Summers said.
Summers says that next steps include creation of master program and continuing engagement on sustainability
According to Summers, the academic front of Sustainability Council will continue to "engage with folks across campus to encourage more focus on SDGs broadly and to identify how their work connects with the SDGs." However, creating a Master of Sustainability program is the main focus.
He stated that the council is "working on one or two things at a time, while continuing the broad scope of pushing and raising awareness of the SDGs and the need for continued efforts in this front."
Summers added that there is an emphasis on students when it comes to sustainability. He currently teaches "Introduction to Sustainability" and has engaged in sustainability education for many years. Summers said that he has seen many former students "shifting things" toward sustainability in their work.
"I think that always keeping in mind that you can build a career and a life, and still work to improve the world, regardless of where you're at, is really key."