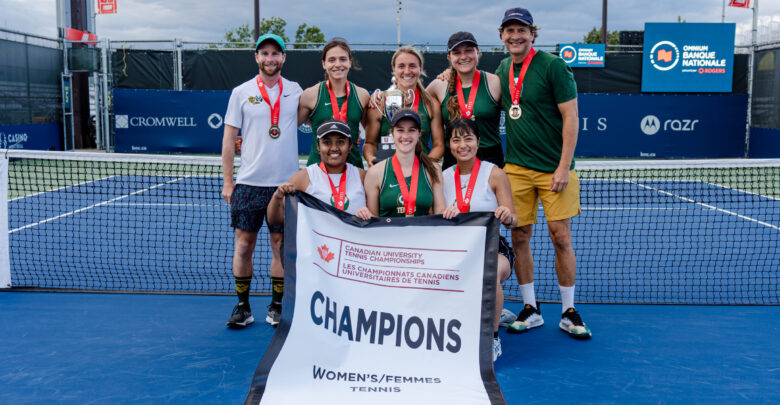 On August 13 in Montréal, the University of Alberta Pandas tennis team defeated the Western University Mustangs with a 4-3 win in the Tennis Canada 2023 University Championships. The win marked the teams' fourth-straight national title.
The Pandas hold a team win-record of 29-1. They've held this record since the start of the 2018-19 season. Their record for the past four years in singles and double matches combined is 140-37.
"To me, [this championship] was, without a doubt, the hardest win," head coach Ivan Quintero said. "We were actually pretty close to losing. The team fought so hard to the last point."
Quintero and assistant coach Kyle Sluchinski were named co-recipients of the Female Team Coach of the Year award. Both were also named Coach of the Tournament at the championship.
Panda's biggest strength is that "they really come together under pressure," Quintero says
The Pandas defeated the McGill University Martlets 5-2 in the national semifinal. All three pairings of Alexandra Jewitt and Emma Rutherford, Amrita Shanmugam and Marena Diaz Nakagawa, and Jessica Kreutz and Sandra Taskovic won the doubles point. Jewitt, Kreutz, Rutherford, and Taskovic all won their singles matches.
The Pandas lost the doubles point in the final, as only the pairing of Kreutz and Taskovic won. The championship win was secured through four single match wins from Jewitt, Kreutz, Rutherford, and Taskovic.
Rutherford, team captain and the national championship MVP, dominated her singles match with a score of 6-4 in both sets. Rutherford won the number one singles and doubles spots in both the semifinal and the final.
In the final, Jewitt broke the match tie of 3-3 by winning a third-set tie-break in the number two singles match.
"The other team only needed one match to win. We needed to win the next three singles: two, four, and six," Quintero said. After winning singles four and six, the championship came down to Jewitt's match.
"Jewitt also played a key match against McGill — also in three sets and a tie-breaker. The next day in the final, she faced the same situation. It has to do with her ability to perform well under pressure."
Quintero thinks that the team's biggest strength is its ability to come together under pressure, which was key. He added that all players improved over the course of the season, which was evident in the championship.
"Every match was important. And even with the players that lost a match, I know they're playing better." Quintero added that one of the challenges the team faced was only having six players on the team, which is the minimum.
"That was another pressure point for us. Everybody had to keep healthy and maintain health during the tournament."
Looking at the upcoming season, the roster will lose Kreutz who is graduating. Quintero added that there are four potential new players coming in.
"I feel very excited. I can't wait to start, keep improving, and hopefully keep bringing in national championships to the university."