Campus Life
News
Students' Union
Edmonton Youth for Climate protests the UASU for banking with RBC
"They need to back up their actions with their money," U of A student and protester says.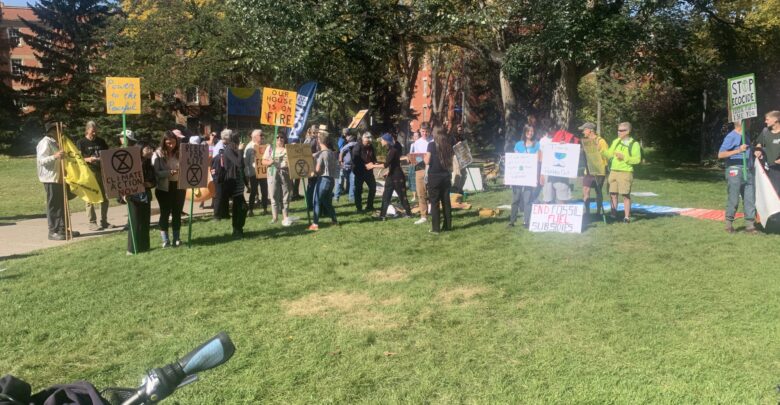 At 12:00 p.m. on September 15, chants of "listen to our warning, stop global warming" and "separate oil and state. Stop the pipeline, stop the hate" could be heard on the University of Alberta's Main Quad.
Members of Edmonton Youth for Climate (EYFC) protested the U of A Students' Union (UASU) for banking with the Royal Bank of Canada (RBC). In April, the CBC reported on a report that found RBC to be the biggest fossil fuel development financier in the world.
"We're specifically striking here at the U of A to call on the students' union to stop banking with RBC. [RBC] funded $42 billion [US] toward fossil fuel development last year alone," Juliana Weber, an environmental and conservation sciences student and member of EYFC, said.
In a comment received by The Gateway, UASU Vice-president (operations and finance) Levi Flaman said the UASU works with all major banks to provide services on campus, like ATMs and the ATB Client Service Space. However, the UASU has a "banking relationship with RBC," which extends to scholarship funding as well.
"Exploring our options requires thorough evaluation with governance oversight bodies and financial professionals," Flaman said. "We thank the students who shared their perspectives. Our aim is to make decisions that align with student needs and priorities while responsibly managing student funds."
Additionally, several members of EYFC said they were protesting because of the recent Alberta wildfires. Since May, the wildfires have caused several evacuations and smoke advisories.
"We're quite frankly devastated by the wildfires that happened this summer. [But] this is not new. We knew that this was coming," Monica Figueroa, a physics student and EYFC member said.
"I am really feeling a lot of climate grief and climate anxiety, specifically after this major fire season we've just had," Emily Bonanni, an environmental conservation student said. "It's really important to me to be able to come out and show support and solidarity with these organizations."
"You feel like there's no hope, so you gotta get out there," U of A graduate says
Cobie Snellen is a U of A graduate from the department of biological sciences. She now works in environmental ecology and conservation. Snellen said she sees the impact of fossil fuels everyday.
"It's nice to get people together and talk about it. It's better than sitting and watching things happen online. That gets depressing. You feel like there's no hope, so you gotta get out there," Snellen said.
Several students recommended credit unions as an alternative to banks. Weber noted that the top five Canadian banks all contribute to fossil fuel development. This includes Scotiabank, Toronto Dominion Bank (TD), Canadian Imperial Bank of Commerce (CIBC), and Bank of Montreal (BMO).
"Credit unions are not investing in fossil fuels, so that's one of the alternatives," Figueroa said.
A credit union is non-profit institution owned by the members of a bank. They offer many of the same services as a traditional bank.
Mark McCormack, a philosophy student, said that although he feels the protest was a good start, climate action needs to escalate. He plans to go on up to 12 hunger strikes during the next year and a half. To begin, he will strike against the department of philosophy.
"Philosophy is the place of wisdom and we are lacking wisdom in global society. There's a new way of thinking that's more holistic, comprehensive, [and] more ecological, that I think the department needs to get on board with."
Multiple protesters said they like some of the environmental programs the UASU operates. These include the Bike Library and Workshop, the Reusable Dish Program, and the Green for Good Market. But, they believe that the UASU needs to do more.
"They have a lot of great initiatives and I'm not discounting that," Weber said. "And with that they need to back up their actions with their money."