Arts & Culture
Nation & World
Book Review: Gerald Hannon's "Immoral, Indecent and Scurrilous: The Making of an Unrepentant Sex Radical"
Hannon's memoir is an important and cheeky telling of queer life in Canada.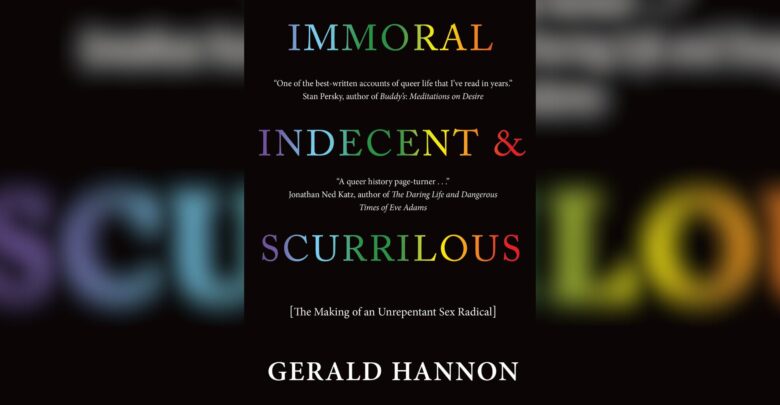 Recently, I took a trip to Toronto to visit a friend for a week. As I had in past visits, I found myself wandering Church Street. I engaged with the vibrant queer community there, including its lengthy history. I decided to pay GLAD Day Bookshop a visit, a queer bookstore and cafe in the heart of the area.
After talking with an employee there about my own experiences being queer — I was born and raised in Alberta with little connection to Canada's queer history and communities — I took their suggestion and picked up a copy of Gerald Hannon's memoir, Immoral, Indecent and Scurrilous: The Making of an Unrepentant Sex Radical.
The person I was talking to gave me a brief rundown of the book. During his time teaching journalism at Toronto Metropolitan University (TMU), Hannon's sex work became exposed. Community backlash and media frenzy followed after his dismissal from his job. However, after reading the memoir I learned that this was only a portion of his significance in Canada's queer history. Hannon and many others had significant influence in Toronto's LGBTQ2+ scene from the 70s to late-90s.
In his memoir, Hannon details how he came into his own identity as a gay man. This was at a time when the fight for LGBTQ2+ rights had begun to pick up both in the United States and Canada. As well, he talks about his contributions to the movement in Toronto.
He tells of his journalism work with queer tabloids, The Body Politic and Xtra, as well as his coverage of the Toronto bathhouse raids of 1981 (and the protests that followed). Hannon also delves into his experiences with sex work and his time teaching at TMU.
Before his "scandal" at TMU, Hannon first gained media attention when The Body Politic went to court on obscenity charges. This was because of his article Men Loving Boys Loving Men in their December 1977/January 1978 issue.
The article explored the lives of three men who had or were engaging in romantic and sexual relationships with underage boys. Regardless of opinion on the subject matter, the trial was incredibly significant. It challenged the censorship of media and freedom of the press in Canada. Hannon and The Body Politic were acquitted on all charges. This marked a step forward. Not just for the queer community in Toronto, but against censorship as a whole.
Despite the tribulations he faced, Hannon tells his story with flourishes of witty humour, self-reflection, hope, and bravery. In a current world where even in Canada, LGBTQ2+ rights seem to be tested at every waking moment, Hannon's memoir not only tells of his life. It also shows younger queer people (such as myself) that in the face of oppression, the long fight is worth fighting.
Hannon's memoir is one that every queer Canadian should pick up and read. Firstly, to get a better glimpse into Canada's rich — but often untold — queer history. And, to become inspired to fight and find joy in being immoral, indecent, scurrilous, and absolutely unrepentant.
Gerald Hannon passed on May 9, 2022 by medical assistance in dying (MAID) after struggling with atypical Parkinson's disease for four years. His writing for the Body Politic and photography is in The ArQuives, an archive for Canadian LGBTQ2+ works.