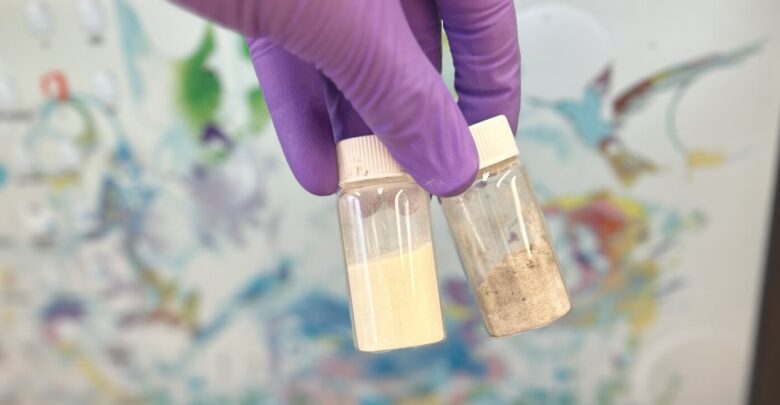 Muhammad Zubair developed a water purification filter from chicken feathers for his PhD in bioresource technology.
Zubair, who started his PhD in 2017, is now a post-doctoral fellow in the faculty of agricultural, life, and environmental sciences at the University of Alberta. He found that the chemical makeup of chicken feathers can be modified to make a biosorbent that can absorb heavy metals from wastewater.
Additionally, the process reuses chicken feathers, which are often sent to the landfill or burnt.
Research finds that the absorption of chicken feathers can be enhanced though modifying keratin proteins
"Chicken feathers are basically the byproduct of the poultry industry, and they're either landfilled or burnt. Both of these methods are environmentally unfriendly. Chicken feathers consist of more than 90 per cent of keratin proteins," Zubair said. Keratin is a structural protein also found in hair, nails, and the outer layer of human skin.
"The first step is the extraction of keratin proteins from the chicken feathers. The second step is the modification of the keratin proteins into an absorbent of heavy metals." According to Zubair, keratin proteins get strength from disulfide linkage.
"The proteins basically consist of amino acids. But if we look at the difference between keratin proteins and other [proteins], the main distinct difference is the presence of disulfide linkage."
Therefore, in order to develop absorbance, the disulfide linkage is broken. Another chemical agent is then introduced into the keratin protein. This "can enhance its absorption capacity for different contaminants, especially for heavy metals," Zubair said.
Zubair used graphene oxide and nanochitosan as chemical agents for modifying the keratin proteins. This made the proteins into a biosorbent, allowing Zubair to then test the proteins' absorbent capacity.
Biosorbent could be "applied into the oil and gas industry, or other chemical industries as well," Zubair says
Zubair tested the graphene oxide and the nanochitosan biosorbents separately, and found that both were successful in decontaminating simulated wastewater with heavy metals.
According to his published research, in 24 hours the graphene oxide "exhibited excellent performance for the simultaneous removal of metal oxyanions including arsenic, selenium, chromium, and cations including nickel, cobalt, lead, cadmium, and zinc."
"We simulated wastewater in our laboratory, and then we contaminated the water with different heavy metals in our lab. We then used this absorbent to check its absorption capacity by using this simulated water," Zubair said.
Zubair contaminated the simulated wastewater with 600 parts per billion (ppb) of each metal concentration. As an example, one ppb is equivalent to one dollar out of one billion dollars. In Zubair's experiment, the bisorbents absorbed up to 99 per cent of heavy metals in the simulated wastewater.
Aman Ullah and Roopesh Syamaladevi, both professors in the faculty of agricultural, life, and environmental sciences, supervised Zubair's work. The chicken feather biosorbent is part of research on biosorbents led by Ullah through the U of A's Future Energy Systems.
According to the website, current testing is being done "to expand [the] applicability of these biosorbents for various other contaminants."
Additionally, Zubair added that the biosorbent "can be applied into the oil and gas industry, or other chemical industries as well."