Campus Life
News
Humans of UAlberta: Robel Ng'ong'a
"My goal is to see a world where everyone is happy and helping each other," U of A alumnus and former Augustana Students' Association president says.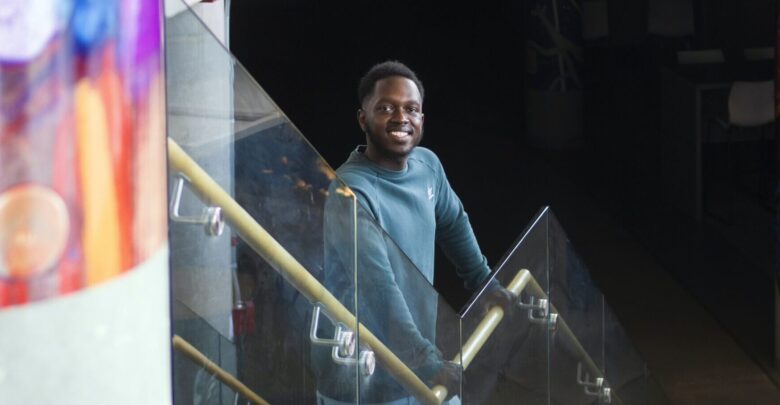 Growing up, Robel Ng'ong'a had always been surrounded by people that were willing to help others, which he says is why he became interested in joining the Augustana Students' Association (ASA).
Ng'ong'a is a recent alumnus from the University of Alberta's Augustana Campus. He graduated with a Bachelor of Management and a certificate in innovation and entrepreneurship. Ng'ong'a acknowledged the role that support from others played in his achievements.
"During my first year, I was supported immensely by my peers and some people that were above me. They're a big part of the reason why I was able to achieve what I've achieved so far," Ng'ong'a said.
Ng'ong'a served as president of ASA in 2021-22. He first served on ASA's executive as vice-president (academic) in 2020-21.
"I took on student governance to ensure that students are well-taken care of at the forefront of the university. It means a lot when students have a voice at the table, especially at a campus like Augustana," Ng'ong'a said. "We're a part of the U of A, but most people might forget because of the distance and our specialized focus."
Ng'ong'a's advocacy for Augustana students during the COVID-19 pandemic
When Ng'ong'a was vice-president (academic) during the COVID-19 pandemic, he advocated for fair exam proctoring for students.
"The effort that we put to ensure that students had a feasible examination environment carried on to this very day. We were able to develop a culture where students can communicate with faculty members to come up with solutions."
Ng'ong'a also advocated for accessible transportation for students that need to travel between Camrose and Edmonton to access services.
Continuing into the pandemic as president, Ng'ong'a helped initiate the Zero Textbook Cost (ZTC) program at Augustana. This was in conjunction with the University of Alberta Students' Union (UASU). Ng'ong'a said that the program's effects were incomparable because of the "nature of the situation and the direct impact it had on students."
"I had a student come into the office who was going through a lot because of the pandemic. This student was genuinely at the point where, 'it's either I buy a book or I pay my rent.' [Because of ZTC], it became one less thing to worry about," Ng'ong'a said.
"A big part of me wants to help people. That's what I feel is my calling on Earth," Ng'ong'a says
Outside of school, Ng'ong'a sat on a municipal development planning committee for the City of Camrose. Ng'ong'a saw the committee as an opportunity for making students' voices heard.
"Camrose is a very unique city. It's small when you compare it to a city like Edmonton, and the university is a big part of it. My role was mainly bringing forward the views of students and minority groups, to ensure that everyone has a seat at the table."
In the near future, Ng'ong'a hopes to come back to the U of A to pursue a Master's in Business Administration. On the side, he's been building a non-governmental organization (NGO) that will be based in his home country, Kenya.
"A big part of me wants to help people. That's what I feel is my calling on Earth," Ng'ong'a said.
He added that people can help others in many different ways, "not just through things like student governance or having these big positions."
"When I share these stories, it's more of an encouragement. My goal is to see a world where everyone is happy and helping each other."