Campus Life
News
Research
U of A student project group builds fully autonomous underwater vehicle
The autonomous underwater vehicle is able to navigate underwater and complete tasks on its own, without the help of a pilot.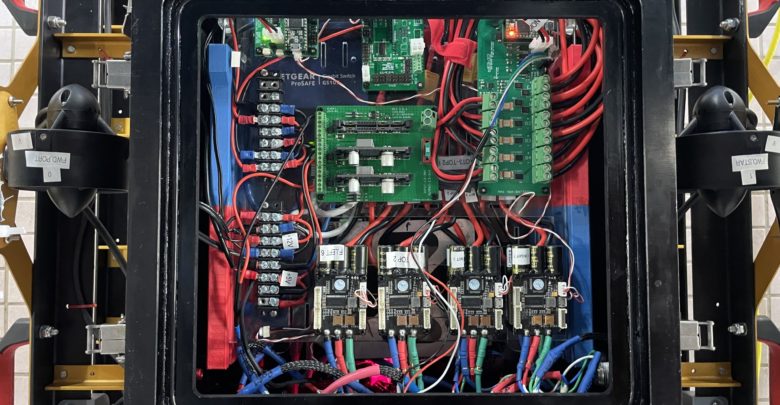 A team of University of Alberta students have created an autonomous underwater vehicle (AUV) as part of the Autonomous Robotic Vehicle Project (ARVP), a project group in the Engineering Students' Society (ESS). The AUV, nicknamed Arctos, is able to navigate underwater and complete tasks without being directly controlled by a pilot.
Arctos was showcased at the Kinsmen Sports Centre on March 12. Spectators watched a demonstration of the AUV performing tasks underwater in a swimming pool. Spectators also learned about the various parts that make up Arctos from ARVP co-leads Nathan Chong and Justin Francis, and other team members.
The team is currently preparing for RoboSub, an international student competition. The AUVs in the competition will have to run an obstacle course untethered with no pilot.
"The robot is making all the decisions itself. Some of the things that we have to be doing is picking up objects, shooting torpedoes through small holes, and visually identifying objects to ram into them," Chong said.
Stevie Desmarais, a fifth-year mechanical engineering student and ARVP mechanical co-lead, said that there were issues when the team first began working on Arctos, which was originally designed in 2019.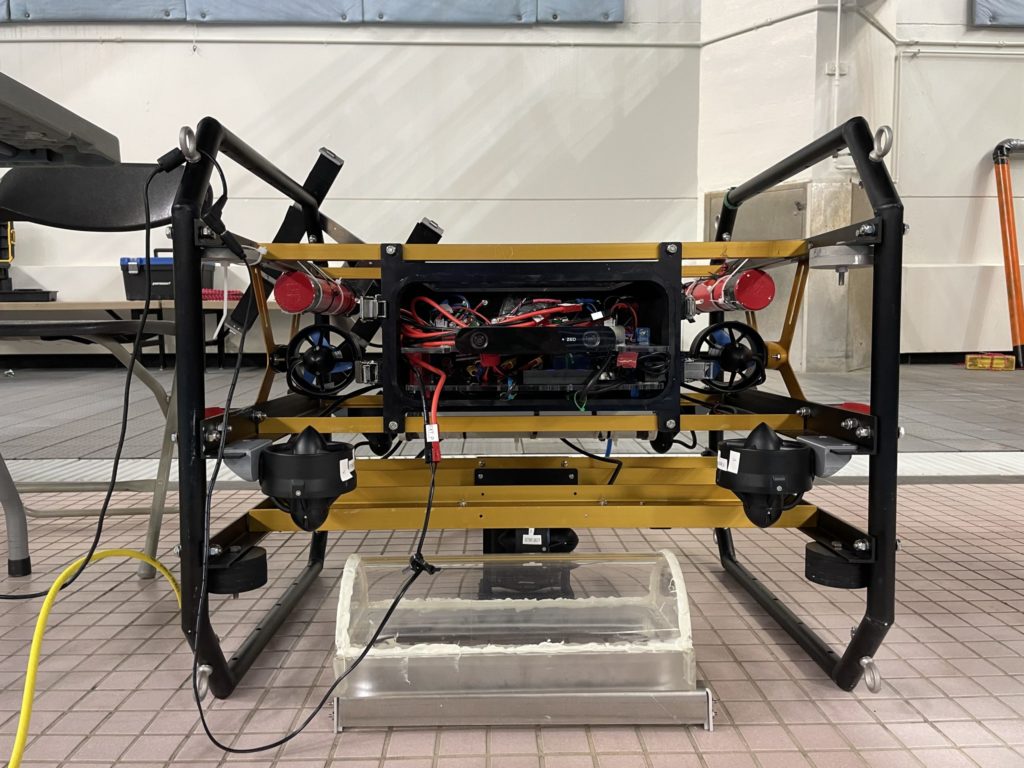 "Due to COVID-19, everything got slowed down as we were heading into manufacturing. We picked it up this past year, and we had a bunch of fixes to get in order — for example, the hull was leaking like crazy when we first got it," Desmarais said.
She added that the team is completely redesigning all three major sub-systems of Arctos: the droppers, torpedoes, and mechanical claw. According to Desmarais, it's not just the sub-systems that are different from last year.
"This Arctos is different from our last one mainly because of the thrusters, as we moved from six thrusters to eight. This one is almost too fast, we can't run it at full speed because it scares the divers."
AUVs play an important role in biological sciences, according to ARVP co-lead
According to Chong, AUVs are important tools when studying biological systems that are usually difficult to access. AUVs are able to collect more environmental data as they can explore extreme environments, go deeper in water, and operate longer than divers.
"In terms of biological sciences, it's just getting to further depths, and basically exploring systems that we vaguely know some things about, but don't have amazing data," Chong said.
Because of this, Chong added that AUVs have potential in underwater inspection work, such as inspecting submarine communication cables on the seabed that carry digital data between continents.
"Right now, the only way we know if something goes wrong, is if it breaks. What we want to move into, in the future, is an inspection process where a robot can be sent down, visually confirm that everything's fine, and then send that information back."
Chong thinks that there are ways in which ARVP could partner with the City of Edmonton, and help the community with things such as the city's waste-water treatment system.
"A lot of the filtration systems that we have for disposing of waste through our water systems are effective, but we only know that at the mouth of the facility," Chong said.
"I think there's a really good opportunity to use a robot to take samples of water, to prove how well the City of Edmonton cleans it."
Although building the current Arctos has been difficult, Chong is excited to see the outcome of his team's progress.
"I think what makes Arctos special, is that we're making the absolute best out of a bad situation. It makes me super excited for the robot that comes after this — Arctos is a ray of hope for the future."