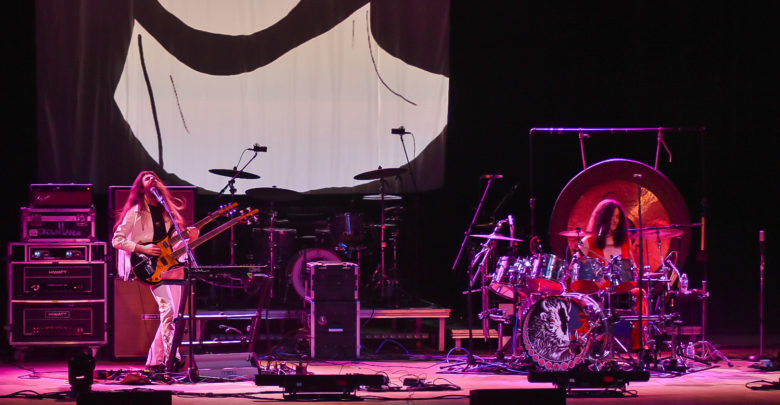 On March 23, Crown Lands delighted audiences as headliners in The Vat Pub in Red Deer, with openers The Humble Cartel. On April 4, the duo opened for July Talk at The Winspear Centre in Edmonton. Both performances are part of Crown Land's Spring 2023 Canada tour.
Originally from Oshawa, Ontario, Cody Bowles (drums and vocals) and Kevin Comeau (guitar, bass, and keys) formed Crown Lands in 2015. From there, they have enjoyed touring across Canada and opening for bands across North America. Recently, they opened for Greta Van Fleet on their 2022 Dreams In Gold tour and July Talk on their current Remember Never Before tour in 2023.
The mighty duo is making their mark on Canadian music history. While the band Rush influenced their style of music, Crown Land's songs come from the heart and showcase their individuality.
Most songs focus on Indigenous topics in Canada, or show appreciation for nature in the song lyrics. This subject is personal for the band, specifically Bowles, who is Two Spirit and Mi'kmaq.
The progressive rock duo just released their Fearless album at the end of March. This album features songs such as "Starlifter: Fearless Pt. II," "Right Way Back," "Context: Fearless Pt. I," and "Lady of The Lake." All of these were performed live prior to the album release and were received well by audiences. 
The group were nominated for two Juno awards in 2021: the breakthrough group of the year, and rock album of the year for their self-titled album, Crown Lands. Both members definitely know how to keep the audience engaged and excited with their stage presence. Seeing the passion they both have for music and the Canadian rock community leaves me with no doubts they will eventually be a household name. 
I had the chance to meet both Bowles and Comeau after the show, which was so special. They are extremely talented musicians but are also humble and kind.
If you haven't checked this band out yet, this is your chance to claim you were a fan from early on. Start with "Lady Of The Lake," "River," "Dreamer Of The Dawn," and "The Shadow" to hear the full scope of this band's genius.