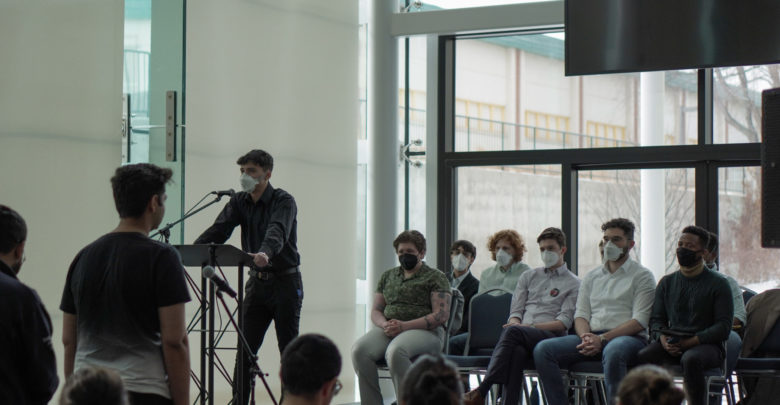 The Myer Horowitz forum was filled with thoughtful audience questions, and the vice-president academic (VPA) race was no exception. In all honesty, the audience kept VPA candidates on their toes, which made for an entertaining discussion.
It was clear that students are passionate about the future of academic advocacy. Interestingly, the questions seemed to force VPA candidates to speak to more issues than what their platforms featured.
Student voters can't be expected to keep track of the spur-of-the-moment commitments made during audience question periods — especially if those commitments didn't make it into platforms.
Almost predicting the barrage of promises to come, candidate Pedro Almeida opened with, "now friends, a lot of promises have been thrown around. As we can recognize, [they] are either unrealistic or do not address the academic issues important to students."
Almeida's point addresses the candidates' attempts to effectively respond to the back-to-back questions throughout the forum, with randomly prescribed solutions. These shotgun-statements reflect a bad image for VPA advocacy, especially if these concerns can't be met once campaigns are over.
For example, one question asked the VPA candidates' plans for advocating for students whose class credits at Augustana are not transferable for programs on North Campus, specifically, mentioning the experiences of various international students.
"I have known many students who have accidentally gone to Augustana, so I think that's our first problem to fix," replied candidate Rowan Morris, while referencing the need to make Augustana's website more clear to international students — a promise mentioned nowhere on his platform.
Following Morris' response, candidate Milan Regmi remarked that courses not being recognized by BearTracks has been a persistent issue in recent years, and that fixing the site was a reasonable next step. However, this is mentioned as a sub-goal targeted toward CSJ students on his platform, not Augustana.
By promising add-ons to their campaigns during forums, advocacy for various associations on campus can be difficult to navigate for student voters. Candidates try to appease thoughtful questions by answering with an acknowledging approach. But, how can students be sure that these promises will be delivered if all they get is a non-committal acknowledgment in the forums, but no solutions offered in their platforms?
In response to nearly all questions, Almeida defaulted to his one-size-fits-all solution of an "online advising hub that has in it all of the necessary information for students from all campuses."
This is one out of 10 goals Almeida commits to in his platform, and seems to have overridden his other campaign points in his public speeches. While dedicating forums to a repeated campaign point might be memorable, Almeida's explanation for how this will be achieved on campus and in collaboration with other associations remains a grey area.
This example, amongst many other questions asked at the Myer Horowitz forum, demonstrates that platform goals for VPA candidates require more consultation with student groups like Augustana Students' Association or the International Students' Association. Especially in cases of culturally-sensitive proposals such as Morris's suggestion of introducing Peacemaking Circles for academic offences — which requires detailed consultation with the Indigenous Students Union (ISU) before it can be wholly considered.
If major student concerns are being raised at forums that aren't covered by three candidate platforms, then what kind of advocacy are we actually voting for? Above all else, students should be weary of more one-off promises that aren't reflected in candidates' platforms.
CORRECTION: This article was updated at 12:22 p.m. to reflect that Morris' platform features Peacemaking circles, not Peacekeeping circles. The Gateway regrets this error.
---
Every year, The Gateway publishes hundreds of articles like the one you just read that are free for everyone to access. But The Gateway needs your support to continue publishing its award-winning journalism. Please consider donating today, even a small amount can help the University of Alberta's only newspaper continue serving the campus community. Thank you.