Arts & Culture
Campus & City
Exhibit Review: '5 Artists 1 Love' Art Gallery of Alberta
The AGA is holding an exciting exhibition showcasing five African-Canadian artists for Black History Month.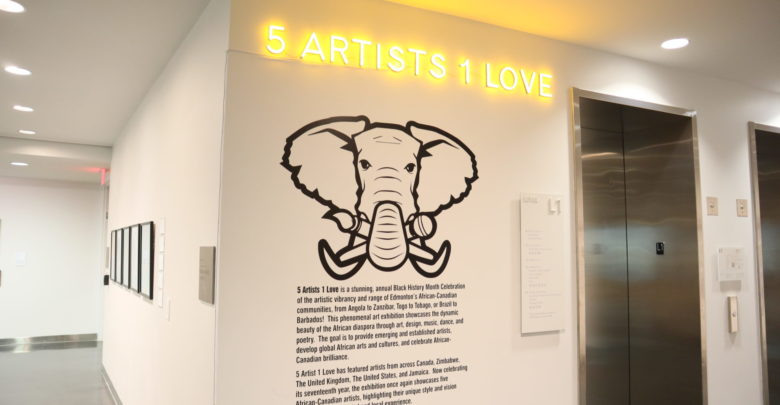 I visited the Art Gallery of Alberta (AGA) on February 6 to see the 5 Artists 1 Love exhibition for Black History Month. This exhibition is an annual celebration for Edmonton's African-Canadian communities to share their culture and heritage.
According to the Government of Canada, Black History Month celebrates the "achievements and contributions of Black Canadians and their communities" and serves as a powerful reminder that Black stories are important to the value of Black Canadians, as well as Black people globally.
5 Artists 1 Love is an organization that promotes Edmonton's African-Canadian communities' unique, vibrant styles through artistic community engagement. Now celebrating its 17th year of establishment, the 5 Artists 1 Love will have five of Edmonton's African-Canadian artist's works presented at the AGA.
This year, the artists showcased are Ore Dipe, Bret Damion Miles, Ola Bolarinwa, Diana Ohiozebau, and Messanie Raphaël.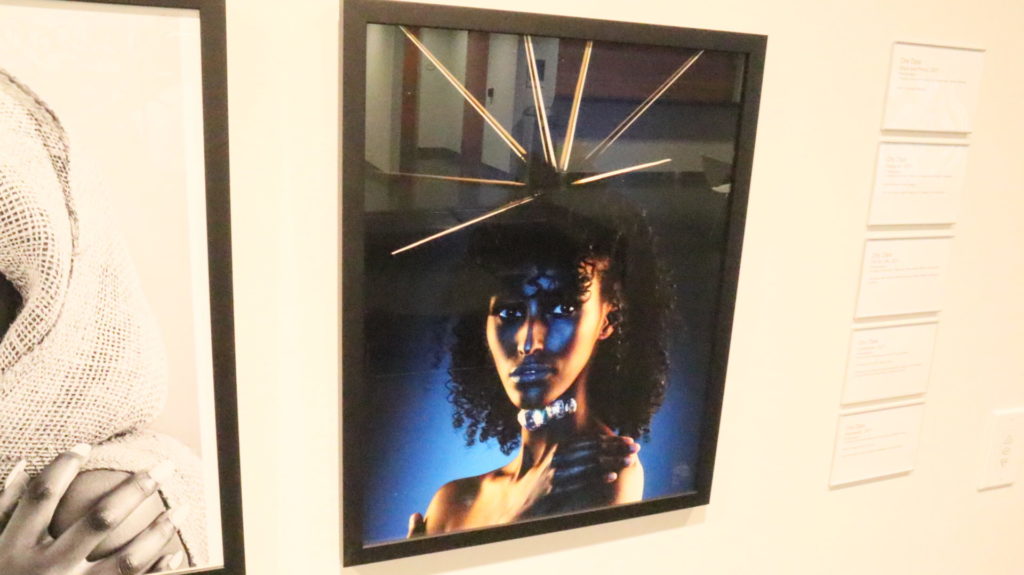 Dipe expresses himself through photography and film-making. He presented five photographs that encapsulated the diversity and beauty of Black people. My personal favourite is Black and Proud. The lighting, colours and the model herself create a beautiful image with an equally strong message; "Black, Bold and Beautiful." 
Five incredible pieces created by Miles before he passed away in August of 2022 were featured in the exhibition, continuing his artistic legacy. According to his artist statement, he used recycled cupboard doors and cardboard posters as his canvases, which he repurposed from trashcans in New York because he said that "he didn't feel worthy of canvas yet."
My favourite from his collection was the painting titled War, which he created in 2000. In the painting, Miles made the eyes of one of the figures the same colour scheme as the jacket and tie of the other figure. This left me wondering why the artist made this type of connection with the figures.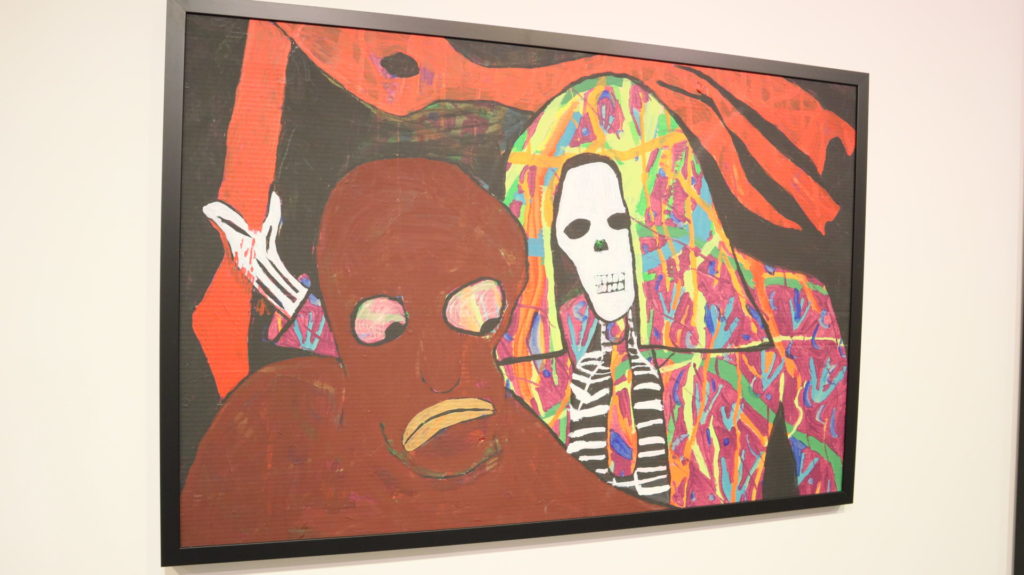 Bolarinwa is a self-taught artist who expresses himself through hyperrealistic drawings using graphite and charcoal. He was born in Nigeria and moved to Edmonton in 2007. As a homage to his Nigerian heritage, he created a piece featuring Fela Kuti, a Nigerian musician "regarded as the pioneer of Afrobeat." Bolarinwa is inspired by the therapeutic feeling creating art provides him. My favourite piece of his is titled Face of Africa. The detail in this particular piece is impressive, and it is hard to believe that it's a drawing, not a photo.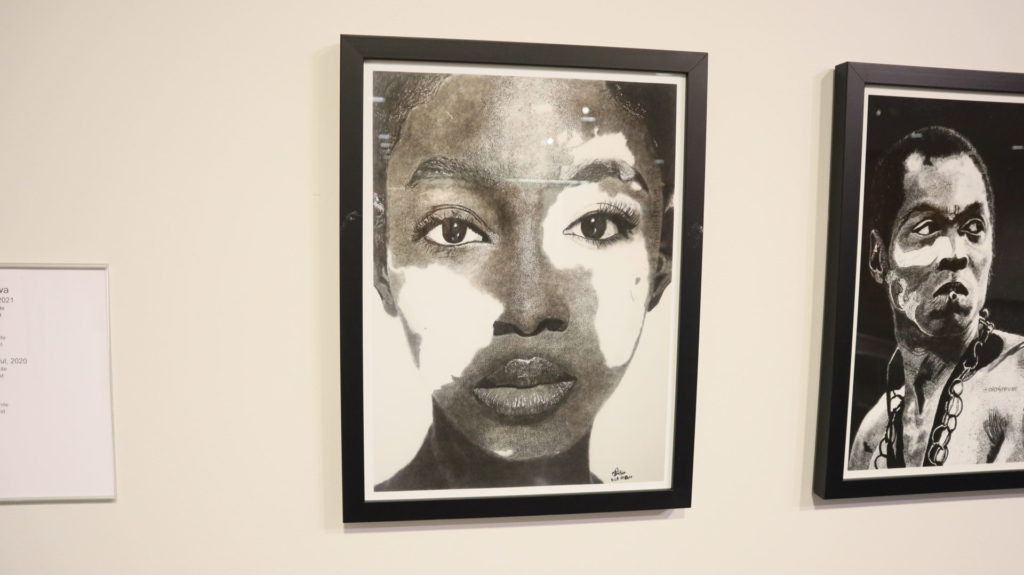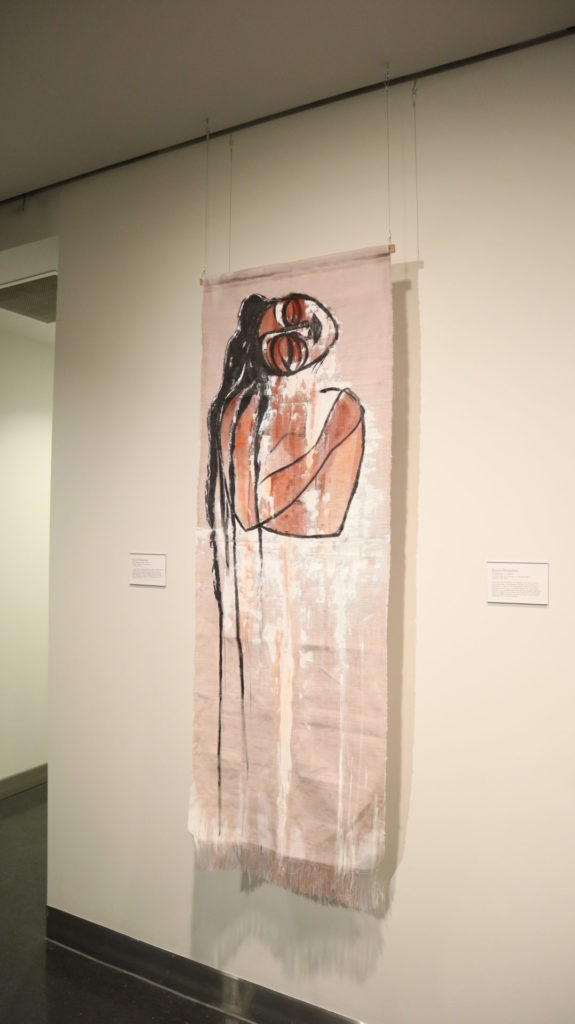 Ohiozebau's pieces all had a powerful message of unity, resilience, womanhood, comfort and confidence. According to her artist statement, At A Place of Ease conveys the importance of "finding places of solace, comfort, and strength" and embracing our whole selves.
Many people can identify with this piece because it illustrates the importance of authenticity, confidence, and emotion. It makes us realize that life is too short to worry about what others think of us and that we should be able to express ourselves in the moment freely.
Raphaël had a unique approach to presenting her art; her works were 2D animations displayed on a television screen at the exhibition. As seen in her animation hello.01134, Raphaël uses movement and human connection to express her work. When looking at her work, I felt like she was trying to express freedom, and I felt comfort and warmth when watching her animation.
She also often uses symbolism and poetry to convey meaning in her pieces, leaving much of the meaning up for viewer interpretation. In this particular piece, Raphaël writes a line of poetry: "let us be set in a never ending motion every time we say hello." I believe this expresses that time will feel endless as long as we have each other. 
The exhibition will end on April 2, so if you haven't checked it out yet, you can do so anytime from Wednesdays to Sundays to take a break from the load of assignments and studying for exams. This would be the perfect time to go, as it starts to warm up outside.