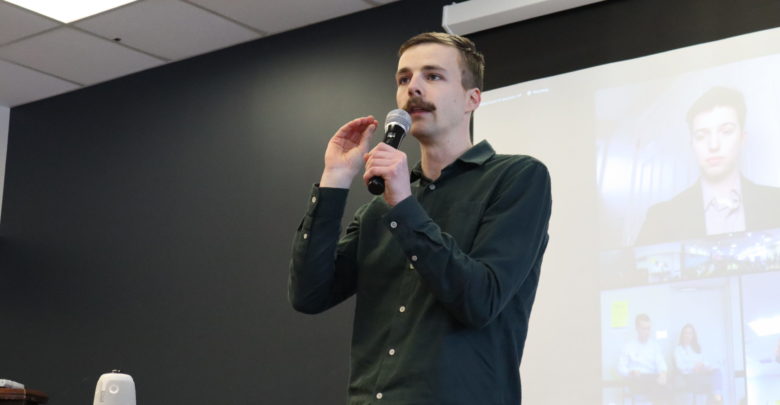 Students have limited, but entertaining, options in the Board of Governors representative (BoG rep) race this Students' Union (SU) elections. Only one candidate is running — Stephen Raitz.
Raitz is known on campus for being a quirky Tiktok personality, and his performance at the Campus Saint-Jean (CSJ) forum reflected that. Unfortunately, beyond enthusiasm he didn't have concrete plans or specific ideas for CSJ.
He started his speech — which was entirely in English — by acknowledging the need for relationship-building between the UASU and the different campuses.
"I have a complete lack of capacity to speak French, but I make up for it in a willingness to collaborate, to converse, to connect, and ensure that we're working towards goals together, regardless of where we're coming from within the different campuses of the University of Alberta," he said.
With the unique issues that CSJ and bilingual students face, it makes sense that they want the Students' Union to learn about their concerns and advocate for them. However, I didn't see much acknowledgement of these unique issues from Raitz during the forum.
In his opening remarks, Raitz explained what the position of BoG rep is: an unpaid representative elected by students to serve as their collective voice on the BoG — the highest decision-making body at the University of Alberta. This is a particularly helpful piece of information since I have yet to meet anyone who knows that such a position exists, let alone what it entails, which Raitz acknowledged.
Raitz said that he had met with AUFSJ in preparation for his campaign, and that he's looking forward to "carrying on the conversation." He also spoke on the importance of CSJ receiving ongoing funding, as they received $13.3 million in short-term funding from the federal government, provincial government, and the U of A in 2021.
He spoke about meeting with student representatives from all campuses, including CSJ, to talk about funding, tuition fees, and more.
Now, if this all seems very vague, that's because it is! There was no mention of what he would do if elected, except that the word "advocacy" was thrown around a bunch. There was barely any expansion on ideas or specific issues that Raitz promised to address to the BoG. He simply expressed the importance of the position he is a candidate for, but not much else.
When asked about what efforts he would make to ensure the issues of CSJ are brought up with the BoG, Raitz repeated what is written in his platform almost word for word: decision making at the BoG uses a one-size-fits-all approach to all campuses, which just doesn't work.
The problem with this "unsexy" position, as he described it, is that there is little to no support. While this is valid, that does not absolve the BoG representative of their duty to support CSJ students.
French students need support, especially as they deal with decades of underfunding, that have only been worsened as a result of budget cuts.
He went on to state the issue with the university's one-size-fits-all strategy, saying that "different lenses" needed to be applied for each campus, as they all have different needs. He once again vaguely mentioned how he would talk to student leaders and be present in the community, as well as meet with groups like AUFSJ.
Contrary to his own statements, Raitz is also guilty of lumping the campuses together. His own platform has a singular paragraph about CSJ and Augustana, where they are grouped together in reference to prioritizing engagement.
Despite his enthusiasm, it might do him well to expand on his points in the future. While his platform is not necessarily built on the most revolutionary ideas, they could have been strengthened if presented with more clarity and information.
Platforms reflect the priorities of a candidate. It's hard to trust them when they lump students from CSJ or Augustana together. Ahead of the Augustana forum, I hope to see Raitz figure out a way to address specific issues with targeted strategies. CSJ students deserve better, and Raitz is the only candidate in his position to provide them the support that they need.
Overall, the fact that this is an uncontested race makes it easier for Raitz to be vague in his promises. Students don't really get a choice in who is elected. Raitz is obviously an entertaining candidate, but he is yet to prove his dedication to students' issues beyond that.
---
Every year, The Gateway publishes hundreds of articles like the one you just read that are free for everyone to access. But The Gateway needs your support to continue publishing its award-winning journalism. Please consider donating today, even a small amount can help the University of Alberta's only newspaper continue serving the campus community. Thank you.