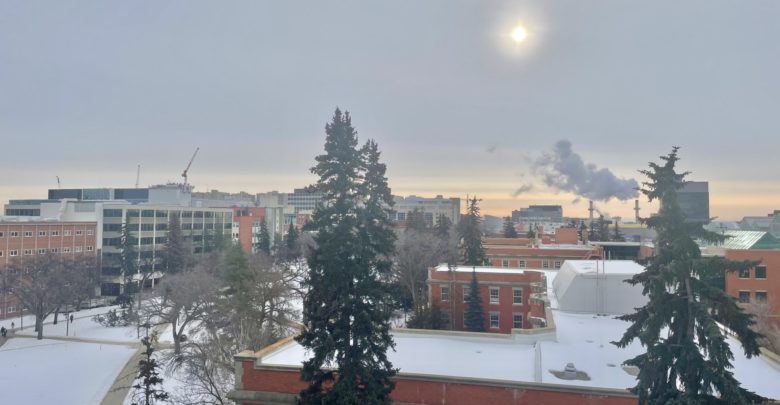 In a central Albertan city like Edmonton, known for our clear and blue "Big Sky Country," poor air quality is shocking and uncommon.
That all changed in early January when our city was caught up in a stagnate weather pattern.
It was surreal to wake up on January 10, open the weather app, and see a special air quality statement from Environment Canada. Our city's air quality health index (AQHI) was a staggering seven out of 10, which means high risk. Glancing out the window into the haze was like looking through translucent glass, yet everyone seemed to carry on normally.
Consequently, outdoor exposure posed major health risks to everyone, not just those with respiratory issues. However, those statements don't capture the bigger picture of what we are all facing.
This adverse air quality which loomed over our city was caused by the cascading effects of climate change. Assuming that air patterns, like wind currents, will always go back to normal is a dangerous belief. Writing off climate change as a distant issue unrelated to these atmospheric changes disregards the major health risks we experienced firsthand.
When the jet stream in the atmosphere becomes unusually straight, the stale air traps airborne pollutants near the ground. Evidently, the pollutants hovering near ground level showed us that climate change is a local risk to health and well-being.
For U of A students running between buildings to attend classes, we had no choice but to breathe in the smog. After returning to in-person learning after the pandemic, building-specific ventilation data revealed that many buildings on campus have suboptimal air circulation.
Whether increasing illness transmission or trapping air-ridden pollutants in classrooms, indoor air is not always a safe alternative. These examples show that climate change can be inescapable, and pose major health risks to the general public.
Dr. Anne Hicks of the University of Alberta Hospital advised everyone to stay indoors as much as possible during the smog warnings. She also recognized the disproportionate respiratory risks to the homeless population during this time. Unfortunately, many of these people had few opportunities to take refuge from poor air quality.
"A temperature inversion is a perfect time to understand how much air pollution we contribute with our different activities. So it's also a great moment for everybody to think about climate change," Dr. Hicks expressed.
This exposure to human-produced contamination demonstrates the oftentimes hidden dangers of climate change. Whether indoors or outdoors, we are forced to face the fact that air pollutants always exist in the atmosphere. For Edmontonians, this also means facing the unnerving future of 'normal' weather.
Although we aren't the windiest city in the province, we depend on atmospheric circulation to shape our daily weather patterns. Without any wind, central Albertan cities like Edmonton become susceptible to all of the airborne toxins that we don't normally think about. The stagnant weather pattern we confronted in the last couple of weeks is not just abnormal, it's unsettling.
So, what exactly causes a once windy urban landscape to become motionless, trapped under a smog of harmful pollutants? Scientists from the United Nations' Intergovernmental Panel on Climate Change (IPCC) have predicted that atmospheric changes will now be more common because of climate change.
More specifically, a Nature study by Jordan T. Abell and colleagues used paleoclimatology, the study of climate histories, to predict changes to wind patterns.
Abell commented, "our work is consistent with modern observations, and suggests that wind patterns will change with climate warming."
These recent weather events should not fade into memory for our city. We should expect and prepare for more weather changes in Edmonton.
Most importantly, health risks caused by climate change are a serious issue. As we move into uncertain weather patterns, Edmontonians must reflect on our city's ability to mitigate these risks before they become more dangerous. If the winds stop blowing over big sky country, we should better prepare for health and safety in future smoggy conditions.