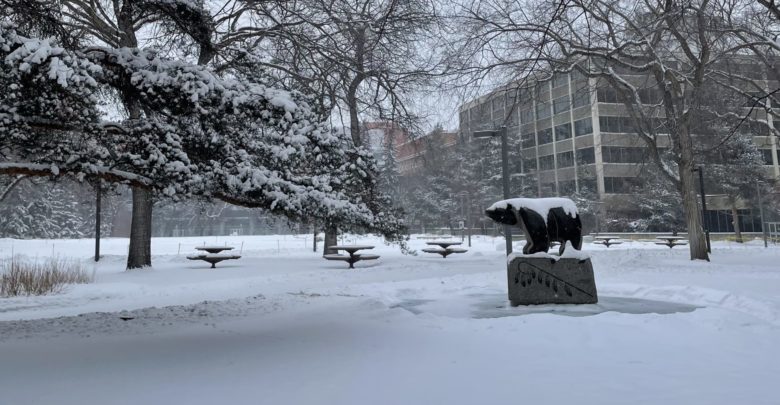 What: AntiFreeze 2023
When: January 9-14
Where: U of A North Campus
Admission: Free to Watch
Come cheer on this year's groups as they wage on AntiFreeze's challenges in a frosty U of A North Campus! Outdoor events such as the Blizzard Dash obstacle course and the March of the Yeti campus-wide race will be a fun sight to see as you walk to your classes. For those who want a warmer venue, indoor events like Freezing Feud (like Family Feud but frozen) and the Mixology 101 bartending competition are a must-see.
What: First Peoples' House Annual Round Dance
When: January 28, doors open 4:00 p.m., event goes from 5:00 p.m. to 11:00 p.m.
Where: Van Vliet Complex Main Gym
Admission: Free
First Peoples' House hosts the University of Alberta Annual Round Dance to honour First Nations, Métis, and Inuit (FNMI) grads. This healing ceremony is for all ages and illustrates the Cree philosophy of death and our relationship with relatives that passed on. The event is emceed by Cornell Tootoosis and Adrian Lachance and features firekeeper Kyson Morin and stickmen Lyle Tootoosis and Colin Raine.
What: Splash and Bash
When: January 27, 7:30 p.m. to 11:30 p.m.
Where: West Edmonton Mall World Waterpark
Admission: (Ages 18+) $15 for students, $20 for non-students
The University of Alberta Students' Union, Students' Association of MacEwan University, NAIT Students' Association, and Sea Change Brewing Co. are hosting another one-night Splash and Bash event at the WEM World Waterpark. Put on your funkiest bathing suits and make most of the waves, "warm" indoor weather, and water activities at the end of January. Valid U of A ONECard (for student tickets) and government photo ID will be checked at ticket pickup.
What: Engineering Students' Society (ESS) GEER Week 80
When: January 7-14
Where: U of A North Campus, Midway Music Hall (Battle of the Bands), Toboggan Race (Emily Murphy Park Toboggan Hill), TELUS World of Science (Technical Display)
Admission: TBA
The Engineering Students' Society is hosting their annual GEER Week for all ENGG discipline clubs to compete over. GEER Week will end with the black-tie Engineering Ball, in line with the tradition of the 1939 Engineering Ball, to crown the champions. Each participating group will also be doing canned food donations and blood drive donations as ways to earn points throughout the week.
What: Medical Students' Association's VITREOUS Film Festival: Barriers//Bridges
When: January 7, 6:00 p.m. to 10:00 p.m.
Where: KATZ 1-080
Admission: $10 for students, $20 for general admission
This annual film festival features film submissions from students, professional artists, and healthcare workers to inspire change in perspectives of healthcare. This year's theme tackles the barriers to patient care and the bridges that connect our current healthcare network. The film festival is named after the vitreous humour, a gel-like medium that directs light from the lens to the retina, to parallel how film is "an interface between the objective visual and subjective interpretation."
What: Chemistry Students' Association's Lab Coat Tie-Dye Event
When: January 13, 10:00 a.m. to 3:00 p.m.
Where: 4th Floor Open Space, Gunning/Lemieux Chemistry Centre
Admission: Free
Looking for a new fashion revamp for your plain ol' white lab coat? Join the Chemistry Students' Association as they host this colorful tie-dye event for the winter semester. This is their second tie-dye event this school year, with one hosted last September for the fall semester.