Campus Life
News
Second annual Indigenous Celebration Week starts with a pipe ceremony and welcoming speeches
From January 23 to 28, this year's ICW events honour Indigenous culture, teaching, and languages at both North Campus and Campus Saint-Jean.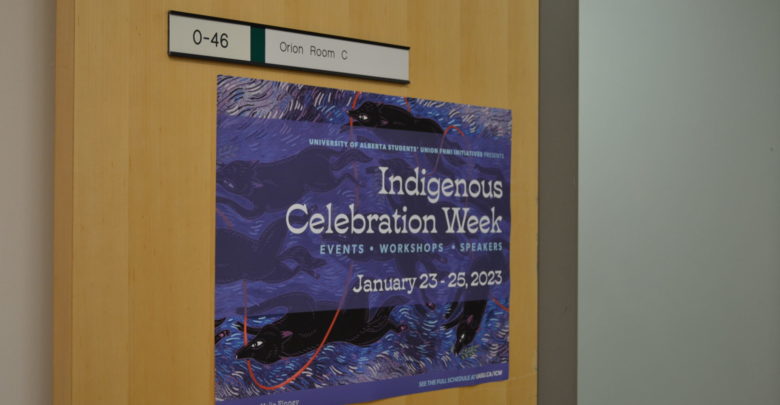 The University of Alberta Students' Union (UASU), in partnership with the Indigenous Students' Union (ISU) is hosting the second annual Indigenous Celebration Week (ICW). From January 23 to 28, a series of events are being held to honour Indigenous culture, teaching, and languages at both North Campus and Campus Saint-Jean.
Last year's ICW was introduced to "help build Indigenous community on campus and educate settlers about Indigenous peoples' cultures, histories, and how to live as treaty partners."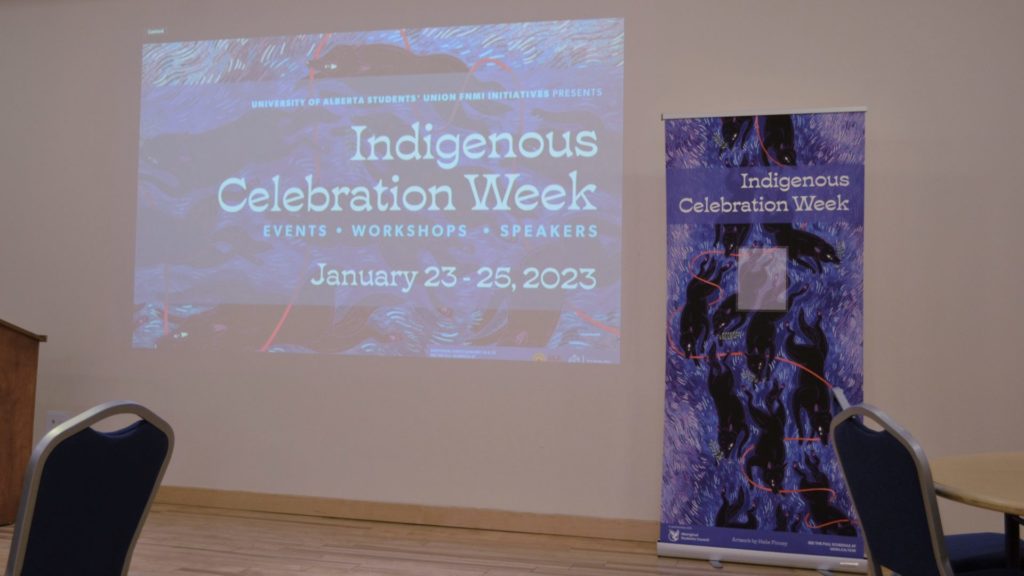 This year's ICW started with a pipe ceremony, where elders, students, and guests gathered in the KIVA Room in the Education Building. Shortly after, members of the Indigenous community at the U of A gave their opening remarks in the Orion Room in the Students' Union Building (SUB). There, immersive language workshops focused on Cree and Michif were led by elders and knowledge keepers.
Other events for this year's ICW on North Campus include a night honouring Indigenous youth performers, an Indigenous artisan market, and the annual round dance organized by First Peoples' House (FPH). Campus Saint-Jean will also be hosting ICW presentations in French on January 26, as well as a blanket exercise on January 27.
U of A alumna and emcee, described Indigenous students as "future leaders" in their communities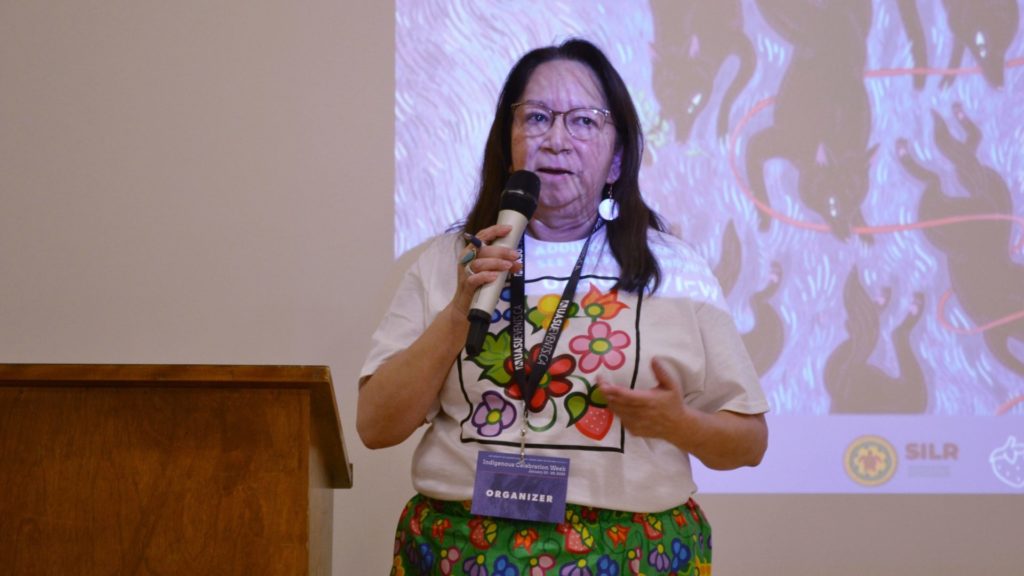 Violet Okemaw, a member of Berens River First Nations in Manitoba, introduced prominent contributors and participants to this year's ICW. She is also an alumna from the U of A.
Okemaw described today's generation of Indigenous students as future leaders, whether as instructors of Indigenous languages or organizers of events that appreciate Indigenous cultures.
"We can't give up on our children," Okemaw said. "Education is the key [that] will help us move forward because that has driven [the older generation] forward."
Elder Elmer Ghostkeeper touched on the importance of Indigenous languages and FNMI visibility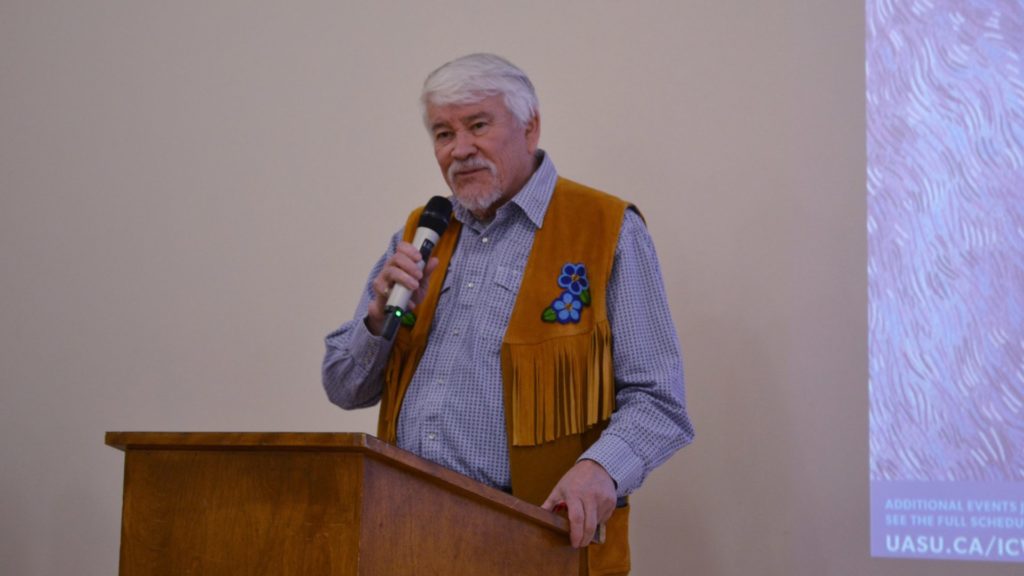 The first speaker, Elder Elmer Ghostkeeper, started the welcome ceremony with a prayer in Bushland Cree, his first language. He is a Knowledge Keeper from the Paddle Prairie Metis Settlement who is also fluent in Michif, in which he led a language workshop on.
During the pipe ceremony, Elder Ghostkeeper spoke about the loss of Indigenous language and emphasized "the deep meaning of … sacred words." His message was echoed by Elder Francis Whiskeyjack and Elder Elsey Gauthier, both from Saddle Lake Cree Nation.
He recalled the early days of the Faculty of Native Studies in 1976, where their office was a small room in the basement of Pembina Hall. During the same time period, he stated that around 16 students self-identified as First Nations, Metis, and Inuit (FNMI), compared to today's U of A FNMI population of almost 3,000 students.
"Many [FNMI students] have to deny their identity because racism, discrimination was so prevalent … so, gotta keep in mind that this university was originally established for Anglo-Saxon White Protestant children."
UASU executives promoted appreciation of Indigenous cultures "that colonial practices tried to erase and assimilate"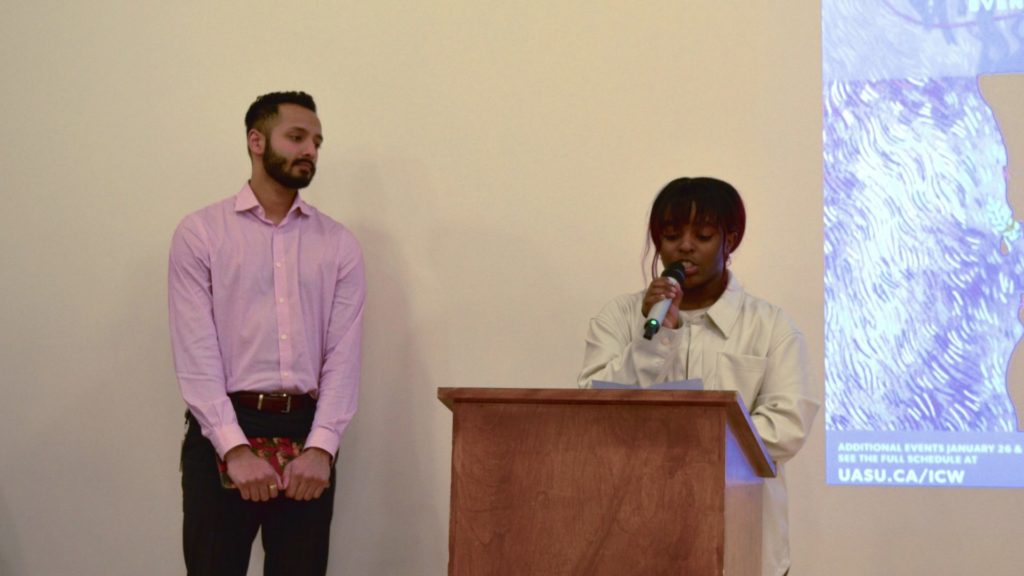 Joannie Fogue, UASU vice-president (student life), was joined by Abner Monteiro, UASU president, as she spoke about the importance of ICW's theme of celebration. She stated that Indigenous history "has always been taught through a biased and colonial lens" that disregarded teachings from elders.
"While it is crucial for us to educate ourselves on the past … it is also crucial to recognize and appreciate the cultures and traditions that colonial practices tried to erase and assimilate."
Fogue also invited the U of A community to participate in ICW events as a way to promote Indigenous cultures and preserving the Indigenous ways of knowing.
"As settlers, this is also a way to acknowledge and honour the contributions and sacrifices that Indigenous peoples have made throughout history."
Executive director and U of A student highlighted the importance of teaching Indigenous languages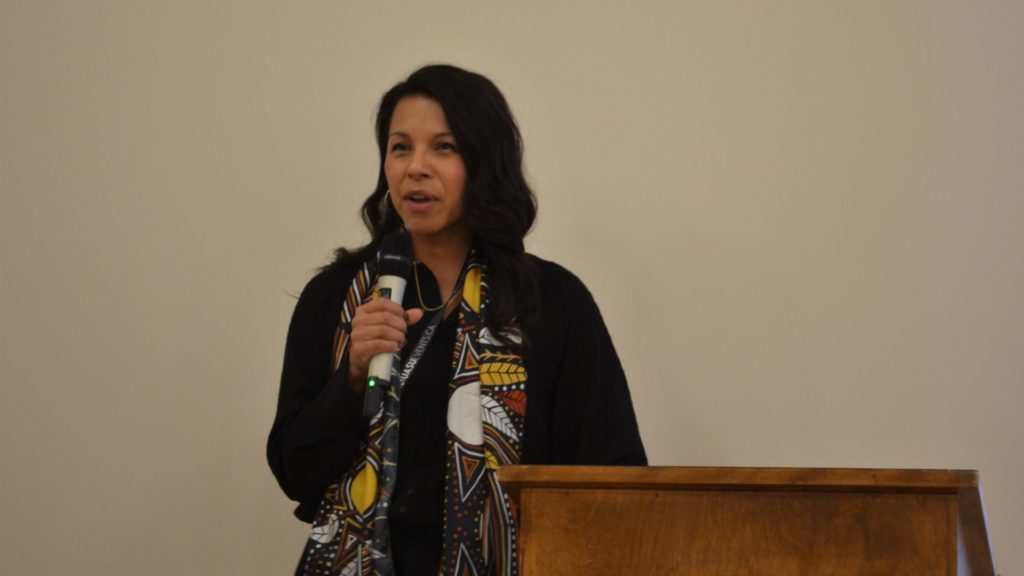 Pamela McCoy Jones, an Anishinaabe woman from Wawa, Ontario, spoke about her appreciation for those involved in Indigenous cultural events.
"I always am so grateful for the language holders, the language keepers, the ceremonialists that have come long before us."
McCoy Jones is the executive director at the Office of the Vice-Provost (Indigenous Programming and Research), and chair of the Supporting Indigenous Language Revitalization (SILR) Steering Committee. SILR is a community-led five-year project at the U of A that supports language revitalization efforts in Indigenous communities.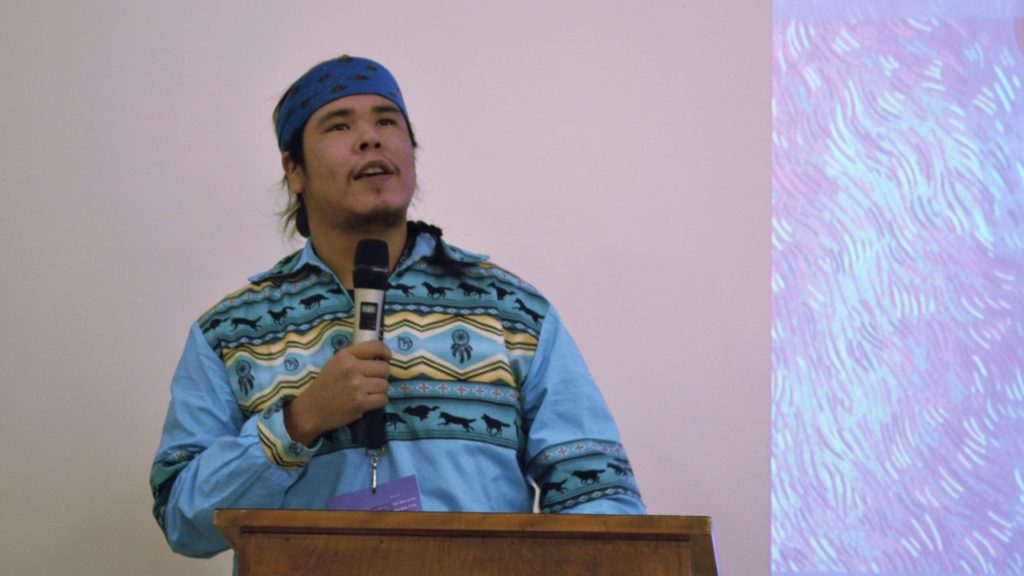 Levi Wolfe, a U of A student and member of the ICW organizing committee, shared his journey as an oskâpêwis (Cree for helper).
"I realized how important it is to take those teachings [from elders] and keep passing them on, because our elders aren't always gonna be here, but the stories and the teachings that they pass on to us will remain."
As part of U of A's Aboriginal Teacher Education Program (ATEP), he shared his understanding of working together for a better future for Indigenous youth. He led an introduction to Cree workshop and will be instructing an eight-week introductory Cree course starting January 25.
UASU FNMI specialist and ICW organizer spoke of her "healing journey"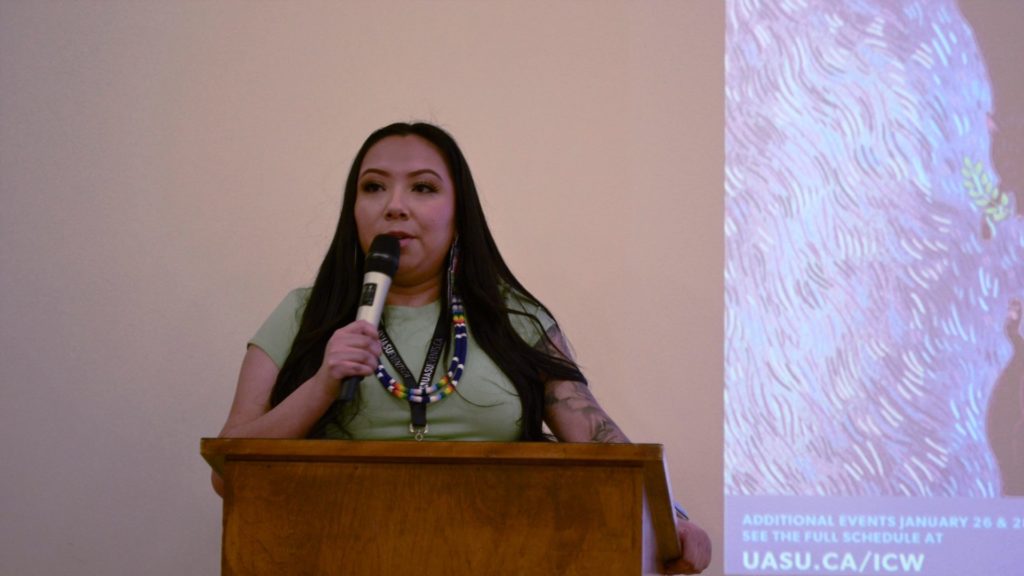 Danni Okemaw, a member of Berens River First Nations and God's River First Nations in Manitoba, reflected on her "healing journey" through her involvement in ICW as this year's FNMI specialist for the UASU.
"When I was planning this week, I was thinking about how much that this university has given me this path back to my culture, my language, and my teachings."
She also touched on the events that have affected Indigenous young people and their communities for the past two years, including the recent uncovering of unmarked graves.
"First off, you have to take care of yourself, then you have to also watch out for your grades and your papers. And then you're also going through that intergenerational trauma, and you have to continuously heal yourself all the time."
Her involvement in ICW started last year, when she was asked by Chelsea Behn, last year's FNMI specialist and education program coordinator at First Peoples' House, to dance and share her story. Now, she hopes that ICW will bring a "good spirit here on campus."
"Being able to bring my regalia to campus, feeling proud of myself, and being able to share my experience brought me a lot of joy."