News
Students' Union
Notes From Council: Campus and Community Recreation, Athletics, and Campus Food Bank give annual presentations
Campus Food Bank worried as "food purchasing has gone from $20,000 last year to about $10,000 a month."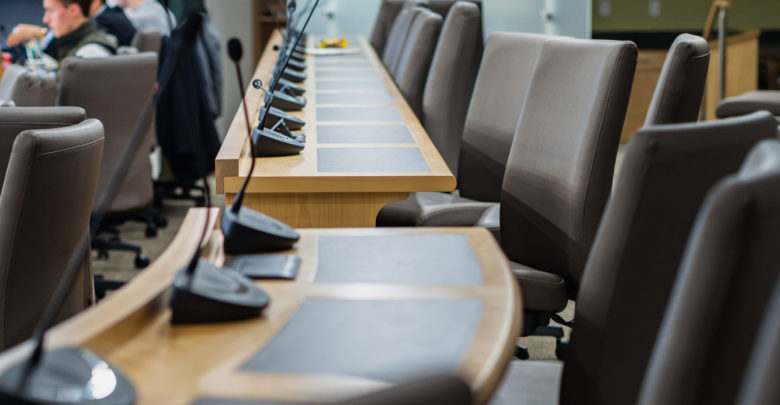 "Notes from Council" is The Gateway's ongoing series of recaps of noteworthy items from Students' Council meetings.
---
At the November 15 Students' Council Meeting, Campus and Community Recreation (CCR) and Golden Bears and Pandas Athletics (Athletics) presented on the athletics and recreation fee. Campus Food Bank (CFB), gave their annual presentation to council, and the Kinesiology, Sport, and Recreation Student Society (KSRSS) presented a Faculty Association Membership Fee (FAMF) proposal.
Campus and Community Recreation presents annual update
Cheryl Harwardt, director of CCR, and Vang Ioannides, associate director of Athletics, presented to council on the athletics and recreation fee.
The athletics and recreation fee is a Mandatory Non-Instructional Fee (MNIF) for on-campus students. According to Harwardt, the fee is related to the management of sport and recreation facilities, and the aquatics program. CCR receives a total of $6.4 million from student fees, which is then split evenly between Athletics and CCR on an annual basis.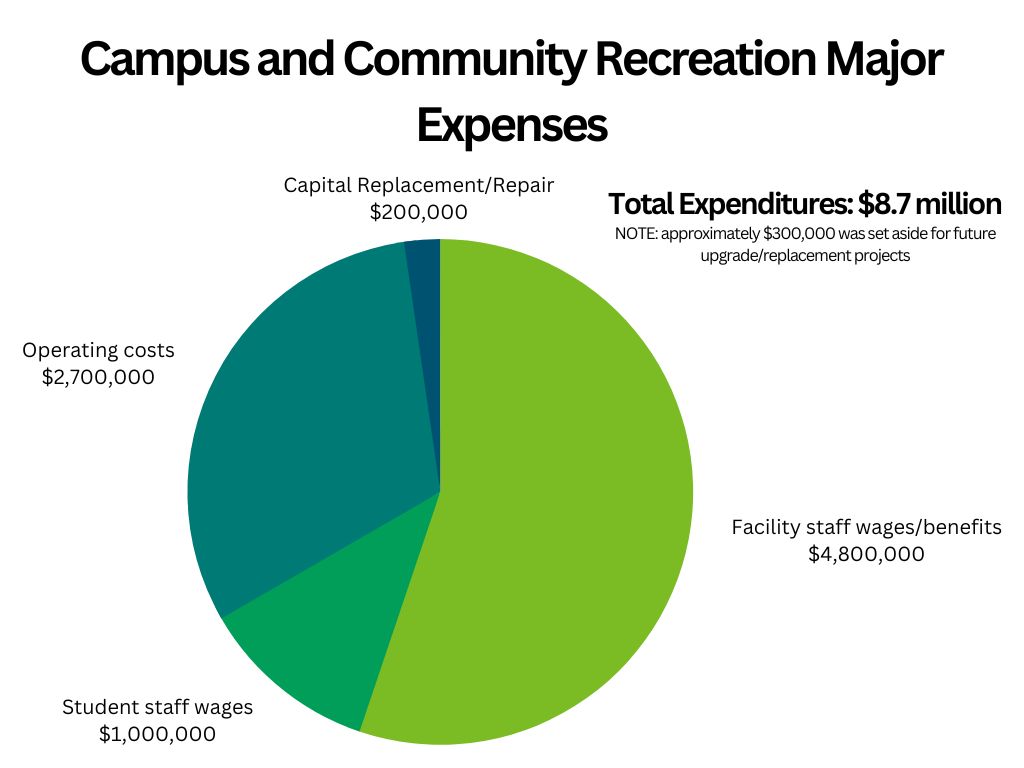 Harwardt explained CCR's primary costs, which include facility staff wages and benefits, student staff wages, operating costs, capital repairs and replacements, and capital purchases such as treadmills and basketballs.
According to the presentation, over 250 students are employed annually for programs and recreation facilities. $1,000,000 goes towards student staff wages.
Harwardt provided the current statistics for September 1, 2022, to October 31, 2022; there have been 273,000 visits to the locker rooms, and 135,000 visits to the Fitness and Lifestyle Centre in this time period.
"We can see that students are really interested in participating in what we do, and are utilizing the facilities to the fullest extent," Harwardt concluded.
Golden Bears and Pandas Athletics present to council
Ioannides presented on Golden Bears and Pandas Athletics, which includes 24 teams, and over 500 student athletes in all faculties on campus.
According to Ioannides, Athletics engages with community support development programs, and 6,500 Athletics alumni which "provide financial assistance."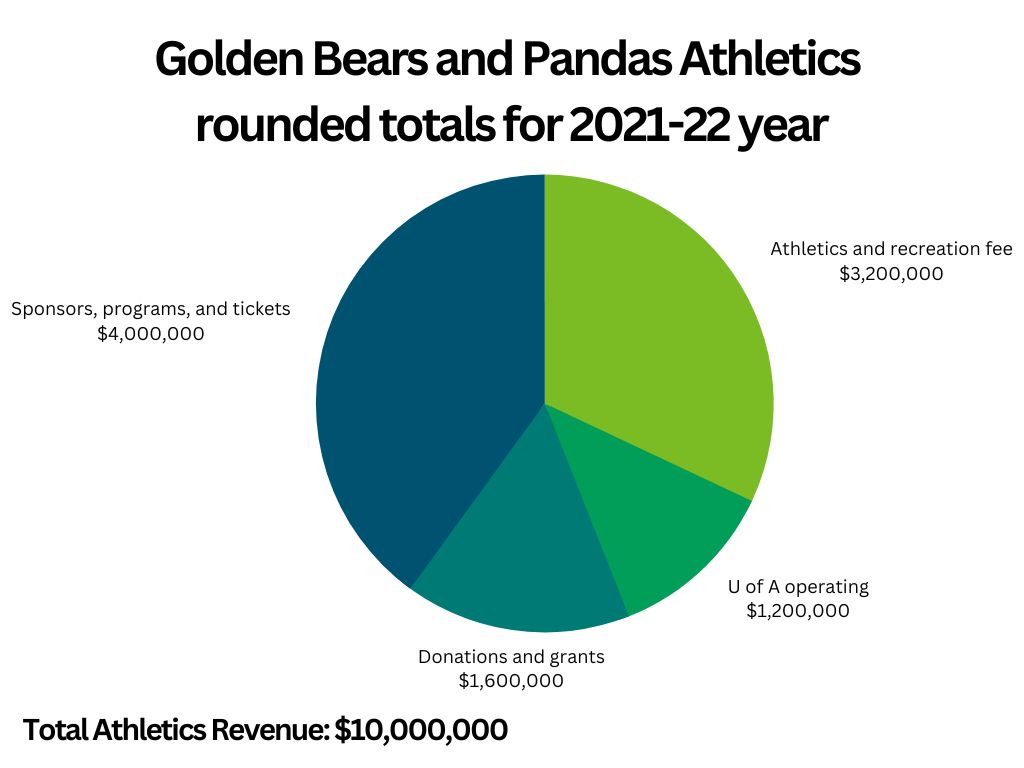 Athletics also does fundraising to provide financial assistance to student athletes, and it provides community outreach.
"Student athlete recruitment, retention, and support is important," Ioannides said.
Campus Food Bank director gives annual presentation
CFB's executive director Erin O'Neil presented to council an annual update.
CFB is funded by a dedicated fee unit (DFU), grants from the GSA, grants from private and public organizations, and private fundraising, according to O'Neil. She added that CFB "doesn't currently receive any money directly from the university."
CFB offers six different programs, which anyone with a OneCard can participate in.
Their main program O'Neil said, is the Food Hamper program. Before November 7, clients would pick up food hampers every two weeks. Now, CFB has implemented a grocery model to replace the Food Hamper program — this way, clients can choose their own products.
"Currently we're at about 700 hampers per month, and this will change slightly this month because we've switched to a grocery model, so there will be visits [counted] instead," O'Neil said.
Other programs include free breakfasts, cooking workshops, a grocery bus, and the WECAN Food Basket Society. The WECAN Food Basket Society is a non-profit organization that purchases meat and produce in bulk, and customers have a monthly selection of goods.
Future plans for CFB include snack stations, expanding the breakfast and bus program to Campus Saint-Jean, creating an outdoor 24/7 pantry, exploring additional space options, and focusing more on food education.
CFB food purchases have increased to $10,000 a month according to executive director
During question period, UASU President Abner Monteiro asked O'Neil how the Students' Union can support CFB in "tackling the issue of food insecurity," while also working with CFB's strategic plan.
"I don't want our interactions with students to be mostly about raising money from individuals and students. That's something I'd like to stay away from, if possible," O'Neil replied.
"We are really trying to set ourselves up to do some advocacy work. We just don't have the answers for [what the] actual, feasible policy changes [are] that could help the situation of food insecurity on campus," she added.
When asked about the CFB's finances by Haruun Ali, an arts councillor, O'Neil said that the increase in food purchases has been "stark."
"The food purchasing has gone from $20,000 last year to about $10,000 a month this year," she said. "That's where I'm having some worries, and if we're going to be able to meet that need from increased fundraising."
Kinesiology student society presents FAMF creation proposal
Olivia Harris, vice-president finance of the Kinesiology, Sport, and Recreation Student Society (KSRSS) presented to council their FAMF creation proposal.
KSRSS provides academic and social services to students throughout their degree. According to Harris, this has been hard to do because the society has been recieving less money from the kinesiology, sport, and recreation faculty.
"Currently we are getting less faculty money than we used to," Harris said. "The faculty used to subsidize our events directly through the Dean's office, and they're not giving us the same amount of funding as we used to receive because of their own budget crisis."
The proposed fee is $3 per student each Fall and Winter term, and the fee would be paid by on-campus students only. The FAMF would have a four-year term, with fee collection starting in September 2023 and ending in September 2027.