Golden Bears
Sports
Golden Bears Football break four game losing streak in season closing game
The Golden Bears defeated UBC 15-12.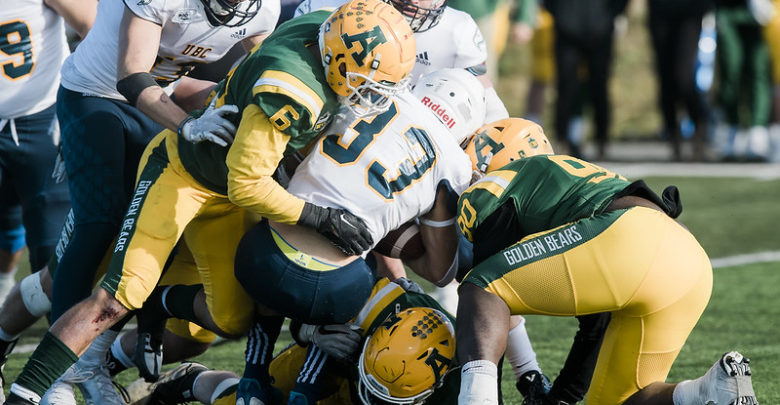 On October 29, the Golden Bears football team won their final game of the season against the University of British Columbia's (UBC) Thunderbirds. The Bears defeated UBC 15-12.
Heading into the game at Foote Field, the Bears needed had two requirements to make the playoffs: a win against the Thunderbirds and for the University of Regina to defeat the University of Manitoba. Manitoba beat the Rams 44-30, eliminating Alberta's chances for the hardy cup.
The Bears played close to the Thunderbirds for the entirety of the game, only winning with a three-point lead. In the first quarter, the Thunderbirds only allowed the Bears two points. The points came as UBC took a knee in their own end zone with less than 30 seconds remaining in the first quarter. At the end of the first quarter, UBC intercepted a throw by Luke Hornung.
The quarter-ending interception allowed UBC to start the second quarter on the offensive at Alberta's 35-yard line. Despite UBC's head start, the Bears managed to widen their lead to five points by the end of the first half. With Jonathan Ericson taking over as quarterback, he launched the ball nearly 50 yards to catch Jonathan Rosery. The Thunderbirds held the Bears at the 5-yard line, forcing Jonathan Giustini to make the field goal and setting the score 5-0 in favour of the Bears.
On a throw from UBC quarterback Derek Engel to Shemar McBean in Alberta's endzone, Ejuwa Oyama forced a dropped ball to keep the score 5-0. The Thunderbirds got their first points on the scoreboard in the third quarter when Kieran Flannery-Fleck completed a field goal from 30 yards, setting the score at 5-3.
Ericson once again made a pass to Kolby Hurford, who was under one-on-one coverage. Despite being under Thunderbird coverage, Hurford caught it at UBC's 35-yard line. Hurford's catch allowed Ericson to make the throw to Ope Oshinubi at the 40-yard line. Oshinubi then ran it into UBC's end zone, securing Alberta's first touchdown of the game right at the buzzer.
The Thunderbirds managed to get within nine points of the Bears. UBC scored their first touchdown off Engel's throw to Edgerrin Williams, who then ran the ball into the endzone. Following this successfully converted extra-point kick into two points. On the punt following the conversion, the ball landed in the corner of the endzone, resulting in a total of 9 points in three plays.
To end the game, the Bears took one last field goal to set the score at 15-12 for the Bears.