Institutional
News
Chancellor's Forum: Food for the Future
Panelists discussed what they think the future of food and agriculture will look like.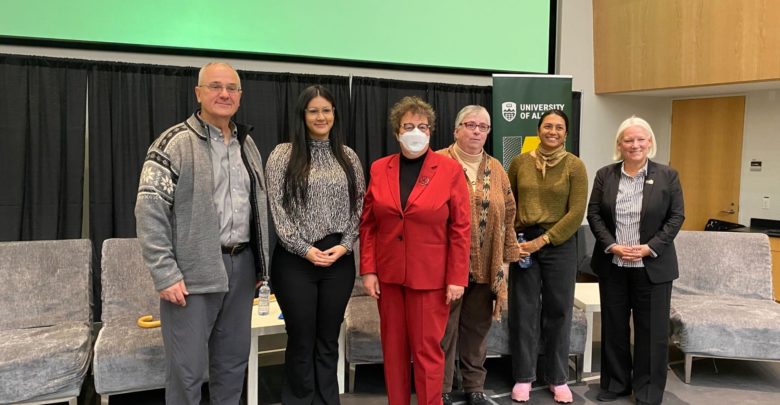 A discussion about the future of food, led by Senator Paula Simons, explored technological advances in food growth, the growing concerns that impact food and its sustainability, and the need for more research and investment in the agricultural industry.
The Chancellor's Forum on Food for the Future was held at the University of Alberta on November 9. U of A Chancellor Peggy Garritty introduced the event, and said that the point of a Chancellor's Forum is to invite the public to campus so that people can engage with a timely topic related to the U of A.
"This evening's topic certainly is timely. In fact, it's critical to Alberta's future and the future of the world," Garritty said.
COVID-19 increased interest in sustainability, according to panelist
Simons began the panel by introducing the concerns that could possibly impact the future of food.
"The future of food [is a] pressing question in the face of climate change," Simons said.
She added that there is also concern as global supply chains have been disrupted because of the Russian invasion of Ukraine, and that grocery store prices are "faced with inflation that has not been seen for a generation."
"Add to that our concerns about greenhouse gas intensity of industrial agriculture, and the social and ethical concerns about the raising and consumption of animals," Simons said.
The forum was an opportunity to explore different possibilities for "technology, investment, innovation, and pure science," and how these things can "prepare Albertans for the challenges ahead," Simons said.
Ellen Goddard, a U of A professor in the faculty of agricultural, life, and environmental sciences, was asked by Simons about supply chain shocks that were caused by COVID-19, climate change, and the war in Ukraine. Goddard was also asked if food security in Alberta was impacted as a result.
Goddard replied that people coped in different ways during COVID-19 when grocery items had a low stock of food and supplies. According to Goddard, people became more interested in buying local products and sustainability.
"[There was an increase] of interest in local foods and direct contact with farmers … which has spilled over to sustained interest in more sustainable production practices," Goddard said. "My own research would suggest that we're actually more tolerant of technology and food now."
Growing meat from cells is an expanding industry, according to panelist
Simons asked Isha Datar, executive director of New Harvest, about test-tube steaks — steaks grown in a lab — and asked Datar to elaborate on how "real" the technology is.
Datar said she learned about the idea in 2009 at a U of A meat science class.
"Back then it was very much theory, it was the idea that if we want a boneless, skinless chicken breast, why not grow the muscle tissues rather than grow beaks and feathers," Datar said.
According to Datar, this field is now more secure from "billions of dollars of investment," and companies from around the world that believe growing food besides plants is important to food strategies and climate change.
"It's not just meat. [It's] things like dairy proteins, egg proteins, or other food types that would traditionally come from animals [and] are grown by different cell types," Datar said.
Simons asked Alison Sunstrum, CEO of CNSRV-X and co-CEO and founder of GrowSafe Systems, if Alberta is prepared to compete in agricultural innovation.
"The opportunity in agriculture is probably one of our largest opportunities," Sunstrum said. "We are an eight trillion dollar industry that is going to grow over the next years to an almost 12 trillion dollar industry."
Sunstrum added that investment in areas such as research and development is needed, in order to make changes to the industry.
"Over the next 30 years we are going to reimagine everything we have, from food to materials, we will be growing leather through the use of mycelium. But what it's going to take is money. It takes an investment, both in research and development," Sunstrum said.
"What kind of work do we need to do to make sure that we have the robust support we need for academic research on campus?" Simons asked William Shotyk, a U of A professor and bocock chair of the faculty of agricultural, life, and environmental sciences.
Shotyk said that he doesn't know the answer, and that he "can only say how important it is to have funding for research."
"I think just knocking on the door of the federal government [is not] the answer, because we've been knocking at the door for a long time, and whoever is on the other side of the door just hasn't heard us."
Panelists discuss what will be on their plate in years to come
"What are you eating in 50 years?" Simons asked panelists for the last question of the forum.
Gleise Medeiros da Silva, a U of A assistant professor in the faculty of agricultural, life, and environmental sciences, and Beef Cattle Research Council Hays Chair in Beef Production Systems, hopes that in 50 years there will be more options in terms of agriculture.
"I hope that we can have more options, … we can eradicate hunger, and we can increase food distribution so that everybody has the right to eat, [and that there's no] lack of all the nutrients they need to perform well and live a healthy life," Silva said.
Datar had a contrasting perspective about the food choices that will be available in the future.
"I'm more pessimistic," Datar said. "I think in 50 years, if we continue as we are right now, we probably will have less options for what to eat. But if we make the right investments into diversifying our food system and creating more resilience … I think we could have a wide diversity of food."