Arts & Culture
Campus & City
Cultural Affairs
Local Artist Elsa Robinson exhibits "The Village That Surrounds Me" in downtown Edmonton
Elsa Robinson pays tribute to her support system in her mixed-media solo exhibition.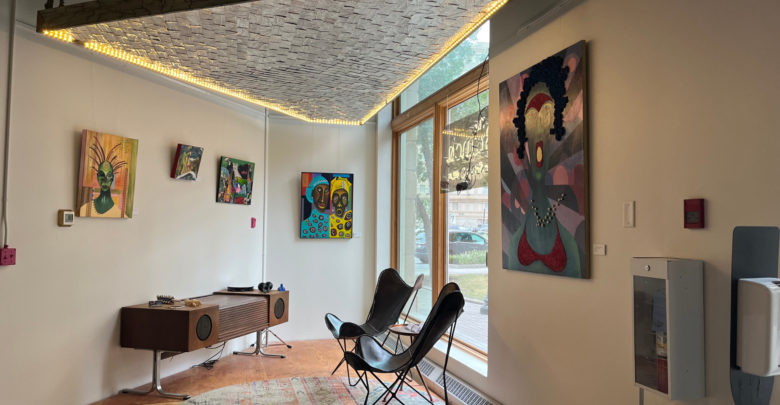 On September 15th, the ATB Branch for Arts and Culture held their reception for the "The Village That Surrounds Me." This is a multi-media art exhibition featuring the work of University of Alberta alumna Elsa Robinson.
Elsa Robinson has lived in Amiskwaciwâskahikan (Edmonton) since 1984. She currently works as an artist and arts educator, running workshops for artists in both English and French.
Robinson's latest exhibition explores complex emotions using mixed-media, painting, and sculpture. Her works also reflect relationships with family, friends, ancestors, and even strangers that have guided her in her life.
Inspired by the phrase "it takes a village to raise a child," Robinson compiled various works to show appreciation for the people in her life who have supported her. This includes several mixed media collage pieces and soapstone sculptures.
In her exhibition statement, Robinson discusses her renewed appreciation for her support system during the pandemic. COVID-19 caused significant changes in Robinson's life that led her to focus more on her art career. These changes also allowed her to form new relationships and strengthen her existing ones.
"These days, I pay much more attention to my 'village'; the support system that holds me together emotionally, spiritually, and physically and helped to facilitate the growth of my art practice."
Using a carefully orchestrated combination of formal technique and intuition, Robinson explores the various factors that shape individual identity. In her collage pieces, she brings together diverse photographs in painted scenes to create harmonious images that convey specific stories. Robinson's signature use of bold colours and striking patterns draws viewers in to connect with the subjects of her pieces.
In an interview with the Edmonton Arts Council, Robinson cites Afrofuturist artists, writers, and musicians as her primary influences. Her inspirations include Wangechi Mutu, Faith Ringgold, Nick Cave, Octavia Butler, Nandi Okorafor, Nalo Hopkinson, and Sun Ra. Her workshops encourage students to explore the African diaspora community in Canada and the cultures of African and African diasporic peoples around the world.
Several other art venues in Edmonton have featured Robinson's work, including Latitude 53 and McMullen Gallery located in the University of Alberta Hospital.
Robinson has also been critically acclaimed for her art practice. She was awarded the Fill Fraser Award for Outstanding Work in Visual Arts by the National Black Coalition of Canada in 2012.
The ATB Branch for Arts & Culture is located in the CKUA Radio Network building on Jasper Ave, near the Fairmont Hotel on the east end of downtown Edmonton. In addition to hosting art exhibitions and performances, this branch offers industry-specific banking advice for artists.
"The Village That Surrounds Me" is free to visit, and will be on display until the end of November. The venue is easily accessible: it's just a five-minute walk from Central LRT station, and there is plenty of parking in the area.