Institutional
News
Inauguration of new Diwan Pavilion completes Aga Khan Garden
The new Diwan pavilion completed at the Aga Khan Garden symbolizes interaction, pluralism, openness, and inclusion.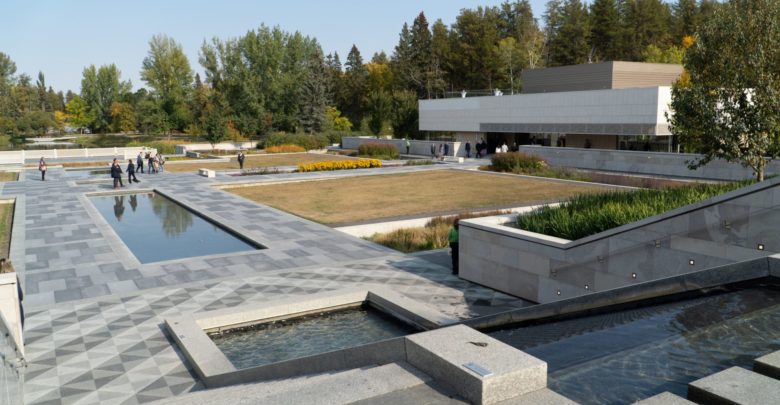 On September 28, the University of Alberta Botanic Garden held an inauguration ceremony for the Diwan Pavillion. The pavilion completes the Aga Khan garden, the northernmost Islamic garden in the world.
In 2018, the Aga Khan Garden was inaugurated in the presence of Shah Karim al-Husseini, His Highness the Aga Khan, the 49th hereditary Imam of the Shia Ismaili Muslims. The garden was created to symbolize hope, peace, and unity that come when people interact with one another while enjoying nature. The garden was made possible with a total of $5.5 million from donors.
The Diwan Pavilion, a limestone structure, was designed to foster understanding among people of different cultures. The pavilion will be a space for visitor interaction, promoting pluralism, openness, and inclusion. In October 2020, the U of A Board of Governors approved the start of construction on the pavilion.
As part of the Aga Khan Garden, the Diwan pavilion ensures that the garden can be used year-round. The two-story building includes a space for cultural programming such as concerts, retreats, and community events. The building's rooftop balcony offers a panoramic view of the surrounding gardens. The Diwan Pavillion space is open to the public for rentals.
The U of A Botanic Garden is located in Parkland County, 15 minutes southwest of Edmonton. At the new Aga Khan Garden, features include an outdoor amphitheatre, forest paths, and 12 water features. The garden also features granite and limestone walls and stones.
The completion of the Aga Khan Garden marks another landmark in the shared partnership between the Ismaili community and the U of A. The project was completed in collaboration with three firms. The design was done by Architect AXIA Design Associates, architect-of-record by Kasian Architecture Interior Design and Planning Ltd., and the interiors by Arriz and Co..
In attendance of the inauguration ceremony was Salma Lakhani, lieutenant governor of Alberta, and former Alberta Premier Jason Kenney. Princess Zahra Aga Khan also presided over the ceremony on behalf of her father, His Highness the Aga Khan. Bill Flanagan, U of A president, was also in attendance.
Andrew Sharman, U of A vice-president (facilities and operations), said that the relationship between the Aga Khan Foundation and the university is "one of community building, [and] of education."
"We have a very strong relationship with the [Aga Khan Foundation]. We work with the Aga Khan development network over community building. And we were very fortunate some years ago for His Highness the Aga Khan who donated money to build the Aga Khan garden," Sharman said.
Sharman said that the garden is a "wonderful spot all year round" to gather and that the U of A Botanic Garden regularly puts on events.