Institutional
News
Centre for Constitutional Studies hosts panel to discuss the viability of Alberta Sovereignty Act
Lisa Young, Jared Wesley, and Eric Adams discussed the act, along with its legal and political implications.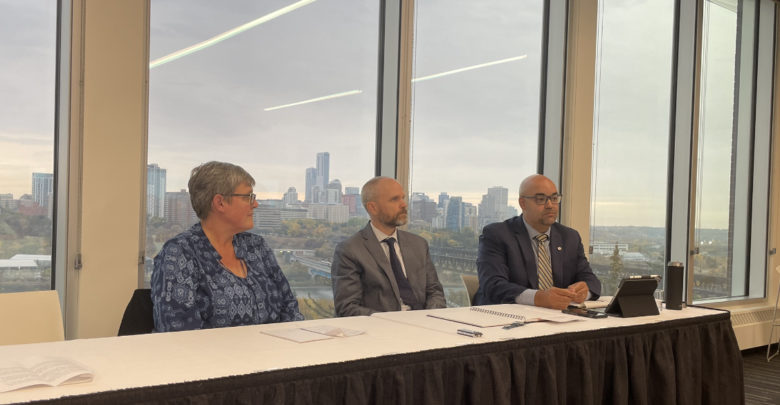 Danielle Smith, the newly elected premier of Alberta, appealed to certain conservative voters after releasing her overview for the Alberta Sovereignty Act on September 6. However, if she plans to follow through with the act and satisfy her supporters, she may run into difficulties, according to a group of Alberta professors.
On October 5, the Centre for Constitutional Studies held a panel at Peter Lougheed Hall, the topic being the Alberta Sovereignty Act. The panel consisted of two University of Alberta professors: Jared Wesley from the department of political science and Eric Adams from the faculty of law. They were joined by Lisa Young from the University of Calgary department of political science. The panel was facilitated by Richard Mailey, the director of the Centre for Constitutional Studies.
Smith claims the Sovereignty Act is constitutional, just how constitutional is up for debate
According to Adams, the Sovereignty Act allows the Alberta legislature to pass a "special motion," if a federal law is thought to be unconstitutional according to the legislature of Alberta. Once the motion is passed, Alberta will refuse enforcement of the federal law, or take other steps to oppose it.
If the courts say that the Alberta legislature is wrong about declaring the act unconstitutional, Alberta may or may not comply with the courts, according to Smith's overview of the act.
Adams went on to say that the separation of powers is a key part of the constitution's foundation; the different levels cannot interfere with one another.
"Legislatures can't be courts, they can't issue constitutional declarations, and they most certainly cannot purport to issue a constitutional remedy," he explained.
"I think [the Sovereignty Act] is deeply subversive to a number of key principles in our Canadian constitutional order," said Adams.
Young agreed, calling out the act for its "blatant unconstitutionality."
When asked about the possible origin of the Sovereignty Act, Young said the idea is relatively recent. In 2019, the Liberal Party won the federal election, and according to Young, this fuelled "lots of talk about [Alberta] separation."
Young also pointed out that the act comes from the Free Alberta Strategy. This strategy was created by two Alberta lawyers, Rob Anderson and Derek From, and University of Calgary political science professor Barry Cooper. The Free Alberta Strategy provides suggestions for the Alberta government to become a sovereign jurisdiction within Canada, one of those strategies being the Sovereignty Act.
"There is similarity between the Sovereignty Act proposal and the equalization referendum that we had just a year ago," Young said. "These [policies] are what I call fantasy federalism — it's wishful thinking."
"It's trying to put forward an idea that gains support from Albertans. But it's based on, at best, a misunderstanding of the constitution, at worst, a desire to mislead," Young said.
The Sovereignty Act "takes things to a whole other level"
According to Wesley, surveys show that Albertans don't feel like they're treated fairly by the federal government, and that they feel undervalued and misunderstood by other provinces.
"[Alberta] has had strategies [to] fight back … but the [Sovereignty Act] takes things to a whole other level," he said.
Wesley called out Smith for being "defeatist" and "not in-tune" with what Albertans actually want when it comes to the provinces' deal with Confederation.
"I think she's capturing the mood of folks who are angry enough to separate from Canada," Wesley added. He explained further with a hockey analogy.
"Preston Manning wanted to have more Albertans on the ice for this hockey game, Jason Kenney wanted us to get our elbows up a little, and Danielle Smith seems to be asking us to take off our skates and take the puck home," Wesley said.
Panelists agree act is unlikely to lead to sovereignty
Smith would have to overcome many obstacles to make the Sovereignty Act a reality said Adams, one of them being legislators.
According to Adams, Smith would have to sway the members of the legislative assemblies, but every member swears an oath to uphold the law. Adding to that, he said the attorney general of Alberta is constitutionally obligated to ensure that the legislature complies with the constitution.
When asked if this act is potentially setting Alberta on the road to sovereignty, all three panelists had a similar answer.
"Potentially, but not likely," said Young. "[There are] many things that stand between us and enactment of the Sovereignty Act."
Adams answered that he doesn't think so either. "But maybe it was a good strategy [for winning] a particular leadership race at a very particular moment."
Wesley said that the act is a distraction from issues that are actually important to Albertans, such as "affordability, climate change, and healthcare."
In a hypothetical world where the Sovereignty Act is put in place, it could undermine the rule of law, Adams said.
"Let's imagine a world in which a legislature could say that a federal law of Canada is unconstitutional. Parliament has said that's law, the Alberta legislature has said it's not law … it's a recipe for confusion, and I think a deep subversion of what we call the rule of law."