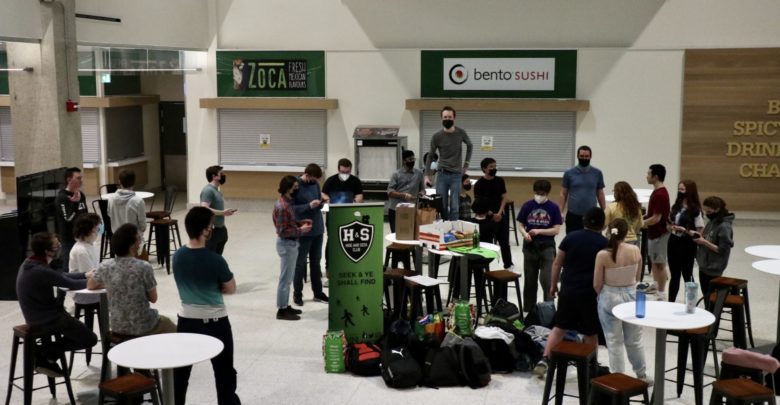 Members of this University of Alberta club can be found everywhere on campus, but on Fridays, finding them may not be so easy!
The U of A Hide and Seek Club organizes hide and seek sessions every Friday during the Fall and Winter terms. They've been active since 2014, but will be resuming more in-person activities this fall as they look forward to increased student presence on campus.
Each game of hide and seek is split into three rounds. The first two are played for points, while the last is just for fun. At the end of each term, the top three performers win a prize. However, the club also plays less traditional forms of hide and seek, such as cops and robbers, manhunt, and sardines.
The Gateway sat down with Kirsten Weeks, the club's vice-president (external), to discuss plans for the Hide and Seek Club this year and standout moments from her time there.
Responses have been edited for brevity and clarity.
The Gateway: The club chooses a different building to play in each session — how do you make that decision, and what's your favourite been?
Kirsten Weeks: [We've got] a list of buildings that we know that work well for hide and seek, that are popular, and also ones that we've just played in years past. Traditionally, we end the Fall and Winter terms by playing in the Central Academic Building (CAB). We know that we'll get a little bit less people playing during midterms so we might choose a smaller building during the midterm season.
Personally, my absolute favourite building to play [in] — I get everybody pumped up for it — is the Biological Sciences Building because it is an absolute labyrinth.
Q: What's one interesting hiding spot you've seen?
Weeks: Each person is unique in their own ways. I know people who have specialized in hiding in — and they may be upset about me telling about this now — the garbage cans that have the slots in them. If there's a spot someone can hide, they will find it.
Q: What's one experience you would highlight from being part of the club?
Weeks: Definitely, the friendships I have made. We really do think of ourselves as a community and we always want more people to join, because we want to be able to share in that community.
We really do enjoy meeting new people. We want to allow others to join in on the fun. University can be really stressful especially for incoming students. We want them to know that you don't have to let go of all the fun times of high school or wherever you might be coming from. You can still let loose, de-stress, [and] enjoy yourself for a few hours.
The Hide and Seek Club can be found on their website or on social media on Instagram, Facebook, or Twitter.