Campus Life
Events
News
President Flanagan welcomes students at Campus Kickoff
The President's Address reflected on new experiences and opportunities, welcoming everyone into the new school year.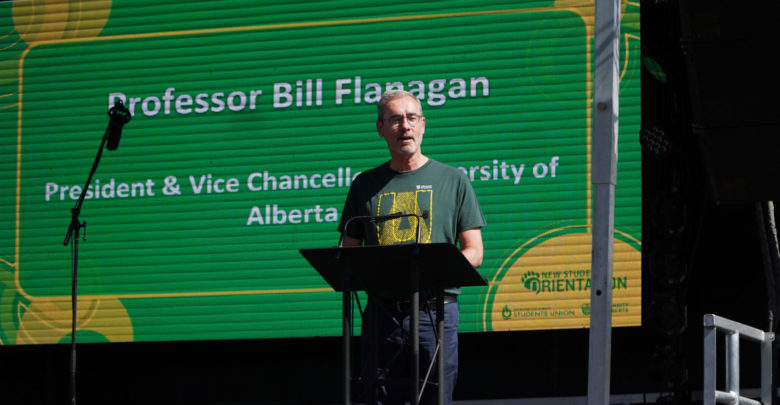 On August 31, Bill Flanagan, University of Alberta president and vice-chancellor, welcomed both new and returning students during the President's Address at Campus Kickoff.
The address began with a land acknowledgment and an introduction of the Students' Union executives for 2022-23. 
Afterwards, Michael Janz, City of Edmonton councillor for Ward papastew, delivered a welcome on behalf of the City of Edmonton. "Take this opportunity to explore Edmonton … find new ways to make this city your home."
Tyler Hanson, president of the U of A's Alumni Association, followed with his own words of inspiration to the crowd.
"Your alumni community is cheering you on, and we're here with you for life," Hanson said.
Abner Monteiro, president of the Students' Union, provided a few words of wisdom and encouragement to students. His speech focused on the importance of getting involved in campus life.
"There are endless opportunities here at the U of A if you are willing to take a leap of faith, and say yes. Push boundaries, explore new opportunities, and these will be the best years of your life," Monteiro said.
Flanagan invites students to "find [their] home" at U of A
Flanagan began his address by welcoming everyone to the U of A, particularly the new students this year.
"You've made a terrific decision to join the U of A. This is a university that has committed itself to change, impact, and innovation," Flanagan said.
He went on to reflect on his own first days in university, including his transition from growing up in a small town to joining a large university.
"My first few days at university I thought my head was going to explode," he said. "[It went on to be a] completely transformational time for me and my young life."
He also reflected on how challenging it has been for everyone the past two years due to the COVID-19 pandemic. This year's orientation was the first in-person orientation held at the U of A in the last two years. It was also Flanagan's first time attending orientation as president, since starting the role on July 3, 2020.
He also brought attention to the many experiences and opportunities that are available on campus, with over 42,000 students attending the U of A this year, and over 450 clubs to choose from.
"There is a place for you no matter where you're from, no matter what your interests are … you'll find your home," he said.
Flanagan ended his address with a piece of advice and a bid of best wishes for students this year.
"The places where you learn best are the places where you're outside your comfort zone, and you're just trying something new, something different," he said. "I wish you all the best."
The address was followed by a candlelight ceremony, and a performance from the U of A's Mixed Chorus choir.