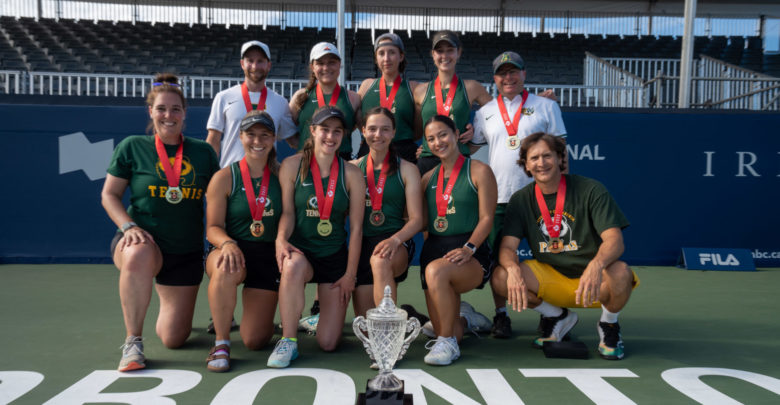 The University of Alberta Pandas tennis team defeated the University of Toronto Varsity Blues at the Tennis Canada 2022 Summer University Championship to take home the third-straight national title.
The national championship was held in conjunction with the National Bank Open. During the semifinals, the Pandas defeated the University of Montreal Carabins 6-1. The Pandas advanced to the finals to defeat the Blues 6-1.
Jena Cheng was named the national championship MVP and Ivan Quintero, assistant coach, was presented with the 2022 Female Coaching Excellence Award, marking the third time he has received the award.
In the semifinals, the two pairings of Jena Cheng and Alexandra Jewitt, and Emma Rutherford and Tereza Simonova won the doubles point for the team against the Montreal Carabins. Jena Cheng, Emma Rutherford, Tereza Siminova, Alexandra Jewitt, and Jessica Kreutz all earned singles wins.
In the finals, the pairings of Jena Cheng and Alexandra Jewitt, and Jessica Kreutz and Sandra Taskovic secured the doubles point. Jena Cheng, Emma Rutherford, Alexandra Jewitt, Katie Johnson, and Jessica Kreutz won their singles matches against the Blues.
The title win extends the team's win streak to 21 — their last loss being in the 2018 national championship final. This season, the Pandas achieved an undefeated 9-0 team record.
The title is the fifth in program history and the eighth for Russ Sluchinski, the head coach of the Golden Bears and Pandas tennis teams. Sluchinski has won three other national titles with the Bears tennis team. Sluchinski said the Pandas team was a "strong" and "experienced" team at the national championship. 
"It just seemed like everything went the way you hoped it would go," Sluchinski said. "I think we dominated both Montreal and Toronto — who both had very good teams as well."
Sluchinski added that there was no point when the team felt they were in "trouble" and that there were great performances throughout the Pandas lineup. The head coach noted that the national title would not have been possible without the support of the rest of the coaching staff.
"[Assistant] coaches Ivan Quintero and Kyle Sluchinski did all the heavy lifting," he said. "It's an overall great win for the program [that] wouldn't be possible without these other coaches."
According to Sluchinski, going into the next season the Pandas roster will take a "pretty big hit," losing Jena Cheng, Tereza Simonova, and Katie Johnson. However, Sluchinski is confident that the remaining players and new recruits will be competitive and "hopefully have a chance to win a fourth championship in a row."
"[The remaining players are] very good players. So they'll end up moving up in the lineup." Sluchinski said. "We have [new recruits] coming in that are going to fill some of the roles … [and] we're still confident we're going to be a very competitive team next year."
Sluchinski is also "excited" for the upcoming season with the Bears tennis team.
"We had a very young team this year and we lost a real tight match [to the University of British Columbia (UBC)]. UBC won the nationals … so I'm really excited about our mens team … [because] we were right in there with the national champs this year with a very young team."