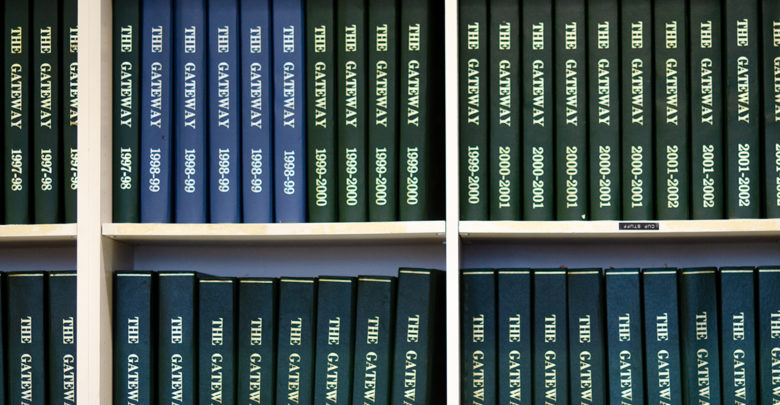 From the Archives is The Gateway's ongoing series of recounting historical articles written by the publication from years past.
On this day 11 years ago, CCIS was just about to open its doors for the first time. It houses the largest lecture theatres on campus, is a hub for science students, and a stop for Starbucks-lovers.
The following article, by Alex Migal, is taken from the September, 2011 edition of The Gateway.
---
Nestled in the northern end of campus where the old physics building once stood, the Centennial Centre for Interdisciplinary Science is finally ready to open its doors after five years of construction at an estimated cost of $465 million.
It's a building that Dean of Science Gregory Taylor said was designed to achieve two goals: supporting access to advanced education and science, and promoting interdisciplinary in education and research.
The centre has a daily occupancy of 3,800 people, and can house 2,200 students in its lecture theatres, two of which have been in operation for nearly a year. The entire physics department will now be based in CCIS, while five other science departments will occupy some of the space as well.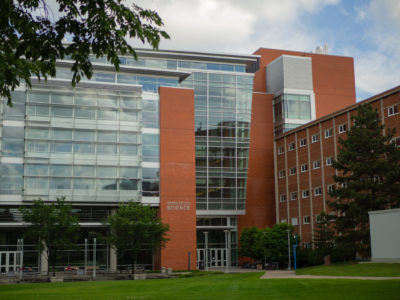 "The idea is to bring people together with similar research interests but with different disciplinary backgrounds to hopefully drive the discovery agenda," Taylor said, referring to President Indira Samarasekera's Dare to Discover.
The building's most visible feature is the 226,000 square feet of glass used to construct its exterior and interior. Taylor said the open space promotes transparency and allows visitors to see the "science that goes on inside."
"If you're trying to promote interactions between people that don't necessarily happen on their own, the best way to do it is to help others to understand what's going on around them," he said. "Transparency is a good vehicle for that."
The terrazzo floor on the main level is another feature that stands out. Designed by artist Scott Parsons, the imagery of the floor combines multiple fields of science into one, which Taylor says helps bring colour to the building and acts as a symbol for "crossing traditional boundaries."
"That's something I've invested in personally. I walk in it everyday and it certainly just lights up the building. [It's] a great symbol."
Sustainability has also been a key component in the design of CCIS, and it's currently under consideration for Leadership in Energy and Environmental Design (LEED) silver certification. Some of its sustainable features include dual-flush toilets, electric lights that automatically dim and reflective panels on the roof that catch solar energy and bring it to lower floors.
While CCIS' innovative features are numerous, issues have been raised about some of the building's water supply being non-potable and its suitability for lab use. Since back-stop valves weren't installed in the system, there is a risk of chemical or biological materials leaking into the water supply from lab facilities.
Taylor countered the concerns by explaining that all non-potable sources are clearly labeled, and that the water supply is split into different streams in order to prevent any form of contamination for potable sources.
"Strictly speaking, under normal circumstances, the lab water would be drinkable, but we label it as non-potable because it's not physically separated from some certain potential risks."
In order to spread the word about CCIS, a group of 60 U of A students have been recruited as "CCIS ambassadors." The volunteers will provide tours of the building and inform visitors about its numerous features.
One of those ambassadors, Paige Durling, a second-year Science student, said students will especially appreciate the building's natural light and its numerous study spaces.
"It's all windows, and there are lots of tables and chairs where you can study on each floor," she said. "If students go exploring, they'll find that there are lots of places to go hang out and study in between classes, which is really nice."
The official opening of CCIS is set to take place Sept. 23, with Alberta premier Ed Stelmach and U of A president Indira Samarasekera set to attend the invitation-only event.