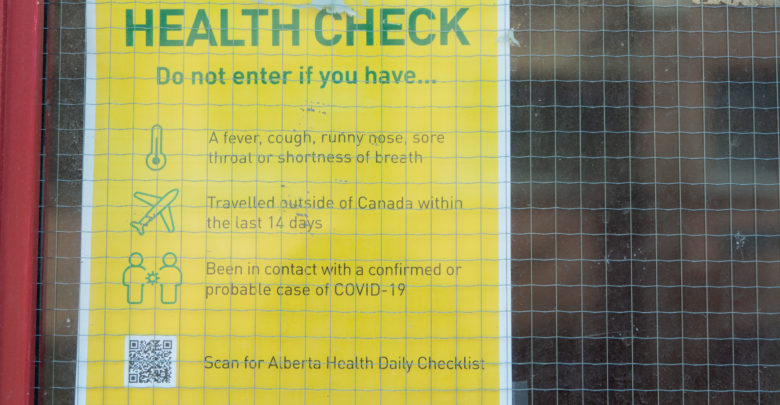 If there's one thing the pandemic has taught us, it's that removing all of our mandates too soon prolongs the worst parts of COVID-19. Whenever our COVID-19 numbers start to decline, Alberta gets too excited and removes whatever precautions it can. This summer is no exception.
On June 15, the University of Alberta announced that in accordance with the Government of Alberta suspending all remaining COVID-19 restrictions, the Safety Measures General Directives have been replaced with recommendations. Let's face it, recommendations are not enough to stop the spread of COVID-19.
People are sick of COVID-19. The last two years have been hard on everyone, especially students. At the U of A, it's been two years of extreme uncertainty. However, removing mandatory mandates will just repeat everything we've already dealt with. During the pandemic, students had to deal with surprise online schooling, the sudden removal of all mandates, and reduced support from staff and faculty.
The worst parts of the pandemic are what people are so excited to be done with, like surprise online delivery when new variants emerge. If we get rid of the last lines of defence against COVID-19, we're doomed to see massive outbreaks on campus.
COVID-19 has been on the front of students' minds for months. When it comes to the pandemic on campus, there are so many unknowns. You never know what could happen. When we had mandatory isolation, at least we knew that people who tested positive had to stay home. Even then, COVID-19 spread like wildfire on campus.
Now, people who have COVID-19 can continue to come to campus unmasked if they choose. The pandemic has already affected the wellbeing of students on campus. This will just worsen the situation.
Of course, the U of A recommends that people isolate themselves, get their boosters, and mask up. But, there's no repercussions if you don't do those things. There is nothing stopping you from attending classes or exams when you have COVID-19.
As well, some professors have started removing the precautions they put in place to help students. So those students don't even have the option of isolating if they do catch COVID-19.
In the height of the pandemic, most resources were available on eClass for students to use when needed. When we returned to campus, many professors pre-recorded lectures, and some offered hybrid options for students unable to attend. Now that campus is returning in-person, many professors have stopped offering these options. The idea is that students will return to campus and attend university as they did before. However, the threat of COVID-19 is still very real.
The fact is that Alberta is not ready to handle COVID-19 without the necessary mandates in place. Sadly, the U of A is no exception.
While many of the mandates, like mandatory isolation, fall under provincial jurisdiction, the U of A should still enforce the rules they can. Removing every mandate all at once is a recipe for disaster; we will be returning to campus in the fall, with no protections against COVID-19.
One of the biggest challenges facing Albertans in the the fight against COVID-19 are the scarily low vaccination rates. Currently, only 77.4 per cent of the entire population in Alberta has their second dose, while only 38.6 per cent have their third. Comparatively, 82.5 per cent of Ontario has received two doses, with 50.4 per cent having had their third dose. There is no way we can combat rising cases if we have no mandates, on top of low vaccination rates.
It feels like the U of A and the provincial government are leaving Albertans high and dry to fight against COVID-19 ourselves. There are no precautions, there is limited PCR testing, and now no isolation requirements or enforced masking on public transit. Even worse, the Albertan government gave its last regularly scheduled COVID-19 update a few days ago.
I understand that people are excited to live a life that's COVID-19 free. With hospitalizations and ICU rates dropping, it looks like things are starting to look up for Alberta again. With the warming weather, people want to get outside and not have to worry about the pandemic.
However, none of the good news will last long if we're unprepared. While hospitalization numbers are dwindling, Albertan COVID-19 deaths are climbing. Experts are warning that there will most likely be a surge in COVID-19 cases by the end of the summer. This is especially true if Alberta has no mandates.
I want COVID-19 to be over as much as the next person. But, it will never leave if we remove all precautions too quickly. At the very least, mandatory masking should be kept in place at the U of A during the Fall and Winter semesters. If our vaccination rates are too low, there will be no stopping the spread of COVID-19 on campus. The new Omicron BA.5 variant will only worsen things. In the past, previously having COVID-19 provided some immunity, but the BA.5 subvariant can bypass this protection. In order to safely stop the spread, the university should keep all mandates while encouraging students to get their third and fourth doses.
Students shouldn't have to fend for themselves when COVID-19 numbers spike. The U of A is meant to protect us against the spread, but removing all mandates isn't the ideal solution.
CORRECTION: At 9:02 p.m. on August 4 this article was corrected to accurately reflect the responsibility of COVID-19 precautions. A previous version of this article put this responsibility on the U of A. The Gateway regrets this error.