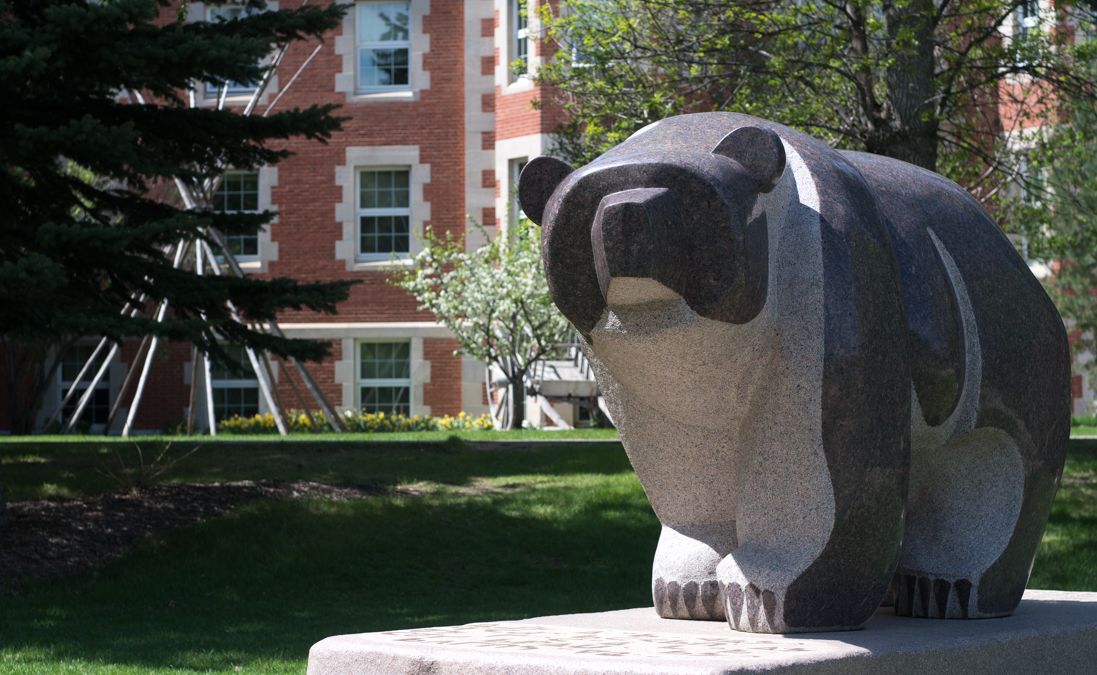 As part of Truth and Reconciliation Commission's (TRC) Call to Action 58, the Pope will be visiting Edmonton to issue an apology to residential school survivors, their families, and their communities. A conference was held on July 22 to hear the thoughts of an Indigenous scholar on the event.
Matthew Wildcat, an assistant professor in the University of Alberta's faculty of Native studies and political science, delivered a territorial acknowledgement for the conference. Wildcat is also from the community of Maskwacis and a member of Ermineskin Cree Nation. Ermineskin Cree Nation is near the site of the Ermineskin Indian Residential School, where Pope Francis will visit on July 25. Wildcat was also joined by his father, Brian Wildcat, who is a U of A graduate also from Ermineskin Cree Nation.
To begin the conference, Wildcat reflected on his own expectations of the Pope's apology.
"People asked, 'are you expecting anything from the apology?' And at first I was saying no, because we don't know what will come of [this apology]. Hopefully it does cause action and change, but we don't know that [for certain]," Wildcat said.
"But personally, as I started to explain what was going on with the Pope apologizing for harms, I realized that when we talk about harms, it's easy to think that the harms are the physical harms perpetuated against Indigenous peoples, but the harm had an ideological [aspect], which is that the schools were meant to eliminate Indigenous peoples as legal and political entities in this country and that Indigenous peoples would no longer exist."
Through talking about the harms that Indigenous peoples have faced not only from the church, but also the federal government, Wildcat expressed hope to see these harms acknowledged and explained in the apology.
"I hope that there are words to that extent to discuss the ideology and the motivations behind it in the apology, and that's what I'll be looking for."
Brian spoke about the work that the Maskwacis community was doing to accommodate media at the papal visit, and how the community — and the school system he is superintendent for — has an obligation to make sure survivors are given the opportunity to hear the apology.
"We have extra burdens to have to deal with those kind of intergenerational traumas that affect community members right up to today," Brian said. "So we are always in the mode of building relationships and establishing trust with families, with our parents, with our students [and] that is an ongoing process."
This effort to accommodate the papal apology has looped in the work of several bands, and has cost a lot of money. Both Wildcat and Brian hope that compensation will be paid to the Maskwacis community for the work and money that has gone into the visit.
"We played in a backup role to help them support this and these are costs above and beyond our operating costs that we're picking up and funding — hopefully, we will be paid back for that for those costs later on," Brian said.
To accommodate survivors and members of the community that require it, support workers, doctors, nurses, and transportation to and from pickup points will be provided.
The conference was then open to questions from the media. The Gateway asked Wildcat about how Roman Catholics excited about the Pope's visit to Edmonton should engage with the apology.
Although Wildcat acknowledged that he "can't tell people how they should engage with the apology," Roman Catholic community members should still take this opportunity to reflect on the harms done to Indigenous peoples, and remember that this visit is to fulfil the TRC Call to Action 58.
"If they're just attending because of the ability to see the Pope close to home and they're not attending because they're using it as a moment of reflection on the harms that have been committed … it would be really disappointing. This visit is about, primarily, from my mind, apologizing to survivors of residential schools, because survivors have asked for it."
Part of Wildcat's hope is that Roman Catholics are "willing to grapple with that history as being members of the church" but also that they push church leaders and their own churches to acknowledge Indigenous peoples' experiences at residential schools.
In their closing comments, both Wildcat and Brian reflected on the impact of the apology, and the hope that Canadians can begin to understand and accept the truth of residential schools.
"Even though [the apology] will cause ripple effects of harm [and trauma] for many Indigenous peoples, we can hold that in our consciousness, and also be happy for survivors who are going to get this thing that they've called for," Wildcat said.
"I'm hoping some positive will come from this and that there's some future action that can be taken from this as a first step," Brian said.