Golden Bears
Pandas
Sports
Cross Country 2021 – 22 Season Recap
At the Canada West Championship, the Bears achieved a bronze medal, while the Pandas finished fifth.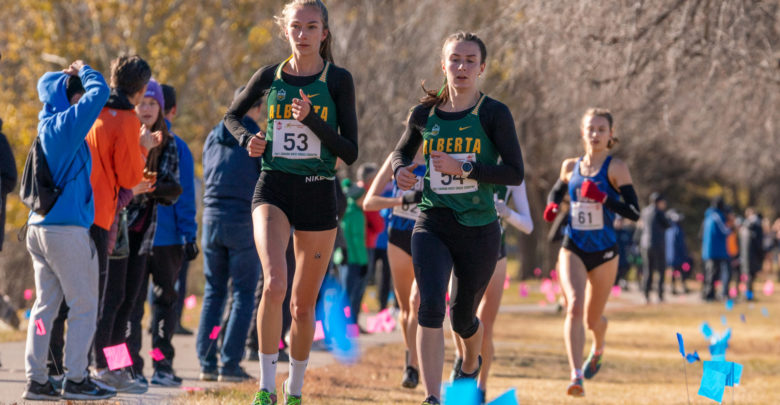 The University of Alberta Golden Bears and Pandas cross country teams had strong finishes at the Canada West (CW) Championship and U Sports Championship. At the CW Championship, the Bears achieved a bronze medal, while the Pandas finished fifth. Additionally, the Bears placed eighth at the U Sports Championship. 
Sean Baynton, head coach for the Bears and Pandas cross country teams, said it was a successful season.
"In some semblance of the word, it was a successful fall," Baynton said. "[Having] missed two years, it was a good jump back into [the] deep end of the lake and showing that we could still compete where I thought we should be."
At the CW Championship, Logan Arthur finished seventh to lead the Bears to the bronze medal. Olivia Cooper placed sixth to lead the Pandas to a fifth-place finish.
At the national U Sports Championship, the Bears placed eighth overall and was the second-highest CW school. The team was lead by Riley Stuermer who placed 28th. The Bears' eighth place finish matches their most recent result in 2019. 
Baynton was happy with a top 10 result at nationals.
"Anytime you can be in the top 10 as a western school, especially in our sport … [it is] pretty good."
The Pandas did not receive a rank at the national championship, but Baynton said two of the Pandas are probably the "best overall athletes, [with] men included this year."
"[Olivia Cooper] finished 15th. In my 10 years in the program, only one female has finished higher than that," he said. "[Jasmine Feddema] was 25th, so from a performance-on-demand perspective, I couldn't have asked for more than that."
Going into the next season, the team will lose eight Bears but retain all of the Pandas roster. Due to the pandemic, some athletes extended their academic careers to be eligible to compete in the 2021 – 22 season. This has caused the team to lose more athletes this year than usual. 
Baynton is hoping to continue to have the Bears team on the CW podium.
"I see our ability to do that [with] a couple transfer athletes that are coming in this year that are eligible, and the growth within the team itself," he said. "When you lose those senior guys, there is space that opens for some of the younger guys to grow a little bit and gain some confidence."
On the women's side, Baynton is expecting the Pandas to be close to the CW podium.
"Obviously our top two girls are pretty good, but it's going to depend on the rest of the team committing to cross country in a way that they haven't in the past," he said. "I think with both of those squads we're in a spot where we can be capable of getting on a Canada West podium."