Arts & Culture
Campus & City
'Comic Sans' highlights the diversity of Canadian comics
By showcasing the storytelling of multiple artists, Comic Sans highlights how diverse comics can be!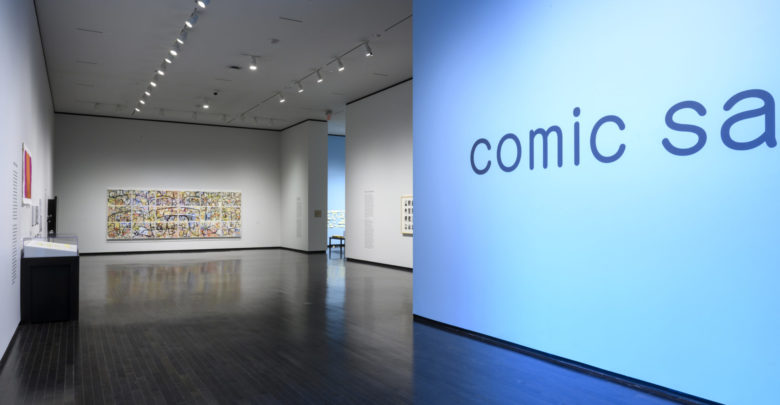 Comic Sans, one of the newest exhibits at the Art Gallery of Alberta (AGA), portrays the beauty of comics in all shapes and sizes!
This exhibition aims to present storytelling with multiple representations of styles, colour, and depth. There was a diverse range to see and listen to, including two short films, comics, prints, sculptures, and even rugs. The AGA describes Comic Sans as a "celebration of the endlessly creative medium of graphic novels." Information on the artists' backgrounds is available on the AGA website.
This exhibition runs from June 18 to October 2, 2022. Since there was no featured exhibit, artists had the opportunity to showcase their work with varying levels of space, lighting, and display styles hence presenting their love for storytelling in different ways.
One of the short films shown left a lasting impression on me because of its story and directing. The short film, Kaspar, is by Diane Obomsawin, more famously known as Obom. She based this short film on a true story about a teenage boy who was abandoned and kept in a single room for his whole childhood. Obom managed to convey a great deal of meaning. The short film echoed a sense of sadness and made the audience reflect on how fortunate they've been to live a life with freedom but also question life itself. Kaspar was praised for its unique style of art and colouring, which captivated the audience.
Another artist that had her work displayed was Julie Delporte. From tiny sculptures to miniature comics, she displayed a variety of pieces for the viewers to enjoy. My favourite was The Woman's Work, Delporte's novel-length autobiographical comic. The piece showed a fight between a young girl and a bear and used minimalist colouring and pencil elements to impart its message. Delporte explores femininity and the difficulty of reconciling one's womanhood through the euphemism of the bear, both grappling with its existence but the desire to understand and accept it as well. As a stunning piece with feminist themes, A Woman's Work resonated with me.  
Michel Rabagliti had his comic, Fèvrier, displayed largely. This portrayed it quite nicely, as the comic focused on landscape and background-based art. Only one character was visible, and the comic had no words. Despite this, the comic felt like it was showcasing the insignificance of a singular person to the rest of the world, as the character seen in the beginning was no longer visible once fully zoomed out. I enjoyed watching the comic zoom out to show the whole set as you proceeded to look at the pictures. It aided in helping the viewers fully grasp the meaning behind Rabagliti's comic.
With a diverse set of Canadian artists highlighted, Comic Sans explored how graphic narratives use outside-the-box thinking to tell stories. If you are looking for another fun activity this summer, check out Comic Sans!