Arts & Culture
Campus & City
'Voluntary Detours' highlights rural Albertan museums' charm and history
With unique and funky museums, Voluntary Detours highlights rural and small-town Alberta museums.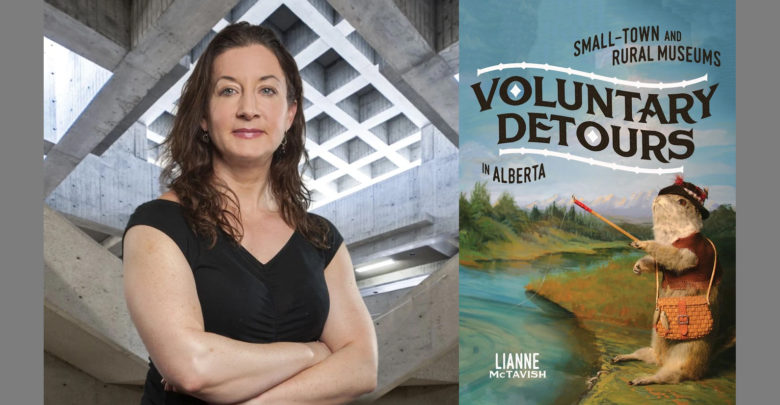 When thinking of museums one may consider mainstream, urban institutions to hold authority on what museums are and what they contain. Lianne McTavish is a University of Alberta professor of history of art, design, and visual culture, whose new book — Voluntary Detours: Small Town and Rural Museums in Alberta seeks to subvert that idea.
McTavish launched Voluntary Detours via livestream on May 28, 2022.  The livestream was broadcast from Alberta's own Museum of Fear and Wonder, located near Calgary and put together by ​​Brendan Griebel and Jude Griebel. 
"[The Museum of Fear and Wonder is] a wonderful museum because it evokes the history of museums and the history of museums is really fascinating," McTavish said. "There's no distinctions between entertainment, education, [and] wax museums. Things we might now consider to be entertainment or roadside attractions [are] not differentiated earlier."
"A lot of times rural museums have that history still present." 
The Museum of Fear and Wonder is the focus of chapter two in Voluntary Detours and is important not only because of its fascinating collections of fear and awe-inducing oddities, but also because of the journey those in attendance made to come together and share knowledge. The journey to visit small-town and rural museums is a significant part of the experience, according to McTavish. She added that the road trips and treks to rural museums like this one inspired the title, Voluntary Detours.
McTavish credits an impromptu trip to the Torrington World Famous Gopher Hole Museum as a trip that "changed her life" and inspired her to apply for funding to track down and research all of Alberta's museums. Voluntary Detours is the second part of a project which began with a website which is a helpful tool to learn about the over 300 museums Alberta has to offer.
Voluntary Detours delves into the richness of Alberta's oft-overlooked rural museums.
"They're not just a shadow of [urban] museums. They're very distinctive. They have their own agendas. They have their own histories. They're very innovative and fascinating. They're not second rate, [and] I think they … deserve more attention."
Though they may be small, McTavish asserts that these museums offer a lot to learn, and Voluntary Detours is a great place to start on a journey of self-education.
McTavish has worked extensively in the fields of museum history and critical museum theory. Although she's worked at large and well-known museums, she still finds herself loving the rural attractions in Alberta. 
"I've visited museums throughout the world. I've worked extensively at the Louvre," she said. "I've gotten to all these museums, and I still love the Gopher Hole Museum."
"It's so complicated. It's so fun. It's so clever. And it invokes museum histories."
Throughout the process of creating Voluntary Detours, McTavish reveals she learned a lot about Alberta and how diverse Alberta really is. She referenced her favourite museum, Torrington's World Famous Gopher Hole Museum, as an example of what Alberta's rural museums have to offer. In its clever evocation of museum histories and approach to small-town depictions of life through gopher dioramas, this is a perfect example of the diverse and imaginative museums Voluntary Detours details. 
Voluntary Detours has been purchased by the library and is now available for students to check out and learn about Alberta's museums or even inspire your next summer road trip.