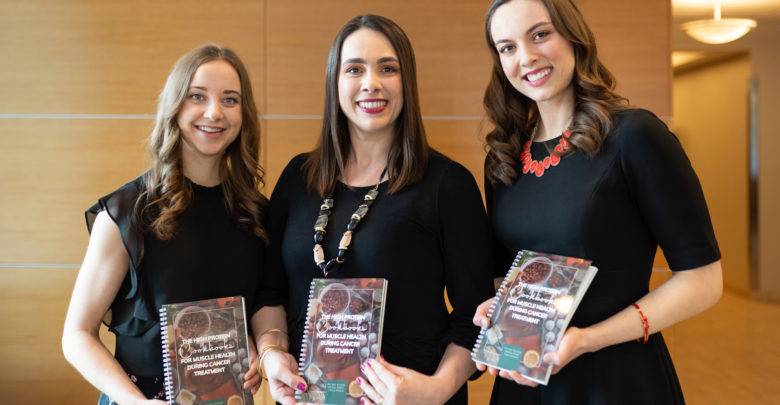 University of Alberta nutrition researchers have developed a new cookbook containing a variety of healthy recipes to help patients with cancer maintain muscle health during treatment.
The focus of the cookbook, The High-Protein Cookbook for Muscle Health During Cancer Treatment, is to provide easy and tasty recipes to increase protein consumption in patients with cancer that also usually have low muscle mass.
Carla Prado, a registered dietitian (RD) and assistant professor in human nutrition, along with Anissa Armet, RD and PhD candidate in nutrition and metabolism, and Hillary Wilson, RD and a medical student in the faculty of medicine and dentistry, were the authors of this cookbook.
Work on the book started back in 2017, led by Prado as well as Wilson, Armet, and many other volunteers.
The book was dedicated to Julie Rohr, who was part of the graphic design of the book but unfortunately passed away last September from leiomyosarcoma, a rare type of cancer.
Prado thought of the idea for the cookbook when visiting a professor in Ireland that published a high-calorie cookbook for patients with cancer.
"At that time I was working with patients who had [both] obesity and cancer and we were giving them high protein but normal calories," Prado said. "So the idea came to create a cookbook for people that need more protein but not necessarily more calories."
Wilson said that research has shown patients with cancer are more likely to have sarcopenia, a type of muscle loss. The cookbook's high protein recipes help with this muscle health.
"[Sarcopenic patients] have low muscle mass at any body weight and that has been shown to have worse outcomes regardless of the tumour stage or the severity of cancer."
"[The cookbook helps] patients of any body size or any tumour grade to increase their protein intake so that they can maintain and build muscle and hopefully have better treatment outcomes," Wilson added.
The increased protein intake that the recipes provide can benefit a wide range of individuals.
"Obviously the focus is on cancer — because that's what [Prado's] research has focused on — but it is applicable to many different patient groups," Armet said.
Prado said evidence has shown that animal protein is more powerful to stimulate muscle protein anabolism, but they do not want to tell people not to be vegan or vegetarian.
"[If patients have cancer], and because muscle anabolism is impaired, we believe they need a [closer] supervision on how to acquire all the essential amino acids from plant-based foods," Prado said. "We advocate for a mix of both animal and plant-based protein, but we believe that people with cancer should have at least 65 per cent of their protein coming from animal sources."
The protein content for the cookbook meals can range from 18 to 39 grams. Prados's research has shown that consuming between 25 to 30 grams of protein per meal will increase the chances of maintaining muscle mass in patients with cancer.
There are a total of 66 recipes divided into breakfast, lunch, dinner, and snack options. The cookbook was made as culturally inclusive as possible, and recipes used inexpensive and readily available ingredients.
Prado is hoping to see the book get partnerships to print and distribute it to patients in the future.
The cookbook has taken years of complicated research and delivered it in a simple form.
"[Patients] do a lot of reading on their own with good intention to try to educate themselves but there [are] a lot of misconceptions and inaccurate information," Wilson said. "I think this cookbook is a good opportunity to provide patients with evidence-based research in a really approachable and simple way."
The cookbook has been well-accepted by patients and the general population.
"It is beyond what I was expecting," Prado said. "I just love it because it is almost like I meet my mission of making a difference in someone's life, [and] I am delighted to see how much the public is appreciating [the book]."
"The fact that it is available for free really shows our heart and our intention with this work."