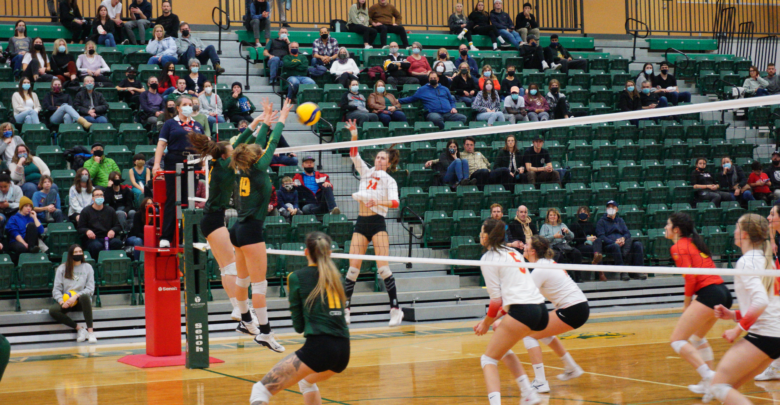 The Pandas volleyball team finished the regular season with a 16-2 record. They won the silver medal at the Canada West Championship and a bronze medal at the U Sports Championship. 
The Pandas had a high win percentage during their regular season with 16 wins and only two losses.
At the Canada West Championship, the Pandas were defeated by the Trinity Western University (TWU) Spartans in the finals to take home the silver medal.
At the U Sports Championship, the Pandas faced off against the McGill University Martlets in the bronze medal game. The Pandas defeated the Martlets to place third in the national championship.
Laurie Eisler, head coach for the Pandas volleyball team said she was happy to complete the season despite facing the challenges of a pandemic. 
"It was really exciting in September just to be back competing," she said. "Credit to the team — they put everything they had into the season and it was super challenging with all of the restrictions we had around [COVID-19]."
Previous seasons that were cancelled because of COVID-19 influenced Eisler's expectations for this season. 
"I've been really careful about setting expectations too high because our 2020 season was ended so dramatically. Tragically we were at the national championship [when the season ended]."
Due to the pandemic, this past season the Pandas were limited to playing only MacEwan University, Mount Royal University, and the University of Calgary during the regular season.
"That was very limiting … on our ability to really develop the team because [of the] limited group of teams that we could compete against."
The next season will return to a regular format and the Pandas will be able to compete against 12 other teams.
This year, the Pandas team returned this season with a core group of veteran players. Three of the Pandas put school off to return for a fifth year of eligibility. 
Eisler said there will be four Pandas that are graduating this year but is excited to see the new roster next season.
"[We] have returning players that are ready to step into different roles with the team and we're really excited about our recruiting class as well and what they can bring to the table," she said. "It'll look very different from last year's team, but different isn't a bad thing."