Arts & Culture
Campus & City
Temperature blanket project shows science can be accessible and cozy
Instead of creating a conventional final project for the Certificate in Sustainability, Emilia Housch decided to quilt a temperature blanket instead.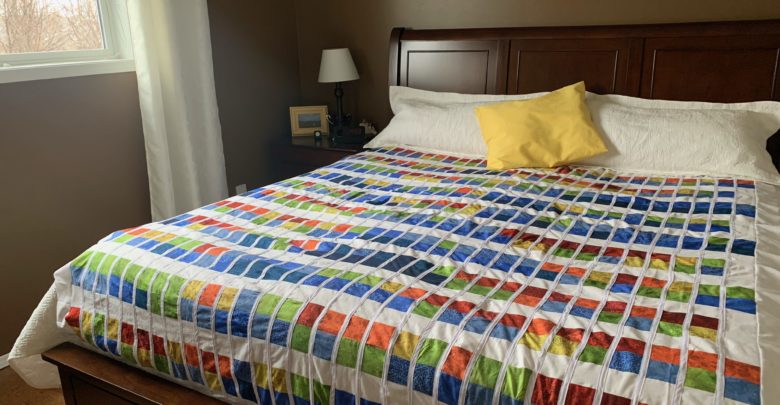 Typically, final projects look a lot like papers, PowerPoints, or presentations. However, for environmental and conservation sciences graduate Emilia Housch, her final project revolved around a lot of quilting. 
For her final project to earn her Certificate in Sustainability, Housch had expected she would do an infographic.
"When I went to an information session about the certificate and sustainability, the people in charge of it were like, yeah, you can do anything you want; you could do an interpretive dance," Housch said with a laugh, explaining how she came to make a temperature blanket. "So I'm like, well I can't dance." 
Housch's decision to get her certificate in sustainability was made to enhance her degree — understanding sustainability enriches her understanding of her degree, as well as being critical to human survival.
By creating a blanket to demonstrate this need for sustainability, Housch is able to reach audiences that scientific articles and journals can't. She wanted people like her grandmother to understand and be able to access the same information she was learning through her Certificate in Sustainability.
"I felt like it would reach audiences that scientific information wouldn't normally reach," Housch said. "Sometimes they show you a science graph and you're like cool math numbers, [but] I have no idea what this means. Why do the lines go like this? Why is it so squiggly?"
"[The blanket is] a physical representation [and] I thought it was kind of funny that climate change makes the temperature more extreme, and I've made a blanket."
When asked why the quilt represents temperatures in just February as opposed to the whole year, Housch expressed that she wanted to keep it to a limited timeframe in order to show the subtle changes that occur through climate change over the years and how those changes add up to big degree differences. She chose February over any other month as February tends to have lots of ups and downs and could make for an "interesting quilt."
Beyond the important message of the quilt, there was a lot that went into this project. Housch says she was inspired by TikTok crocheters making temperature blankets, as well as other quilters in her quilting Facebook groups.
However, the biggest inspiration for her quilting hobby is her grandmother and her mother being her largest support. When she ran into problems with the pattern she had drafted for herself being too big, her mom helped her finish it in time.
"There were too many squares and we didn't plan for this and [my mom] helped a lot. We borrowed our neighbour's sewing machine and then we would both sew at the same time because we were getting pretty close to the deadline. She definitely talked me off a couple of ledges, she [told me,] yes, it was a dumb idea, but you're committed now."
After almost 60 hours, Housch finished her blanket, just in time for her to move to Italy to pursue her master's degree, but hopes to return to the project at a later date.
"Currently it is in time out because I'm a little bit mad at it, just because it didn't turn out the way I wanted so it's currently just sitting in my parents' basement waiting for me to come back."