Arts & Culture
Campus & City
BlackTalk sheds light on Black experiences and expertise
BlackTalk isn't just an educational and entertaining podcast — it's an advocacy one too.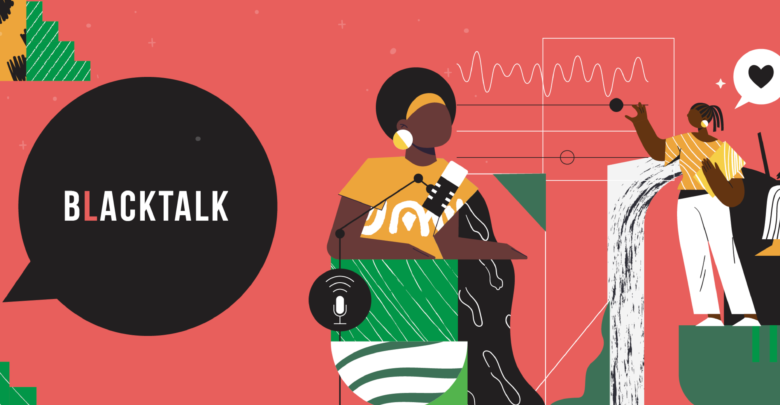 Through platforming and highlighting Black experts, BlackTalk entertains, educates, and advocates on anti-Black racism, Black experience, and Black excellence.
Hosted by Andy Knight, professor of international relations at the University of Alberta and Fulbright distinguished chair of international area studies at Yale University, alongside co-host Zack Penddah, a fourth year honours political science student at the U of A, BlackTalk brings something new to the podcasting landscape.
The podcast invites one guest per episode, and these guests are experts in their respective fields. For example, the podcast has invited on Bukola Salami, a nursing associate professor at the U of A, as well as guests like Celina Caesar-Chavannes, who is a former MP. Each episode invites these professionals to talk about their achievements, experiences as they made it where they are now, and the advice they'd have for young Black listeners in BlackTalk's audience.
"I would describe BlackTalk as a much-needed conversation about both anti-Black racism and Black achievement," Penddah said. "Within these conversations we often encounter topics such as race and discrimination, and we think it's important to highlight these topics and to bring a little bit more more attention to them so that people are more aware of them and so that people are able to recognize and maybe prevent some of this stuff from happening."
"It's a conversational podcast highlighting Black achievement and anti-Black racism, and it's for everyone. We like our viewers to come from all walks of life, from all different racial groups."
Knight added that the podcast is also meant for the university community, to uplift marginalized groups.
"We try our best to support the university's efforts at equity, diversity, and [inclusivity (EDI)] so I think this is our way of saying let's try to assist the university in meeting the goals that the first university president had given to the university, which is to lift up all the people — not just some of the people, but all the people," Knight said.
Despite the fact that these experts are all from different fields with their own life experiences, they have share innate experiences with being Black, which this podcast highlights.
"What connects these individuals is a sense that they understand the nature of racism, and the nature of anti-Black racism in particular, and they've been trying to find ways to overcome it," Knight said. "Some of them, they're very successful — to get into the positions that some of these people are holding today … in many regards, these individuals have actually overcome the difficulties that comes with being a person of colour."
Sometimes it's difficult to find Black role models who are in fields like academia, something that BlackTalk aims to remedy by platforming Black experts from a variety of backgrounds.
"One of the challenges that we have, particularly at the University of Alberta, but also many other institutions in Canada, is that Black students don't normally see themselves in the faces of the individuals who teach them," Knight said. "Some Black students told me that I was the first Black person they actually had as a teacher."
Lack of representation is something that plagues the education systems from secondary school up until post-secondary education.
"Sometimes individuals who are Black don't get a chance to interact with a Black faculty member, and that's because there's very few of us," Knight explained. "At the University of Alberta, there's only 20 Black faculty members who are [tenured] at this university, and that's totally unacceptable given the larger number of Black [students] in this part of society."
"I hope that [Black listeners] take away from this podcast the fact that there are people, like them, who have actually made it in life, in whatever profession they happen to be in, they've been successful in those professions, and they've done so despite the fact that they're Black."
However, the podcast isn't just for Black people. It's also an opportunity for listeners who aren't Black to learn about the experiences of what it's like to be Black, and reform preconceived views.
"For the people who aren't Black, which are also [an] important part of our listeners, we … want to lead them with new perspectives about anti-Black racism and Black achievement, and we want to help them open their eyes, reflect, and challenge their thinking," Penddah added.
"Now you get a chance to enter conversations with this side of society, with us, and maybe form brand new opinions and improve race relations. We really are excited about it and we think a lot of good can come from it."
The podcast has actually seen the results of their advocacy at the university. One outcome is that 11 new Black faculty members will be hired, one to represent each faculty at the university. The second is that Knight and Penddah have been approached about creating a massive open online course (MOOC), open globally for free for individuals to understand what challenges are for Black people. They are hopeful that the BlackTalk podcast can lead to the formation of new courses about Black history, survival, accomplishment, and more.
BlackTalk launched their second season in late March, where they invited experts from new professions, including entertainment — who have influenced others because of their art.
Check out BlackTalk on their website.