Campus Life
News
U of A's Active Minds chapter works to destigmatize mental health and advocate for university students
This student-run, student-led social initiative aims to destigmatize mental health and advocate for those struggling with any and all dimensions of mental health.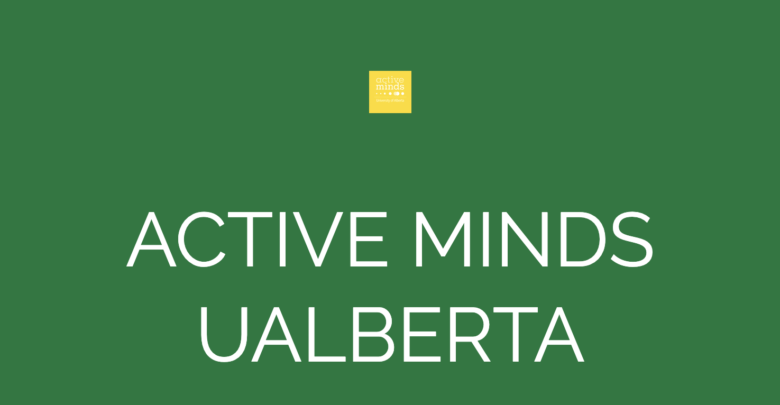 Despite COVID-19 restrictions, the University of Alberta's Active Minds social initiative is still virtually active. This student-run, student-led social initiative aims to destigmatize mental health and advocate for those struggling with any and all dimensions of mental health.
The U of A chapter of Active Minds, founded in 2019 by Hassan Nawab, is one of approximately 400 chapters across Canada and the U.S. that share the common goal of helping people, particularly university students, improve their mental health and their ability to seek help when needed. Although Nawab has now graduated and left the U of A, he remains as an advisor for the group, leaving it in the capable hands of remaining and newly joined members. The chapter still actively advocates for, attempts to destigmatize, and provide resources for all things mental health through events, a mood-tracking/mental health resources app, website, educational speakers, and social media.
Active Minds at every chapter, including the U of A, define themselves as a social initiative rather than a student group or organization. Saloni Sharma, a fourth-year neuroscience student, and Parishi Taya, undergraduate psychology and sociology student, are co-presidents of U of A's Active Minds.
The pair explained wanting the group to be a social movement to destigmatize mental health in the community rather than just a group where only members are mostly impacted by the group's activities. 
"We wanted to be a social initiative, a social movement, to get the student body speaking and not just the student body, [but] other people in the community as well, to get the conversation around mental health running to really destigmatize it," Taya said. "So that's what we mean by social initiative."
Although hoping to create large and lasting change, they still have a focus on creating an impact among individuals through relatively intimate events for students, such as a paint night hosted by the group in November of 2021. However, due to COVID-19, turnouts at these events have been lower than the group has hoped.
"The turnout hasn't really been the best to be very honest… I think the engagement has decreased ever since the pandemic," Sharma said on the events hosted by the group this year.
As the group was founded only a year before the start of the pandemic, they did not have much time to build momentum to cushion the drop in engagement caused by the transfer to online that many other groups and organizations at the U of A had.
The team has forged ahead through their strong social media presence primarily on Instagram and plans for another big annual event, the first one since 2020.
This year's annual event for the group is a mental health carnival planned to take place in March. A change from their former mental health banquets, but the goal remains the same — to celebrate mental health. However, they are changing it up this year to make it more accessible and more fun for the student body.
Taya explained that they wanted the mental health carnival to be more fun "after the tough year that everyone had, especially mentally, with COVID-19." She added that they are planning to have booths for speakers from different organizations with both information relating to the dimensions of mental health but also, hopefully, games that students can get involved with.
For students interested in finding more information about volunteering with or events hosted by Active Minds, the co-presidents recommended visiting their website or contacting the group directly through BearsDen, Instagram, or their email found on the front page of the website.