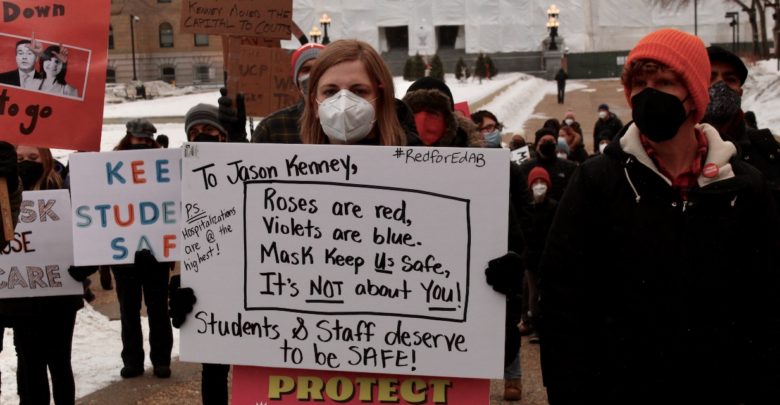 On February 14, Students Against Kenney held a walkout and protest at Alberta's legislature building to speak out against changes to provincial COVID-19 measures.
The protest consisted of two segments. First a walkout at schools at 2:45 p.m., followed by a demonstration at the legislature at 4:30 p.m. attended by about 75 protesters. Lauren Bayne, Sam Clark, and Toby Maltais, all high school students from Edmonton and surrounding areas, were the primary organizers of the demonstration.
Organizers call out provincial government, demand action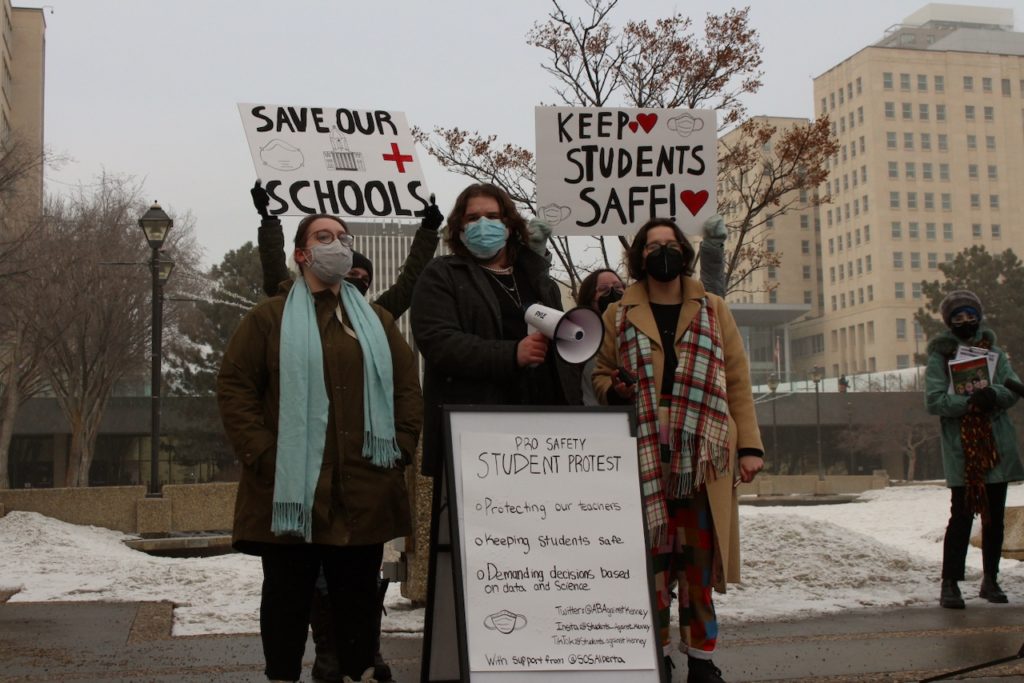 Bayne was the first to speak, and gave a land acknowledgement before delving into the protest's sentiments. They called out the United Conservative Party's (UCP) provincial government for their decision to lift the mask mandate in schools.
"Thank you for caring about the future of Alberta's students," Bayne said. "You've all showed up to show our government what Albertan students, school staff, and parents really think about the UCP's decisions to make our schools unsafe."
"A majority of the students that I have talked to have agreed that getting back to normal is significantly less important than saving lives and keeping people as healthy as they can be."
Additionally, Bayne commented on the sudden switch from having some COVID-19 safety mandates for schools to none, "in a matter of days." They mentioned that their high school had not received the shipment of masks that they had been promised, and cited the open letter penned by 25 faculty members from the University of Alberta's School of Public Health opposing the rapid lifting of restrictions by the provincial government.
"They, and many others, are severely concerned that Jason Kenney's UCP removed the rights of school boards to make decisions that keep their students safe moving forward in this pandemic," they said.
"I cannot condone these actions as they are actively putting the rights and safeties of Albertans at risk. As people who are concerned for our fellow Albertans, I'm sure we all believe that our lives, the lives of children, friends, family members, classmates, teachers, and school staff members are drastically more important than the minor inconvenience of wearing masks for a little longer."
Bayne finished off by reiterating the reason for the protest, shedding light on those most affected by the removal of school safety measures.
"That is why we are here," Bayne said. "We are showing people in office they will never be affected by the removal of school safety measures that we are not happy with their decision, and that we will not stand for it."
"We are here to make change and keep Albertans safe."
Clark was next to speak, and urged those in legislature to "stop the lies."
"We demand that they listen to us instead of caving to people who are out of touch with the reality most Albertans face," Clarke said. "We are done with people who say one thing while actively doing another."
He called out Kenney's behaviour, specifically drawing on the premier's Sky Palace dinner, Christmas party, travelling outside of Canada done by UCP members, and absence during critical moments.
"We're the ones that have to stand up when the adults in this province can't do their job," Clark said. "We are the students of Alberta."
The final speaker was Maltais, an immunocompromised high school student. They emphasized the effect that catching COVID-19 would have on their family, the majority of whom are also immunocompromised.
"I'm going to school every single day scared for myself and my siblings, worried about what will happen if one of us gets sick, and I've stopped eating at school to protect myself and my family," they said. "When I first heard about the lifting of the mask mandate in schools, I had a panic attack and I was inconsolable for hours after the announcement."
"The decision to remove masks from schools feels like a carpet being ripped from under my feet."
Echoing the sentiment of their fellow organizers, Maltais called upon Kenney to reinstate COVID-19 safety measures in school.
"We all want [the pandemic] to be over, but ignoring it and pretending that it isn't happening is not the way to go about it," Maltais said. "Jason Kenney, we are asking you to listen to us. To actually hear us. We want to be safe, and we have been denied the safety we deserve."
"If you still care about Albertans, bring back masks in schools. Help us stay safe. We deserve it."
Community members and NDP MLAs show solidarity with protesting students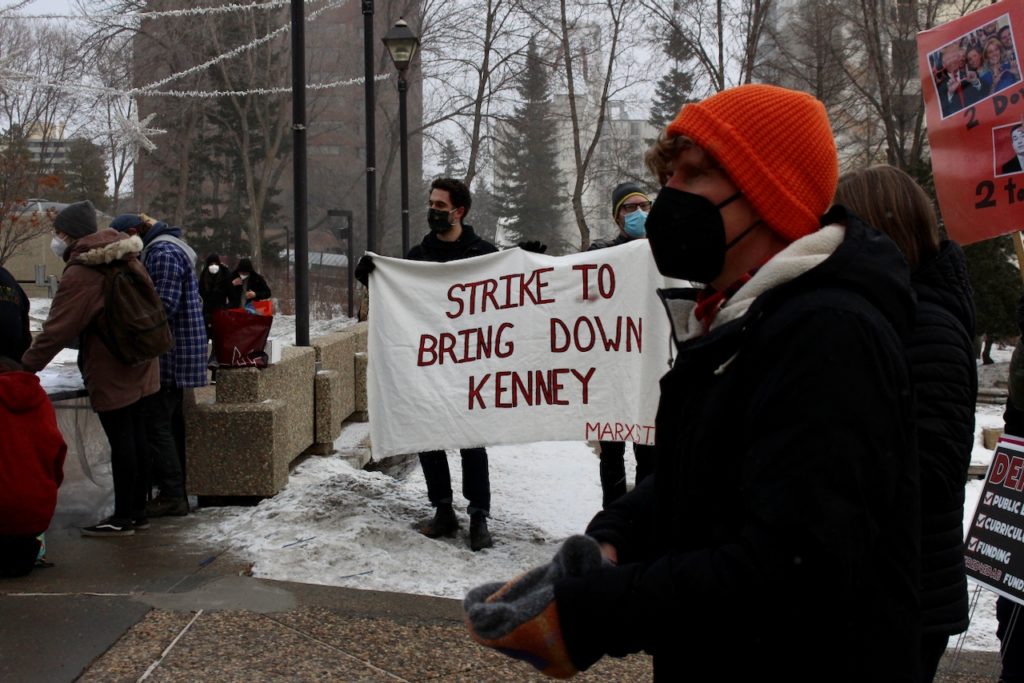 Aside from school students, there were also members of the community that attended to show their solidarity with the protesting students.
Janis Irwin, New Democratic Party (NDP) representative for the Edmonton-Highlands-Norwood district, was present at the protest. She described her reason for attending as showing support for students that care about "evidence-based decision-making."
"We've been calling on this government since the beginning of this pandemic, in fact, to get back to the science — to listen to the public health experts," Irwin said. "It's been pretty clear, especially over the past few days that they can't point to the science or the evidence, and they're making decisions very much based on politics — appeasing protestors."
Sarah Hoffman, the NDP's education critic, was also present. Hoffman pointed towards supporting students, pointing to those that live in her neighbourhood.
"There's no trust right now," she commented. "We want to know what the data is that's driving [the provincial government's] decisions. It seems like three weeks ago, they were saying everyone should wear masks in school, then all of a sudden what happened at the border happened at Coutts, and all of a sudden Jason Kenney turned on a dime."
"That's not fair to students or to staff. They should have evidence, and of course — I don't think anyone would like to wear masks in perpetuity, but we want to know that when make the decision to take them off that we're not putting ourselves or each other at risk. So, being open and honest with that public health information and putting science first is important."
Hoffman also sent a message to those that are currently attending school.
"We love them," she said. "We care about them and we want them all to be safe and have a great education — be able to focus on learning."
"It doesn't have to be this way. The government should have a conscience, a backbone, and tell the truth and be transparent along the way."
Haruun Ali, open studies councillor on the U of A's Students' Council, mentioned the link between the protest and what it means for post-secondaries.
"I think this is affecting post-secondary students as well, so I think it's really important for us to get those masks back in schools," he said.
"I also want to see our Albertan government actually invest in masks, N95 [masks], and rapid tests for students at post-secondary schools, high schools, junior highs and elementary schools as well. At the end of the day, this helps students."
The Gateway reached out to the Ministry of Education for comment but no response was given before publication.