Campus Life
News
NHL Analysts Club hosts NHL-centred community
The NHL Analysts Club builds a community of NHL enthusiasts with a competitive component.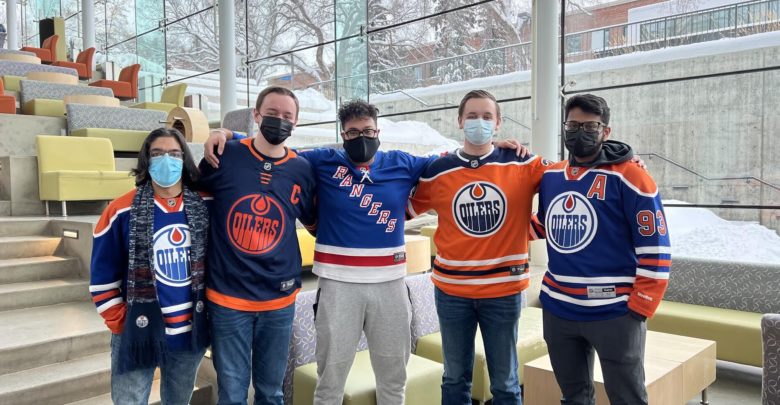 The University of Alberta is home to a variety of student clubs, and a new one builds a community of National Hockey League (NHL) enthusiasts.
Established last year during the pandemic, the NHL Analysts Club invites members to watch hockey games together, discuss hockey game predictions, and more! They meet once or twice a month to watch games together — and in a non-pandemic ideal, they would've chowed down on pizza while convening. While restrictions have forced the club to move their meetings online, their watch parties are still happening, but via Discord instead.
Predictions can be made in many ways. There are a variety of categories which club members can predict ahead of games, and they are accessible via the club's website. If the member gets the prediction right, they then earn points for leaderboards on the website.
According to Vaylou Vinayagoasothy, vice-president (events) of the club, the club tries to cover all things NHL. Prediction points are based on difficulty of prediction, but the club has a variety of predictions going.
"We have forms that predict the Stanley Cup champions, scores, and stuff like that," Vinayagoasothy said. "We do have game prediction forms for like who had the most ice time, who's going to score the game-winning game, who's going to win the game, and things like that."
Not every category is worth the same amount of points. Some predictions are worth more points than others according to prediction difficulty.
"'Who will win the game [gives you a] 50 per cent chance of getting it right, but something else like 'who will score the game-winning goal' [is] a little harder to predict, so you get more points off of that if you get that correct."
Everyone is invited to the NHL Analysts Club, no matter their level of experience with the NHL and sports analysis. The club invites anyone who wants to "make friends, or learn about the game of hockey."
The club "isn't much of a time commitment," and more of a chance to hang out and let off steam, rather than an intensive and competitive one. Being number one on the leaderboard at the end of the season earns members nothing more than bragging rights, so the club isn't completely competitive.
Vinayagoasothy, who joined the club as an executive member this year, recalls that the other executives who formed the club did so because they were shocked that the U of A didn't have a dedicated NHL club.
"Their idea was to get predictions going, maybe get people from different fan bases from the Canucks to the Canadiens — all across Canada, even in the United States — and talk hockey with each other [and] maybe have a little banter," Vinayagoasothy said.
"They mentioned they were really surprised that there was no real NHL affiliated club within the U of A, so that's why they decided to create this club — just to create a hockey community."
Because the club fosters community over competition, Vinayagoasothy says the club is a place where members can find friends who have the same interests as they do, but also talk about their predictions.
"It's just a very supportive community — even if you cheer for one of the worst teams in the league, no one's going to make fun of you — we'll accept you as one of our own," he said.
It's their second year as a club and Vinayagoasothy is optimistic about the club's future.
"I can't predict the future, but what I'm comfortable enough to say is that the community will start growing and growing," he said. "People will know about this hockey community, and they'll be comfortable going to it and talking hockey — even learning hockey, and just knowing that there's people who love the sport the same amount as they do."
As for who'll win this year's Stanley Cup, Vinayagoasothy has "Tampa Bay doing the three-peat."