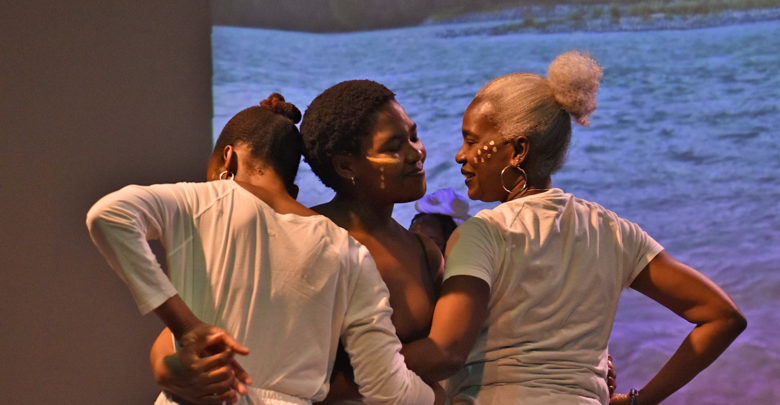 Through body and voice, Site/Sight/Place navigates a unique doubleness of being Black in Canada, and of existing in two cultures simultaneously. This striking performance identifies Blackness in a place that often erases it. 
Site/Sight/Place is a visually captivating performance presented by Mile Zero Dance (MZD), an Edmonton-based non-profit organization dedicated to showcasing and producing artistic works. Site/Sight/Place is curated and performed by MZD associate artist Lebo Disele, along with the enthralling artistry of visual artist Elsa Robinson, dancer Masani St. Rose, dancer Mpoe Mogale, poet Shima Robinson, poet Timiro Mohamed, and drummer Robert Kpogo.
Through striking visual art, poignant verse, and spirited West African and Caribbean dances accompanied by the boom of the djembe drum, Site/Sight/Place communicates the importance of identity and a sense of community. This performance connects with its audience as it interrogates the significance of being seen and heard, especially in spaces that continuously erase Blackness and Indigeneity. 
When asked about how "the place" is necessary to shaping community, Disele explained that Black communities exist in an in-between area of the larger community.
"We occupy this kind of in-between place where we are racialized but we are also not indigenous to this place," Disele said.
"And it comes from our own curiosity about 'what is my place?' in Canada as an African person… How do I resist some of the violences of the colonial state in a way that counters and challenges anti-Black racism? But also in a way that counters and challenges anti-Indigenous racism and supports Indigeneity and decolonization?" 
Site/Sight/Place explores one's roots and allows the audience to also consider their relation to the space they exist in and how they are existing in it. This performance maintains a joyous spirit despite interrogating the difficult questions of place and identity, and how we understand these two ideas. This joy, in tandem with such anxious curiosity, is truly moving in its portrayal of authentic Black experiences in Canada.
Being in a space where the audience is so close to the performers, it is as though we are also a part of the performance, and a sort of reciprocity is born. This closeness creates a space where we are all a part of the experience, not just passively watching the performers before us.
It was a deliberate choice; the artistic vision for this performance transcends the floor of the stage and extends its hands towards the audience.
"I wanted a centered experience and embodiment and not so much rationality… I just feel like there's a connection with the audience."

Lebo Disele
The ability to communicate the turmoil of feeling torn between two places and the struggle to recognize your identity in a place such as Canada, which does not create space for you, is exceptionally important. The journey this performance takes us on is one that allows us to come to a place where we can better understand these struggles, and maybe even understand ourselves. The passionate movements of the dancers fused with the resonance of the poetry creates a site of declaration where Black thought and culture are emphasized, pushing back against erasure. 
Disele emphasized that in a time so bent on erasure, it's more important than ever to challenge it.
"It is very important for Black folks to take up space as a way of challenging racism but also as a way of challenging narratives around Canada… [and] finding other ways to think about who we are, where we are, and how we relate to each other," Disele said.
All in all, Site/Sight/Place brings focus to the strange dislocation many Black Canadians may feel within White-dominated spaces, while also creating a community that uplifts Black folk, culture, and heritage.
Find more about the artists here at Mile Zero Dance.