Arts & Culture
Campus & City
Cultural Affairs
Mile Zero Dance presents 'spring awakening' in Fantasy Picnic
Mile Zero Dance presents Fantasy Picnic, curated by Mikiki. With a diverse lineup of artists and performances, themes of spring change and rebirth are explored.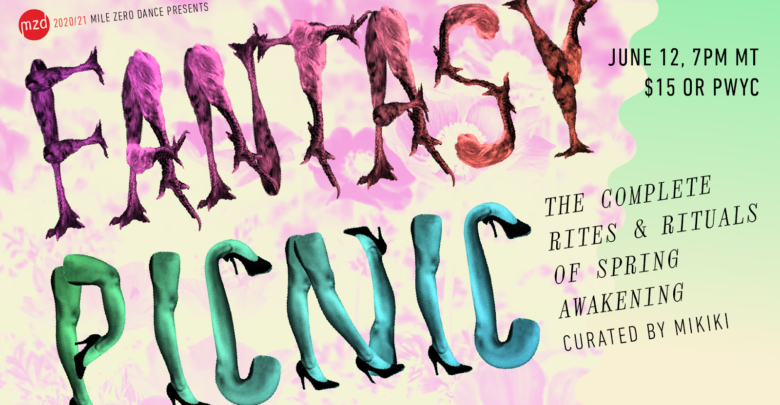 Mile Zero Dance presents its final presentation for the 2020-21 season in a program called The Rites and Rituals of Spring Awakening, Fantasy Picnic. Curated by Mikiki and featuring six unique performance pieces, Fantasy Picnic surrounds a feeling of spring awakenings.
Fantasy Picnic will run via  Zoom from 7 p.m. to 8:30 p.m. on June 12. The tickets are 'pay what you can,' but a price of $15 is suggested. Money from tickets will go towards supporting programming, but those who are unable to pay are welcome to attend for free.
In the description of the program, Fantasy Picnic describes spring to be "associated with renewal, rebirth, and change … a time to celebrate and reinvent." The program explores the way we can "reinvent" ourselves in uncertain pandemic times "to push our physicality, frivolity and fierceness up and into the world."
Mikiki is the curator for Fantasy Picnic. They are an queer community health activist of Acadian, Mi'kmaq, and Irish descent. Their work has been featured throughout Canada and internationally.
"There's always a spring to come after winter and I feel like we are in a very particular time in human history where I'm not seeing a lot of signs of spring," Mikiki said about the program's focus.
For Mikiki, being a queer artist and a queer activist has allowed them to explore the boundaries between art-making, activism, and simply being.
"One area of my work has been really interested in the queer and trans potential of rot, mold, and decomposition because they are states that are in transit," they said. "I think there's something inherently queer and trans about each of those."
Spring is a season for change, and a season for justice. Mikiki explained that the themes of spring are a "nod to the Arab Spring, the Maple Spring, and … the Truth and Reconciliation Commission."
"It's through our queer bodies expanding through [bubbling gas and] decay that we create space for something new," Mikiki says.
Joining Mikiki will be a variety of diverse artists presenting their Fantasy Picnic pieces.
One piece in Fantasy Picnic is Sandra Lamouche's Stewardess of the Land. Lamouche is a Cree woman married into the Piikani Nation of Southern Alberta. Stewardess of the Land explores the link between Indigenous women's bodies and the land. As a connection to Missing and Murdered Indigenous Women, Lamouche reclaims Indigenous women's identities as sacred. She reminds the audience that taking care of women and taking care of the land go hand in hand.
"In lots of our cultures women were actively involved in taking care of the land," she explained. "Women and women's bodies have always been metaphors for Mother Earth. Or, is Mother Earth a metaphor for us? … There's always been this connection."
Lamouche explored two plant medicines in her piece: sage and sweetgrass.
"Sage can be used as a hair wash, a bath, a tea, [and] a smudge. It's known as a women's medicine," Lamouche said.
"When we braid sweetgrass, some of the teachings are similar to the way we braid our hair," she said. "If people don't pick [the sweetgrass] it dies out … Taking care of the land is an active process and it benefits the land and helps the land grow better."
With pieces that span many themes from artists of diverse backgrounds, Fantasy Picnic will rejuvenate the viewer during the last dregs of spring as they turn into summer.